Ben Thorpe | Director & Dog Groomer | Bone Idol
Meet Ben Thorpe - Director and Dog Groomer
Qualified animal behaviourist and qualified dog groomer, Ben is also part of the 2016 founding team and a director of Bone Idol - a dog grooming salon and shop based on St James's Street in the heart of Brighton, East Sussex.
Ben lives in Brighton and starting his career as a hair stylist. After deciding to pursue his lifelong dream of working with dogs, Ben retrained and spent six years building up his experience and skills as a groomer. During this time Ben also set up his own business 'Diamond Dogs'.
After meeting fellow directors Jon & Scott, wheels begain to turn and plans began to form and take shapre and in 2016 Bone Idol was born in Brighton.
Bone Idol, Born In Brighton
Since 2016 Ben has helped to grow the Bone Idol business and team, sharing his knowledge and skills with customers and staff alike. Ben has also heiped in building community connections, enabling Bone Idol to support local charities, community events and a local dog rehoming shelter (to name just a few projects).
If you ask what motivates Ben to get up in the morning, the answer is unequivocally walking his beloved dogs, gorgeous Dennis the Shit Tzu, and prima donna Princess, the Chihuahua cross. Their favourite walk is along the seafront close to Kemptown where they live.
Ben has a real passion for dog grooming and the Bone Idol business.
"I love working at a company which is 'forward-thinking' and 'on trend' because we all work hard to be the best we can. It's also enjoyable and rewarding to work with a great team of talented people who are like one big family."
Being Healthy, Happy & Fabulous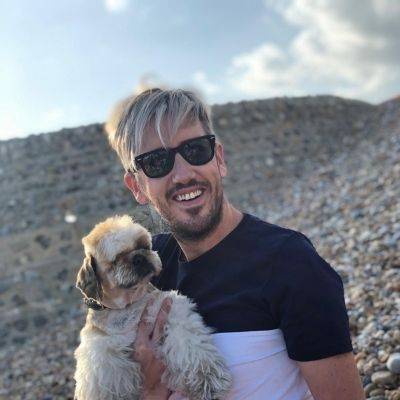 A total advocate of the Bone Idol philosophy 'Healthy, Happy, Fabulous' (which translates to 'we are here to help your dog be healthy, happy and fabulous in that order'), Ben has been key in building and developing the 'Bone Idol Healthy Dog Food' range with co-Directors Scott & Jon.
"It was a really proud moment to launch the food with our name on it in Brighton and then again to launch the brand across the UK via our website."
Outside of work, Ben enjoys an active lifestyle with longs walks on the downs or along the beach, cooking, meals out and enjoying the vibrant scene Brighton has to offer. He also likes to stay fit and active by running.
"Not only is running great exercise, it's time to myself. I can clear my head and always feel re-energised after."
Be Positive, Be Productive, Be Kind
While Ben may describe himself as 'outdoorsy', he'll also quickly add that he's much more likely to be seen in a pub garden than halfway up a mountain! Ben is a social animal and his love of dogs is only matched by his love for friends and family. He can typically be found on his days off laughing with friends and their dogs.
Always glamourous at work, Ben is never seen without his makeup and nails being on point. 'If you look smart, you think smart' is his philosophy.
Keen to make a positive impression and eager to help everyone, not only have Ben, Dennis & Princess been featured in the local press, but Bone Idol has also won awards and attracted rave reviews as the business continues to grow and support its local customers and employees.
Ben is always eager to share his knowledge and experience openly with everyone.
"If you have a questions just come in and ask, we will do what we can to help!"