Our video of the year! Gorgeous dogs at Bone Idol
We know you've been waiting all year for our special Bone Idol video. Woof, woof, it's here!  
This is our "year in a life' video. It's a canine celebration of handsome hounds, fabulous furry friends and the delightful doggies we get to work with every day. 
We just love dogs at Bone Idol and we hope you just love having a little peek at our work and life in the grooming parlour over the last year.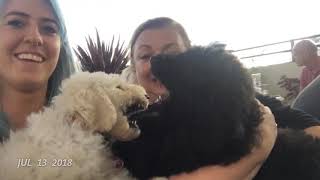 Putting together this video of our year has reminded us just how privileged we are to work with the most darling dogs and their wonderful owners.  
It has been a honour to help make the dogs of Brighton fabulous, an honour to know so many amazing dog owners and great to be at the heart of such a diverse and dynamic community here in Brighton & Hove.
Wishing all our customers, friends and canine companions a healthy and fabulous 2019 (and remembering the furry friends that are no longer with us, but are always in our hearts.)

Thank you to our Senior Groomer Helen Kirby for her video skills and thank you to all the lovely canine cuties that make special 'cameo' appearances....