Top 10 Winter Safety Tips for Dogs | Snow Ice | Rock Salt Antifreeze
Winter is a fun time for dogs and pet parents with wintery walks and warm evenings! We've put together our top 10 tips at Bone Idol to ensure the safety and wellbeing of your furry friends this winter.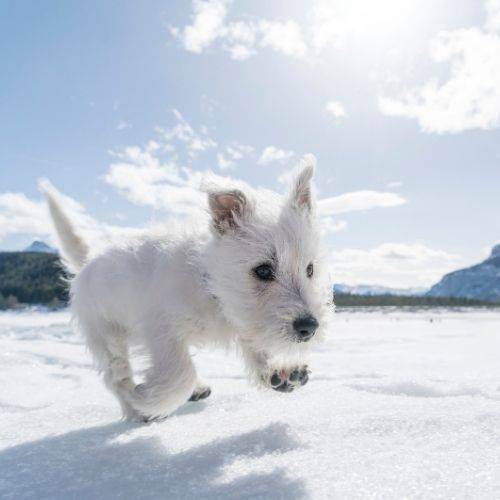 We know a wintery walk can be snow much fun but it's very important to check your dog's paws and dry them thoroughly after they've been outside.
This is especially important with long-haired dogs as snow can compact between their toes and turn into ice balls which can prove extremely painful for your dog.  
A preventative measure for this would be ensuring that you keep the hair between your dog's paws short. Our groomers in Brighton are experts at going this and you can request our services online: REQUEST NOW
2. Wrapping up on Walkies 
It may be toasty and cosy at home but your furry friend still needs regular walks regardless of the weather.
When out on a walk with them it's important to make sure your dog or dogs are wrapped up warm. Put a dog coat on them when you go out, especially if you have a fine-coated dog, for example, a Greyhound or Staffie.
At Bone Idol, we stock a wonderful range of knitwear to fit all sizes whether you have a Labrador or Chihuahua. Cashmere to French Fashion, pop in and see us at our Brighton store for a treasure trove of knitwear.
3. Rock Salt and Antifreeze
Rock salt and anti-freeze are both toxic to dogs, if you are worried about your dog ingesting either contact your vet immediately.
The salt used to de-ice roads and paths is a mixture of salt (sodium chloride) and grit. This road salt can pose a danger to pets such as dogs and cats if they lick it from their paws or fur. A small amount of pure salt can be very dangerous to pets. According to the RSPCA, ingestion can result in a high blood sodium concentration which can cause thirst, vomiting and lethargy, and in severe cases, there is a risk of convulsions and kidney damage.
The RSPCA says
"Most cases involve animals that have walked through gritted snow and then lick or chew it off their paws as they can find it irritating.
It is therefore important to thoroughly wipe your pet's feet and the fur on his/her legs and tummy after a walk or time outside."
If your dog is showing any signs of discomfort after possible exposure to rock salt, wash your dog thoroughly or contact us to do it. You can call us on 01273 695631.
Clean their paws at the end of your walk as salt and grit from roads and pavements can also get lodged between their toes.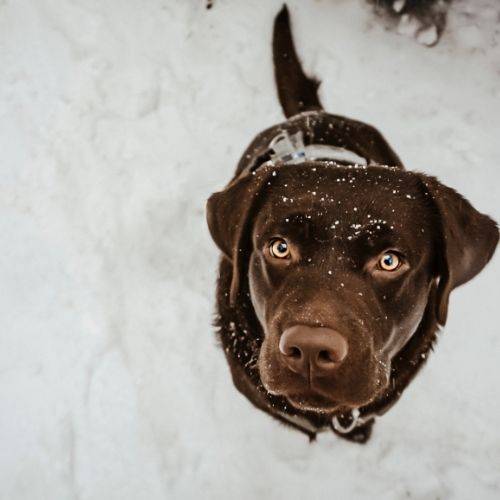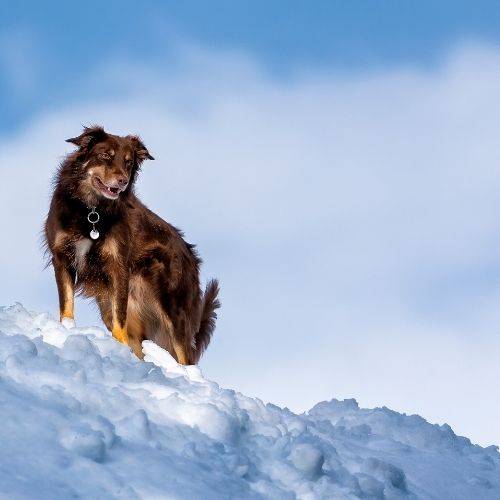 After a lovely walk make sure you dry off wet and muddy dogs and make sure they have a cosy bed to return to which is away from any cold draughts. Ensure the bedding is dry after a walk and perhaps add an old towel or blanket for extra cosiness!
Be mindful of central heating and fire places with your dog, not only for burn risks but also because they may overheat after a cold winter walk. Also ensure extra water is available for your beloved dog.
Like humans, some dogs can be very reluctant to venture out into the cold and wintery weather and while exercise and some outdoor activity is important, you can supplement regular exercise at home.
If this is the case, do not force them out but make sure you provide them with lots of toys for them to play and keep them occupied while indoors. Toys can be used as great indoor exercise tools.
Pop in to our Brighton Shop and see our expert team to discuss your dog's playstyle with us and what toys are best for them, or visit your local independent retailer to get more advice.
If you do find that your dog is less active in the winter months, make sure you adjust the amount of food you give them accordingly to avoid weight gain. Its also a great time to check you are feeding the best quality dog food you can afford. Always check for a balanced and complete food so you know your dog is getting everything they need.
Bone Idol food is a complete and balanced meal for your furry friend. New Year...Fresh Start? Best Start: TRY OUR FOOD
7. The Importance of recall! 
Cold and wintery weather can bring reduced visibility with fog, mist or snowy conditions.
If you're letting your dog off the lead whilst on a walk, make sure your dog has good recall to avoid them getting disorientated and at worst lost.
Always, make sure their microchip details are up to date with your correct contact information.
As the sun is still setting late afternoon at the moment and the sun rises later, it is important to ensure your dog is seen when off the lead.
You can attach a small light to your dog's collar so they can be seen when out on walks in reduced visibility. If you have a black or dark dog think about a bight coloured harness or dog coat to aid their visibility.  
We all know the importance of leaving your dog in a car in summer however just as cars can become fatally hot in summer months, temperatures can drop very quickly in cold weather.
Always take your dog with you rather than leaving them in the car for any length of time.
As pretty as a frozen lake or river can be it is very important to keep your dog away from stretches of frozen water as it's impossible to tell how secure the surface is.
Keep them on a lead if you think they'll be tempted to jump in.
The RSPCA has also issued cold weather advice for pet owners which you can read HERE.