The New Bone Idol Puppy Guide:
Here at Bone Idol we love puppies & we want to help you and your new puppy have the best start in life!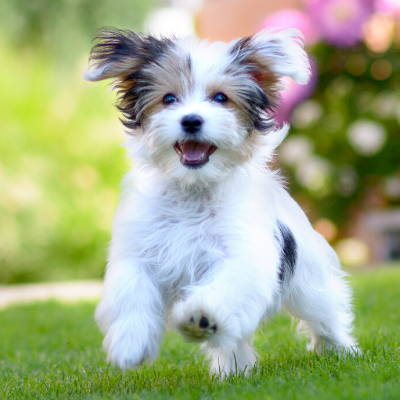 The Bone Idol Puppy Guide is a handy list of things to make welcoming your new puppy home a walk in the park. With advice from puppy proofing and socialisation to finding a dog groomer and choosing a puppy food.
Much like us dogs come in many shapes & sizes and as they grow and you get to know your new dog, you will discover their personality and what they love and what motivates them. As this happening you will learn more about your puppies needs. While this can be stressful at times, by doing some preparation, reading and agreeing household rules beforehand you will be in the best place to give your new dog what they need to be healthy, happy and fabulous!
To get you started we have pulled together some top tips, some things to think about, before your puppy comes come through the first days, weeks and month at home.
Before You Bring Your Puppy Home: Puppy Admin and Preparation
Firstly, congratulations on your big decision, you are well underway for preparing for your new furry family member! The Bone Idol Puppy Guide is here to help you create a clear plan and know the basics as you prepare for the arrival of your new dog.
Once you have decided to get a puppy there are some administrative and preparation tasks you will need to complete as part of this process. This mean you will be ready when the day comes to collect your puppy and bring them home to their forever home.
Finding A Vet:
Finding a vet is key in making sure you are ready they will help you will with planning and dates further down the line and give you lots of great advice on the health and wellbeing of your new dog.
Vet Recommendations:
Choosing a vet is a big decision and most vets will be happy to meet you or talk on the phone about getting a new puppy. As always start with the research and look for online reviews and recommendations to create a short list. Additionally, you can use your family and friends for information too, look for breed specific social groups online as they may offer advice too. Ask for recommendations: Use your social media, local contacts and ask at your local pet shop.
Accessibility And Location Of Veterinary Practice:
This might sound obvious but consider the ease of travel and how you might get your new dog to the vet, travelling for 30mins might not seem like a long drive now, but with an unwell dog on board it's a different ball game. Are there bus routes and do they allow pets, is there parking and can you access the premises. Does the location of the vet allow for east parking.
What is the accessibility of the vet premises? Evaluate this and consider if this suits your needs and the needs of those who may be providing support to you and your dog?
Reviewing Your Shortlist:
Visit or call your shortlist & talk to the staff, ask if there is anyone who can answer some questions you have about the practice as you are choosing a new vet for your dog. For example:
How do you manage emergency/out-of-hours care? This is worth talking about and understanding now before you need these services. Not all veterinary practices have emergency
Ask about pricing and enquire into annual care plans and include check-ups, flea treatments and worming so price this all in.
Ask how insurance claims are managed and processed.
Ask questions about opening hours, overnight care practices, billing details, and any other services they may offer.
Once you have decided on the right vet for you:
When you have chosen your vet make time to visit regularly to make sure your puppy has a positive association with going to the vets. If they are local enough to walk to, include visits in your dog walk from time to time.
Your puppy has their second vaccinations usually around the 12 week mark and you may also want to consult with your vet about worming, flea treatment and neutering.
Most vets will be happy to discuss a health care programme with you and what you should be doing annually for your dog. Including vaccine boosters and the like.
Micro-chipping & Dog Tags:
Since 6 April 2016, all dogs over 8 weeks need to be micro-chipped by UK law. A microchip is a tiny chip the size of a grain of rice that is injected into your puppy's skin at the back of its neck. Each chip has a unique number which is stored in a central database and which allows your dog to be identified if lost.
This is should done by the breeder and will transfer the details to you. Make sure you have the paperwork when you collect your puppy.
Owners of dogs and puppies over the age of eight weeks must also have registered their pet's microchip details on one of the authorised databases. These databases are run by private companies, and not by the government or the council. Owners are also required to keep their pet's details up to date with the database under the law.
As well as being micro-chipped, it is still a legal requirement for dogs to wear a collar and tag with the owner's name and address on it when in a public place. We do not recommend using the name of your dog on the dog tag.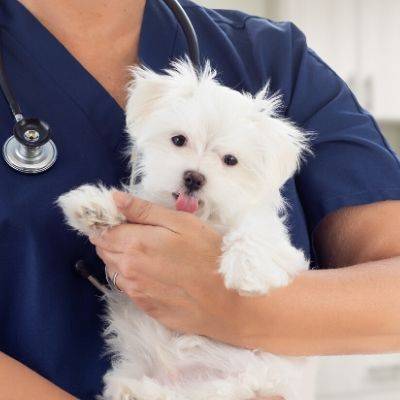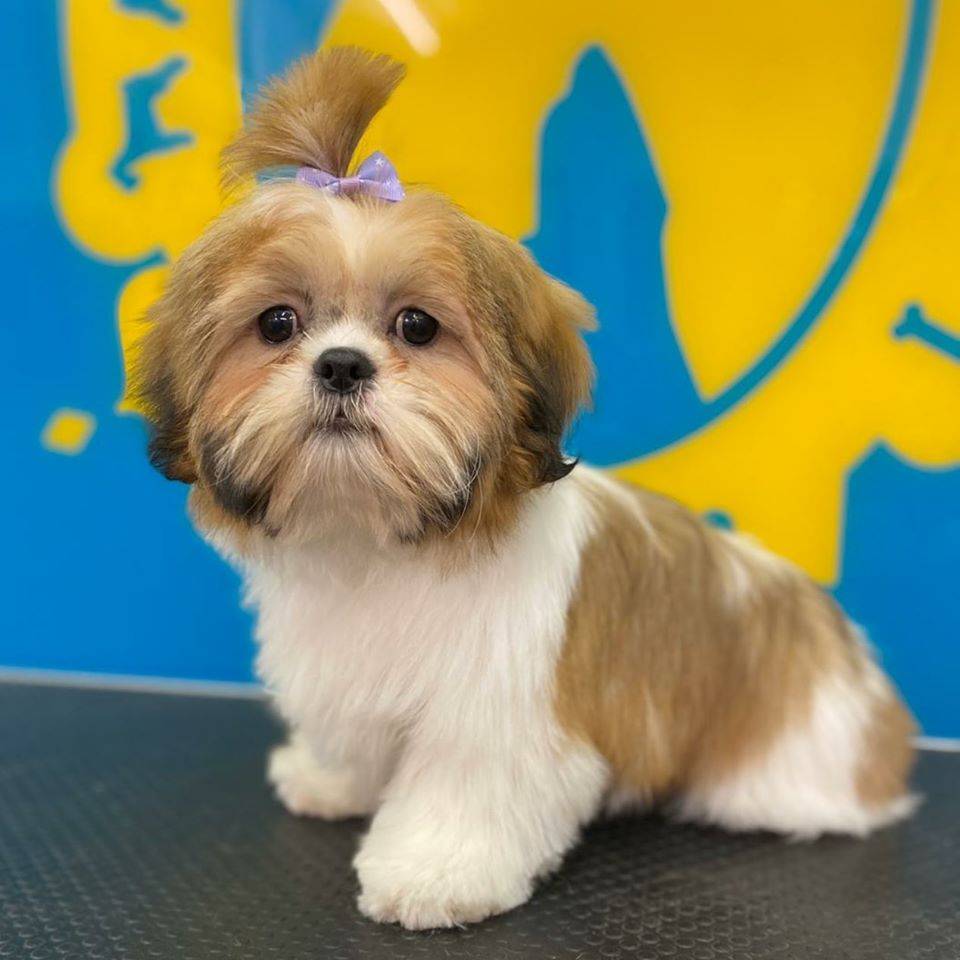 ---
Find a dog Groomer:
It's so important we talk about this all the time! We have dedicated page on "How To Choose A Dog Groomer" and we reference it again later is this article.
Finding a dog groomer is particularly important if you have chosen a puppy that had a longer coat that will require regular maintenance. This is especially true of dog like poodles, poodle crosses like cockapoos and labradoodles.
Much like choosing a vet, seek out recommendations and then visit the groomer where possible. Once you have a shortlist of contenders ask these questions to help you decide who is right for you and your dog.
What is their experience, and do they hold any qualifications?
Do they have experience with your breed?
What is the number of dogs per dog groomer at one time?
Are you insured?
How much will the dog groom cost?
What is included in the price?
How long will the groom take?
About The Dog Grooming Industry:
Dog grooming is considered an unregulated industry in the UK at present. This means that anyone can set up to groom dogs. The RSPCA recommends looking for 'qualified dog groomers' when searching for a skilled and reputable dog groomer. This can be challenging as there are a wide variety of courses available but what you are looking for is ideally a 'Level 3 Diploma' with dog grooming in the title of the course.
Any reputable dog groomer will be happy to show you their certificates as they will be proud of the hard work they have put in to gain their qualifications. This is quite straight forward with individuals who groom dogs alone but what about dog grooming salons and parlours?
A good dog grooming salon or parlour will be happy to discuss their team who work there and how they ensure the highest quality of dog grooming. This might be with in-house or 'on the job' training and junior or less experienced staff may well be (and ideally should be) working towards a formal vocational qualification. Senior and experienced staff, who should always be present, should have a significant qualification they can both explain and prove.
Final Administration Things To Remember:
Investigate local puppy classes. We always recommend completing a set of classes as it will make you a more confident puppy parent, while also helping your puppy socialise and learn the skills and behaviours which will stay with them for life.
Consider training classes for you and your dog. Most local dog trainers offer puppy classes and your can move on to obedience training. This is key is supporting you as a new dog parent and to help you and your dog develop the necessary skills for a happy life at home and out in the big wide world. This includes working on recall and walking to heel both very important to retail control of your dog while they are 'off lead'. With a recent #dogkind survey from the RSPCA showing that 18% of dogs never walk off lead.
Pet Insurance:
Research and organise pet insurance. This can be complicated so make to time to read, plan and budget. Finding the right plan for you and your puppy will take time and look at the costs & excess amounts on a claim. Consider your budget and means. Ask for recommendations and for a great unbiased guide on the language and jargon try thing great page from Which.
https://www.which.co.uk/money/insurance/pet-insurance/pet-insurance-explained-a8td63l18gsw
Essential Reading - The Perfect Puppy by Gwen Bailey:
Gwen Bailey's bestselling puppy care guide has helped hundreds of thousands of owners throughout the world raise a problem-free dog.
From house training to playing games, it will show you how to teach your dog good manners and build their confidence with the world around them. There are step-by-step training and socialisation plans as well as a guide to understanding and preventing biting, chewing and other problems.
If you want your puppy to develop into a happy, well-behaved and friendly adult dog, you cannot afford to be without this book.
https://www.amazon.co.uk/Gwen-Bailey/e/B001ITTP08/ref=dp_byline_cont_ebooks_1

Puppy Proofing & Preparing Your Home:
Puppies are natural explorers so check out the Bone Idol check list for puppy proofing and preparing you home for your new arrival!
As a new pet parent you will need to provide a safe environment for your newest family member. Preparing your home and garden for them carefully. This is similar to doing so for a curious toddler, you want to eliminate any and all dangers for them.
Your puppy will want to investigate every inch of their new home and sometimes they won't distinguish between their new toy and some shoes. This can be daunting, especially for first time pet parents but Bone Idol is here to help!
Top Tips for Preparing Your Home For A New Puppy:
Creating a safe space for your puppy to play, and providing toys to keep them stimulated.
Having a puppy crate/playpen for house training and securing puppy for short periods of time.
You may want to use a stair gate/ door gate to limit where your puppy can access.
Having a cosy washable bed in a quiet, draft-free place where your puppy can rest undisturbed.
Getting food and water bowls that are suitable for your puppy's size.
Getting stocked up with toilet training aids and pet-safe disinfectants to help cope with those little accidents.
Dog proofing your car and getting a transporter, or car harness for driving safety.
Invest in appropriate dog grooming tools for the breed of your puppy. Consult a local groomer for advice on the requirements for breeding.
Think like a puppy! Look for small objects and tassels that can be removed to prevent chewing and choking.
In addition to this, clear coffee tables and low surfaces and think about packing away breakables like vases for the time being. Tails can be just as involved as noses and paws!
Children And Visitors:
Prepare the family. Agree 'House Rules' that work for you. For Example only feed the puppy at meal times, no human food, no puppies on the furniture or keep bedroom doors closed. Consistency as always is key, so agree and stick to the basic commands for everyone to use from the start. 'Sit' & 'Wait' or 'Stay'
Teach children in the house and those who visit to stand still like a tree if puppy play gets too much and to ask for help.
Let regular visitors know in advance of your puppy's arrival such as the post or deliver people, medical assistance, cleaner and other people living in the same building.
It is always considered polite to let you neighbours know you are getting a puppy. Not only will it explain some of the strange noises they may hear but it will also prepare them for a possible short-term disturbance at night.
If you live alone, plan lots of visits from friends early on to help socialise your new puppy to visitors. Also talk to visitors in advance of arrival about rules and training for your puppy.
Puppy Proofing Every Room:
While your puppy may have a 'primary' room that they live in consider the whole living space and puppy proof for your peace of mind and your puppy's safety.
Think about electrical points and protectors, charging cables and getting cord covers.
Some houseplants can be poisonous, so move plants safely out of reach. A quick search online should let you know if plants are dangerous and should be removed or put out of reach.
Pack up chemicals and your medicines, think about things like toilet bleach, medicines on bedside tables or counter tops. Safety caps are not always enough once sharp teeth are involved.
Beware of batteries in things like car keys, remote controls, phones, watches, light up and vibrating toys and children's toys. All such items should be kept well out of reach, as small batteries can be swallowed and can be extremely dangerous.
Thing you might not think of we have learned the hard way...
Handbags, and bags should be kept completely out of reach.
Rubbish bins can be remarkably interesting and potentially very hazardous to your puppy.
Put away your shoes!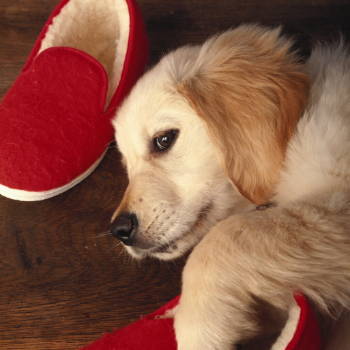 ---
Puppy Proofing Your Garden & Outside Space:
One final note on puppy proofing is to consider your outside space. Is it secure for the puppy?
Either create a dedicated and fenced off dog run or fence off and secure the hazards in your garden. These hazards could include ponds, flowerbeds, swimming pools and hot tubs. For smaller dogs consider a mesh barrier/fencing.
Look at all your garden products some like slug and insect pellets are highly toxic to dogs. Lock them away or better yet dispose of them responsibly. It is worth remembering here that anti-freeze and rock salt are highly dangerous to your dog (and cat) and can result in severe poisoning and even fatality.
Secure gates and consider fitting self-closing devices and secure latches.
Put signs on entrances and exits reminding people to secure these points and warning of the presence of your dog.
Puppy Socialisation Guide: The Basics
We talk about socialisation a lot and that is because it is so important! A happy well adjusted and confident dog is a socialised dog. The more you do now the greater the benefits in the long term for you and your dog!
During the early weeks and months, you will want to introduce your puppy to lots of different sights, sounds and experiences.
Gently introduce them to new people, let them approach things in their own time. Always keep things positive and let your new puppy make the first move.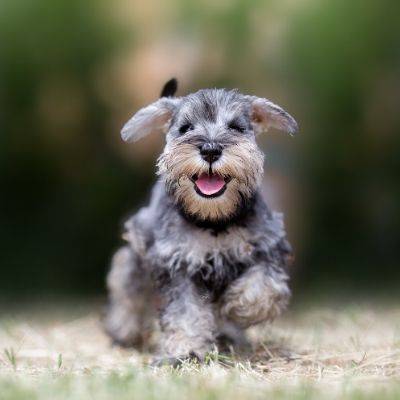 This stage is known by many as the 'socialisation period'. This can last up to week 12-16 of your puppies' life. During this period, you new dog will learn to accept things around them. This helps them to be familiar with the things that happen in their lives. Puppies without good socialisation may develop fears with new surroundings, people and experiences. Being such a short period, it is key to have a list to work through. Try to identify all the things your puppy may experience or that you want them in anticipation of a life full of adventures!
Write a list of all the things you can think of and check them off the list when you puppy had a calm and positive experience of them. This includes things like loud noises like fireworks, dogs barking sounds, bikes, prams cars and busses.
Socialisation: The Basics
Let's talk about the basics at home. This does not need to be stressful a little planning goes a long way, talk to people before they visit and explain your goals.
Gentle, low key introductions to children are best, trying to keep the experience as calm as possible, perhaps asking children to sit down and give puppy as much space as needed.
If your friends have healthy, fully vaccinated puppy-friendly dogs, you may choose to introduce them before your puppy's vaccinations, but please take advice from your vet on this.
Carrying them around outside to introduce them to new people, sights and environments. Stand near busy roads or shops. Some people wear a backpack on their chest with some blankets inside to keep the puppy cosy and warm while exploring the outside world in a safe way.
Gradually introducing them to the car, being handled and having their ears, eyes and other body parts checked regularly. Ask your preferred groomer how you can help prepare them for grooming during this time.
Puppy's First Days At Home
The first months in a new puppies life are an amazing time for learning about new things. In these first few months, nerve pathways develop and are only retained if they are remain actively used.
Incredible though it may seem, this means that the range of different situations that your new puppy comes across actually influences the nerve pathways in their brain.
So making the most of this period to socialise and teach your puppy as much as possible is key to a healthy adult dog. Understanding their behaviour and needs during this time and training should be done in tandem with socialisation.
Puppy's First Night:
Puppies and dogs are pack animals and can whimper and cry when they are first separated from their Mum and puppy siblings. They are not initially used to being on their own. For the first few nights you might want to have your puppy in a large open box or crate which they can't crawl out of in your bedroom. This may help them to get used to being on their own and can aide toilet training.
Make sure your puppy is as tired as possible before bedtime, with games, training. When you settle for bed try not to fuss over every whimper or murmur but be prepared to get up for a trip to the toilet without too much attention.
Some people like to set an alarm for the first few night and take the puppy out every 2 hours. While this might sound daunting it helps to reduce your puppies stress and aids in toilet training process.
Puppy Toilet Training:
Puppies need constant supervision for the first two or three weeks. To help toilet train your pup take him/her outside to the same spot frequently. Ensure they go out after each feed, after playing, first thing in the morning, last thing at night, basically at least once an hour. You should stay with them so get that coat and umbrella at the ready.
There's no need to stay out for hours if it doesn't look like they are going to toilet, stay for a few minutes and if nothing is happening take them back in and try again later. There will be steps forward and the odd step back but you will make progress. Consistency from you and your family will help.
It is best to allow them to wander around, when you see they are about to go use the same cue phrase such as 'Go Potty' or 'Be Clean' and use the phrase consistently every time. When they have been to the toilet, praise them enthusiastically to make that little tail wag.
Top Tips For Puppy's First Days:
As frustrating as it may, be try not to be angry if there's been an 'accident' in the house. This could cause them distress and actually result in them not wanting to go to the toilet in front of you at all.
Dogs naturally communicate with other dogs using body language, this means they naturally understand human gestures and body language better than spoken word. For example dogs may find direct eye contact and a smile that shows your teeth threatening rather than friendly.
Continually praise and reward your puppy immediately when they show good behaviour, and this good behaviour will grow into good habits.
When petting your puppy have a toy to hand that they can mouth. This may seem obvious, but puppies don't have hands. So they explore with their mouths. A toy will help them learn that they play with humans with a toy and not chew or nibble on our hands and feet
While some puppy behaviour may be cute, try to think about the future. As an adult dog that jump, nip or pull could be very undesirable. Try to keep encouraging good behaviour and be constant in what is acceptable. Ask friends and family to be also help you here and don't be afraid to politely ask them not to encourage certain behaviour.
If your puppy is doing something you don't want them to do, immediately take their collar and gently lead them to what you do want them to do. You may want to use a training line so you can better manage his or her activity for the first few weeks.
Your puppy needs to understand that you are the leader, you can help this along by showing that you are in charge of access to food, controlling use of toys and the access to the outdoors and winning more often than you lose in those little play games of tug of war.
To keep things interesting try to change and swap out toys every few days. Removing toys from play will also help you establish yourself as the pack leader.
Cuddles & Touching:
Dogs rarely touch each other so you will want to teach your dog to tolerate and enjoy being touched. It's good to get your puppy familiarised with human touch, the more they are held, handled or restrained the less threatened or stressed they will be by these experiences in the future.
Once again when you start with this have a toy and maybe some treats to reward the positive behaviour with these. A toy will also encourage the puppy to chew or mouth this and not your arm!
Making this a positive experience is both personally rewarding but also key for grooming and visiting your vet. (You can take a toy with you to the vet too.)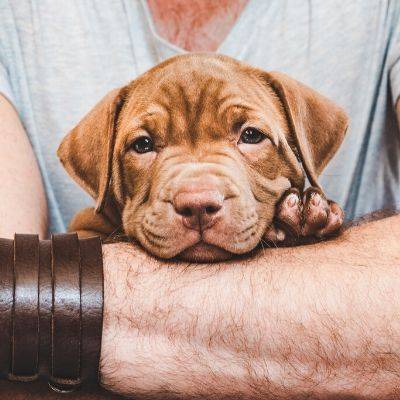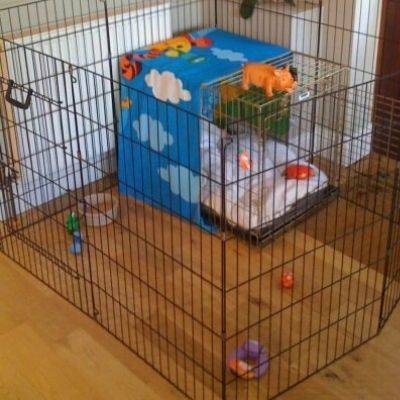 ---
Puppy Playpen:
A Puppy play pen is a great way to give yourself and the puppy time to relax and to separate them from other animals and children in the household.
Ensure they have space to sleep and play and there is somewhere to toilet if necessary. A couple of toys and bed are essential so that your puppy will be able to settle and lean to stay calm.
Remember that this is not somewhere to leave your dog for long periods of time. This is a safe space that will allow them to learn to be alone and to relax while they are not having attention from family members.
Their puppy play pen should be a positive and clam space dedicated for your new puppy.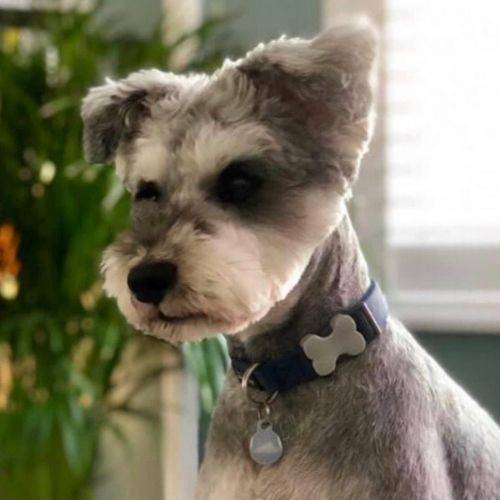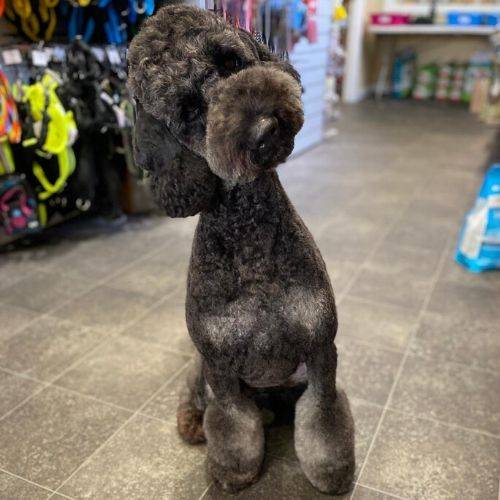 It's so important we talk about this all the time! We have dedicated page on "How To Choose A Dog Groomer".
All puppies will require grooming of some kind and this is largely dependent on the breed of your puppy. Discussing this with a qualified local groomer or with our grooming team here in Brighton will help you plan out the best process for making sure that you and your puppy enjoy a lifetime of grooming.
Puppy Grooming at Bone Idol in Brighton will include making sure that your new puppy has clean ears, eyes and nose. That their fur is not matted. We also include a 'hygiene clip'. This is simply clipping the hair around the bottom and genital areas to ensure they are clean and hygienic. An important factor in keeping your puppy healthy and happy.
Grooming is great for every dog and not just when they are muddy, it also has health benefits too!
Free Puppy Groom At Bone Idol in Brighton:
Bone Idol believe every puppy need a positive first experience at the groomers so offers a free puppy packed for puppies 12-20 weeks old exclusively in our wonderful salon on St James's Street, Brighton. Full details are available here:
https://boneidol.co.uk/blogs/news/free-puppy-grooming
A Healthy Start To Dog Grooming:
Grooming has several health benefits for your dog. A good groomer can talk you though these as appropriate for the breed of your dog.
Brushing your dog allows the groomer to remove loose and damaged hair from the coat we refer to this process as ventilating the coat. This process promotes continued healthy and strong coat. Regular brushing can act as a gentle massage that can simulate the skin and promote healthy blood circulation.
Grooming your puppy will also ensure that your dog's skin can breathe and keeps down the level of grease and grime in their coat. This can build up and cause irritation, itchiness and various skin problems.
Gentle and enjoyable grooming of your puppy should develop over time. Home brushing, combing and handling of your puppy will make the grooming process much more comfortable for your dog. It should become a soothing, positive and relaxing experience for you both. This will in turn help to reinforce the bond between you and your dog.
Matting and Knots:
Particularly for longer coat breeds there can be some issues with matting of the fur. When a dog moults or sheds, the loose hair can get tangled which causes matting. If not brushed away regularly these mats continue to develop. Mats are not just knotting of the hair but can build up to cause discomfort and damage. They can also cause and hide other problems.
Mats that form close to the skin, particularly around the joints, can pull on the skin and create painful sore patches and/or cause distress to the dog. It is possible for these patches to develop sores and for these to get infected causing further damage and serious complications.
Regular Grooming & Choosing A Style:
Regular grooming gives you, and your groomer, the opportunity to give your puppy a basic health check. They can check for matting and sores, clean out between the toes where mud and grass seeds can form large matts.
Grass seeds can even grow or travel through the skin, sometimes causing infection and may even require surgery. While grooming a good dog groomer will check for any sores, fleas, or general lumps, bumps, scratches, and the condition of their eyes, ears and feet.
Breeds with longer coats may require a more comprehensive grooming. These breeds can have breed standard cuts, show cuts or bespoke grooming. Talking to a good groomer will give you the options and advise you on how to maintain the cut between grooms.
You can find out more about our Brighton dog grooming services by looking at our grooming pages or by contacting our Brighton grooming team. 01273 695631
Bone Idol Guide To Brushing Your Dog.
Ben from Bone Idol Brighton Dog Grooming & Nora the Labradoodle - An introduction to brushing your dog.
A video to help everyone when maintaining your dogs coats at home.


---
---
Puppy Food: What To Feed Your Puppy
For many dog owners this decision is not something that really pops up on the radar and a recommendation from a breed is enough or the convenience of buying you dog food with the weekly shop. The challenge here is not every dog food is equal, so a little research goes a long way.
While some food may appear a bargain price wise, a little digging in the ingredient list can uncover fillers and low-quality ingredients. Some brands are also bought out by larger companies that then change the recipes to make them more profitable. So it is worth learning to understand the labels and terminology around dog food.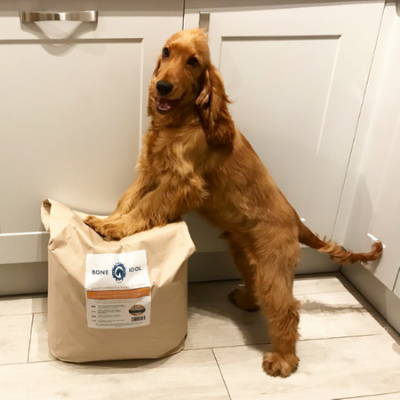 Bone Idol is committed to providing healthy high-quality dog food with transparent labelling.
We believe is this so much that we asked independent vet and writer Elaine McNamara to write an unbiased view on how to choose a dog food. It investigates the benefits and challenges of the main dog food types including raw, dry, wet and cold pressed.
https://boneidol.co.uk/blogs/news/what-is-the-best-dog-food-for-my-dog
There is a lot to talk about here, so we also have written this dedicated introduction to Bone Idol Healthy Puppy Food and Nora Nose Best Cold Pressed, both available exclusively on the Bone Idol website.
https://boneidol.co.uk/collections/bone-idol-puppy-dog-food
The Basic Guide to Puppy Food:
Puppies need a special diet that is different from other life stages. So please ensure you choose and feed you puppy a food that is designed for this life stage.
They require a balanced and complete meal that contains a high level of protein to support health, growth and development during this crucial phase of life. As well as a mix of dietary fibre, minerals, vitamins and nutrients.
Your dog food must say 'balanced and complete'. This phrase is key in making sure your dog gets everything they need from their dog food. Not feeding a balanced and complete meal is like eating a processed take away meal or living on jam sandwiches every day. Its just not healthy.
Bone Idol Healthy Dog Food for Happy Dogs, A Balanced & Complete Dog Food:
Bone Idol Healthy Puppy Food is always balanced and complete. Every recipe is formulated with industry leading nutritionists and is vet approved.
Sourced and made in the UK.
Free delivery
On all orders delivered to mainland UK
Ethically sourced
Raw and fresh human grade ingredients
Free From artificial colours, flavours and preservatives
Always balanced and complete
From Puppy to Senior dog food, all the ingredients are responsibly sourced and highly nutritious all selected from our farms and trusted sources providing you with a guarantee of the highest quality in every bag.
With our commitment to healthy, ethically sourced fresh & raw ingredients, your dog will taste the difference.
https://boneidol.co.uk/blogs/news/treat-your-newest-little-one-with-bone-idol-puppy-food
Bone Idol Puppy Ingredients:
Every puppy recipe from Bone Idol is designed specifically to support the health, growth and development of your new family member while providing a balanced and complete meal.
To ensure every healthy meal provides your puppy with everything they need to support development without excessive weight gain, each flavour has an individual feeding guide based on the recipe. These feeding guides are based on the expected size of the adult dog they will become and are printed on every bag.
We even have special dog food designed for larger breed puppies where the standard adult weight of the dog is expected to be over 25kg.
Buy Healthy Puppy Food:
Whichever bran you choose ensure that the food id a healthy option and understand how your dog food is made.
High temperatures, processing and pressures 'denature' the nutritional value of food. This means that less of the nutrients are available for your dog to digest and absorb.
Bio-availability:
Bone Idol Healthy Puppy Food is made using a trademarked process that cooks at a low temperatures and pressures. This unique cooking process maintains a higher nutrient bio-availability, meaning Bone Idol Healthy Puppy Food has more goodness, natural aroma and taste for your dog. Bone Idol dry dog food has a bioavailability of over 90% across the whole range.
Made with freshly prepared, human grade and functional ingredients to ensure your puppy gets everything they need for a healthy, happy and fabulous life.
For more on what is a freshly prepared ingredient check out or dedicated page explain the terminology and why we love it!
https://boneidol.co.uk/pages/freshly-prepared-ingredients
Should I Choose A Grain Free Dog Food?
While for a very small population of the UK's dogs this is a necessity for most dog this is not required. However grain are not always the most nutritious option available. All Bone Idol Healthy Dog food is grain free because we believe that sweet potato is a much healthier option and has added health benefits for your dog.
Sweet Potato In Dog Food:
Every recipe is grain free because we use sweet potatoes rather than grains in our healthy dog food. Sweet potato provides complex carbohydrates that are easily digestible, naturally tasty and low glycaemic index meaning it slowly releases energy throughout the day.
You can read more here on our 'Winner, Winner, Sweet Potato Dinner' page.
---
Vaccinated Puppies & Final Thoughts:
Seek out your trusted experts, these might be a local dog behaviourist, dog nutritionists, independent pet shops, dog breeder or dog groomer. They are passionate about what they do and do be afraid to ask questions! We all love talking about dogs and will happily help you find an expert you need.
Grooming! We cannot stress this enough. If your dog has a coat that will require grooming visit the local groomer of your choice. At our Brighton Grooming Parlour, we offer a free Puppy Grooming Package to help introduce them to the grooming process in a fun positive way.
Growing and learning is very tiring for a young pup so let them have lots of rest and try and keep training sessions short, fun and frequent.
Puppy Socialisation: Fully Vaccinated Puppy
Once your puppy is fully vaccinated, you can fully socialise them outside. You don't want to take him/her out on pavements, parks or gardens which may have been soiled by other animals until he/she has been fully vaccinated.
Getting out for regular walks to parks and busy environments is a must, think about school closing times and rush hour walks to help your dog get familiar with busy environments and crowds where possible.
Introducing Vaccinated Puppies To Other Dogs:
When Introducing dog and puppies, remove toys and food. Bring the puppy into the room/garden first, then introduce the older dog. Try to keep excitement to a minimum and remember to give the older dog plenty of attention.
If you are worried about how your older dog may behave use a puppy pen and introduce them. This allows them to safely investigate and get to know each other. If you are worried about introducing a dog to your puppy seek advice from a qualified dog behaviourist.
We truly hope you and your puppy have a fantastic time together and enjoy the coming weeks, months, and years together.
Is there something you would like to see us add to the Bone Idol Puppy Guide just email us at info@boneidol.co.uk