Our Students | Kellie | Bone Idol Academy | Dog Grooming Course
Kellie, 42, from Pullborough is studying at the Bone Idol Academy for the iPET Network Level 3 Diploma in Grooming and Salon Management.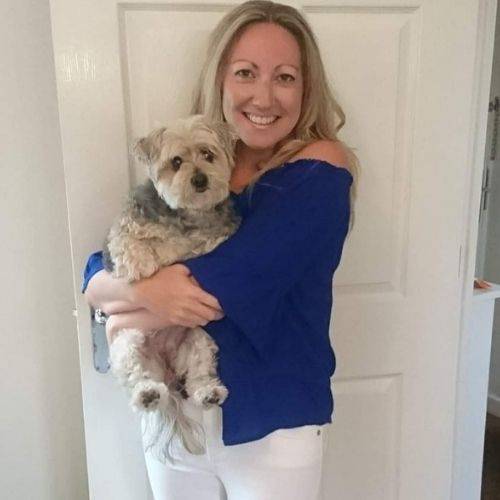 Here she explains what led her to decide to become a groomer, and how training at Bone Idol has helped her to gain the confidence she needs to start a brand new career path.
What made you want to become a dog groomer?
I'm a huge animal lover, my mum used to work for the RSPCA, so I've always grown up with animals in the house! I had always wanted my own dog but because I worked full time, I knew it wouldn't be fair leaving it alone all day.
I went travelling and since returning have been teaching English online to children in China. I had only been working from home a few weeks when I decided to reserve a rescue dog and now have my very own Yorkie called Dolly!
I used to take her to a groomer and when I picked her up she always looked beautiful. I thought how amazing it would be to not only work with dogs all day but be able to have the skills to completely transform them!
When Covid hit, teaching salaries went down and there were lots of changes within the company and I realised then that now is the perfect time to get my qualifications and start up my own little business which I could perhaps do alongside my teaching.
The moment I walked into the academy I knew I had made the right decision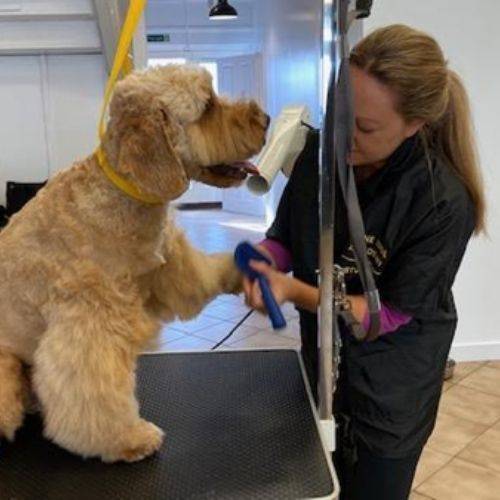 What are your favourite parts of the training at the Bone Idol Academy?
I love meeting the dogs and taking care of them. I get a buzz every time I finish a groom and see their transformations! I have been adding before and after pictures to a portfolio since I started and can't believe the progress I have made in such a short time. The hands-on training is excellent, you are grooming dogs from day 1. I have learnt so much and certain things I used to be nervous of doing, such as nail trimming or a hygiene clip, I can now do without worry, so I have definitely grown in confidence!
I did lots of research before choosing Bone Idol. I had previously looked at colleges but was put off by the length of time it took and the number of students in a class. I chose Bone Idol because I liked the idea of a college environment but with more one to one tuition. I decided to do the five day introductory course to start off with to see how I got on. The moment I walked into the grooming academy I knew I had made the right decision and am so pleased I chose Bone Idol to continue my training!  
The tutors are fun, friendly, extremely knowledgeable and patient, supporting you every step of the way. The academy is bright, spacious and well-equipped with all the professional training tools you need.  
Facilities: It consists of two floors; the ground floor is where the practical training is carried out, for example prepping, bathing, drying, and styling.
Upstairs is the classroom where theory takes place. The location is great, the academy is surrounded by cafes and shops and the beach is only a short walk away. I have spent many of my lunch hours café hopping and having lunch on the beach!
A typical day at Bone Idol: arrive at 10am and meet your dog! The dog will either require a bath and brush or a full groom. Theory also takes place some mornings, this is where you learn about the different coat types, anatomy, diseases and disorders.
Lunch is usually around midday, although could be slightly later depending how long it takes to finish your groom.  
In the afternoon (around 1pm) more dogs arrive! You are allocated a dog to carry out a full groom. You will learn how to do a health check, trim nails, clean ears, prep the coat, bath, brush, and style!
I wanted to do it properly and get the best qualification I could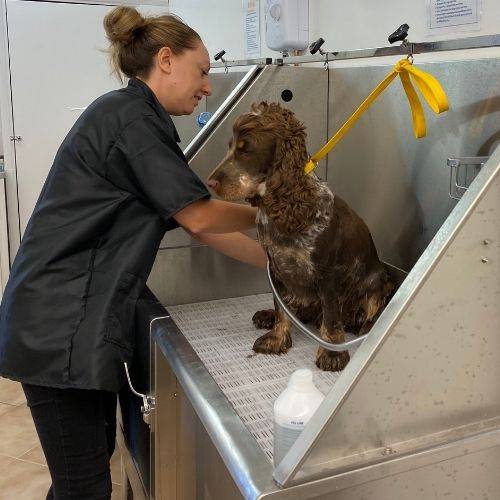 Why do you think it is important for groomers to be qualified?
As a dog owner, before I even looked into any of this, I didn't realise that grooming is unregulated! I just assumed that dog groomers were qualified. I think that is really scary.
I wanted to do it properly and get the best qualification I could, that is why I chose to do iPet qualifications at the Bone Idol Academy, because their qualifications are regulated by Ofqual and specialise in the canine and feline sector.
What are your aspirations for your future dog grooming career?
To run a successful small business from home! I have my heart set on a grooming pod which can be set up in a garden and which would enable me to groom dogs on a one-to-one basis in a calm and relaxed atmosphere making them look and feel fantastic!
I have my heart set on a grooming pod which can be set up in a garden!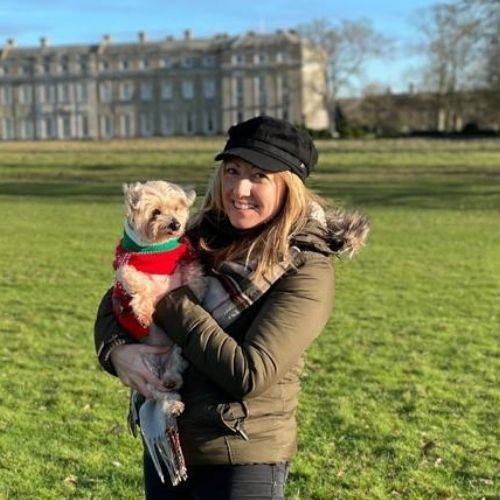 ---