Our Students | Jessy | Bone Idol Academy | Dog Grooming Course
Jessy, 22, from Northern Ireland is studying for the iPET Network Level 3 Diploma Qualification in Dog Grooming and Salon Management.

A former Army dog handler, Jessy had to give up her dream career and be medically discharged due to an illness. But is now looking forward to living a new dream by becoming a dog groomer.
What has led you to decide to become a dog groomer?
I was in the army as a dog handler posted in the East Midlands area, I was a protection dog handler doing things such as, continuation training, exercises and general kennel routine. I joined when I was 18.
I am getting medically discharged from the Army because of an ongoing illness. It's really sad, but positive at the same time because I think I am ready for something else and wanted to explore more career options.
I've always worked with animals, before I was in the Army I used to work at animal shelters and things like that, I've always been around dogs, and love going into work and being with the dogs all day. That's why I think I've chosen grooming as my next career option, it's a natural transition, and I won't miss the canine company I've enjoyed so much.
I am still employed by the Army at the moment and the course is flexible so I can study alongside any appointments or admin that I need to do to prepare me for leaving the forces.
I've always worked with animals, before I was in the Army I used to work at animal shelters
Why did you choose the Bone Idol Academy?
I had researched other courses, but a lot of them stipulated that you had to do their introductory course, pay for that do that and then go one day a week for an entire year.
I wanted to just do as much as I could as soon as I could. When I found Bone Idol I emailed Helen and she was so informative and helpful with everything and gave me loads of information. It just seemed like the best fit for me.
What is an average day at the training academy like?
You get in, and you are shown which dog you have for the morning. Then you get all your prep done, changing into an apron and then get started with a groom.
Helen always talks you through, and helps you make a plan, and asks you questions about the coat type. Is it a hair cut or a breed standard, or a wash and tidy? And then you crack on!
We usually have until about midday to do the groom. It is really interesting and that is just the morning!
Before I started the course in my head I thought it was going to be loads and loads of classroom work, and then a little bit of grooming here and there. But it has been so hands on and it's amazing. You are literally grooming dogs all day every day! You do have theory lessons, but they really make it interesting. It has been brilliant.
It has been so hands on and it's amazing!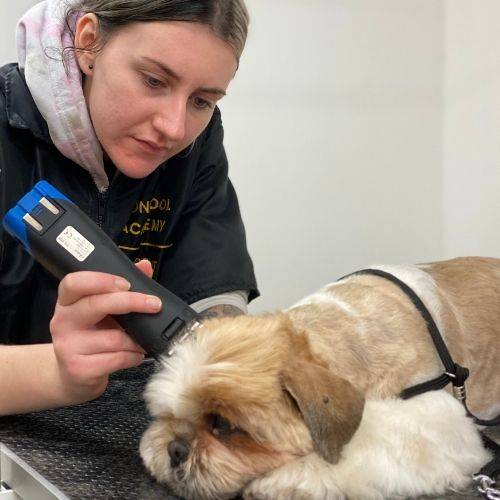 Why is it important for people to do the iPET Network qualification?
It is really important because this is a skilled job, and you are learning the proper way to do things.
Important things like the proper ways to use your tools, and how to ensure a dog is always safe. If you didn't know those things, or didn't know the industry standard way to do those things it could be dangerous.
People who don't do qualifications also wouldn't know what we learn about the different coat types, and this can cause injury to the dogs.
I think that the industry should be regulated, you need to have training to show that you can do the job, and for safety reasons. I was really shocked when I found out that dog grooming is an unregulated industry.
What are the facilities like at Bone Idol?
They are brilliant! It is really spacious, they have upstairs space where you take a break and do classroom activities and then downstairs there are big grooming tables, lots of equipment, three baths and dryers. It is massive.
There are so many facilities and tools that you won't be in the position during a class where you have to wait for someone else to stop what they are doing for you to carry on.
I really recommend it!
I will always have these skills and can use them wherever I go.
What are your plans for the future?
Well after the pandemic I definitely want to travel, but I also want to advance in my dog grooming career.
I think the pandemic definitely makes you realise that you have to look forward, and that's why I've enjoyed doing the course at this time. I will always have these skills and can use them wherever I go.