Love Letter | Simon & Nora
As a kid my Nan had a dog when I was five or six, he was awesome, a big Alsatian called Sam, but in my adult life I'd never had a dog.
Life moved on, and I got to the stage where I realised that there was maybe something missing, and eventually I realised that it was a puppy-shaped something!
I've worked for the same company for a long, long time, and even prior to lockdown, I knew that I could flexibly work, and I knew I had the support of friends to look after her when I did have to go to work.
But it took a while, I did lots of research and planning and in my mind I had a view of exactly what I wanted, and if I'm being honest Nora was the complete opposite, but I fell in love with her the second I met her.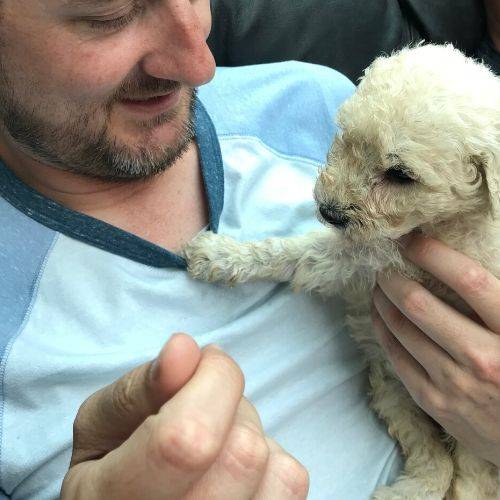 'Oh wow, it's you, you're my dog!'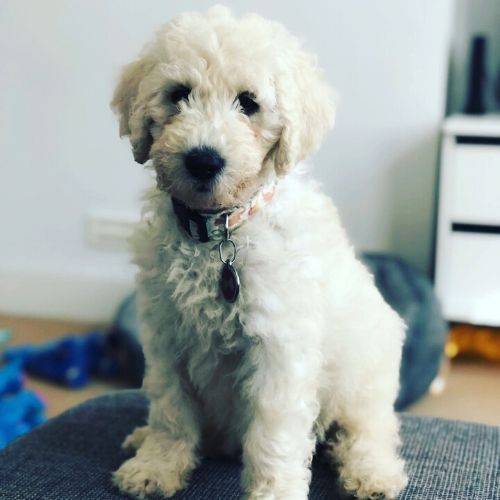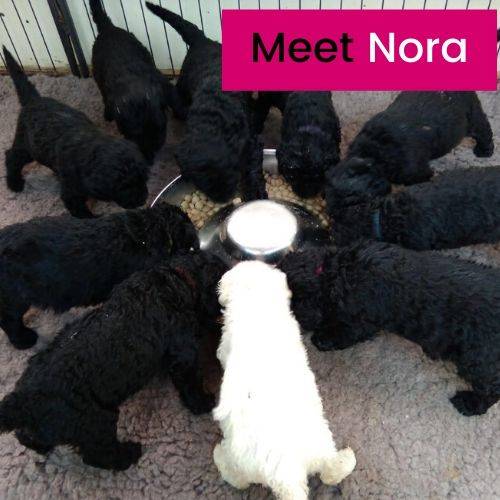 We went to see the litter and knew the breeder, I knew what Labradoodles were like, I'd done my research and in my mind I was going to choose a boy who would be black with a little white chin. But as I was playing with the dogs, it just didn't click at all.
Then my friend suggested that I meet the girls to see how I felt, I picked up what would be Nora and instantly something just clicked. She was relaxed and lovely, trying to climb in my shirt, and it just hit me. I was like 'oh wow, it's you, you're my dog!'
It all felt a bit overwhelming, so I took myself outside and I was thinking 'oh God, do I actually want to do this?!' I was texting my friends and saying "so there isn't this black male dog with a white chin called Dexter, but it turns out it's this little monkey instead and she's going to be the one!"
In her litter there were ten or eleven black dogs and just the one white dog, and that was Nora. She was special from the word go, she's not named after Nora Batty or Norah Jones, the name that stuck was Nora Bing, Chandler's mum in Friends.
---
And that's when my life completely changed!
Nora is so sociable, and I can honestly say that I have met and had conversations with interesting people I would never have spoken to if it wasn't for Nora. It adds another social level to engagement with people.
A lot of people stop me in the street and ask about her. When she was a puppy I was going to get a t-shirt that said 'she's a she, her name is Nora, she's a Labradoodle, she's six weeks old' because it was that often that people would stop us!
She's a big bundle of fun, if you show her a toy or a ball it's instant 'yes brilliant! It's play time' – but if I put the ball away she doesn't whine or moan, she just knows that it's the end of the game.
Pre-covid we went to the pub a lot, so she's well socialised, and she's never been shy of meeting other dogs. Nora even takes her own seat at the table as she loves to be part of what's going on, following the conversation and loves the attention she gets at our local.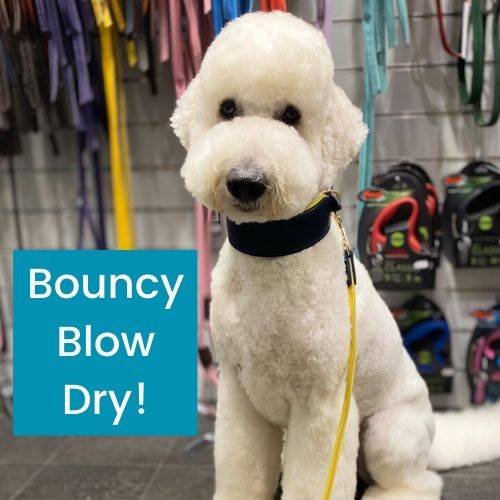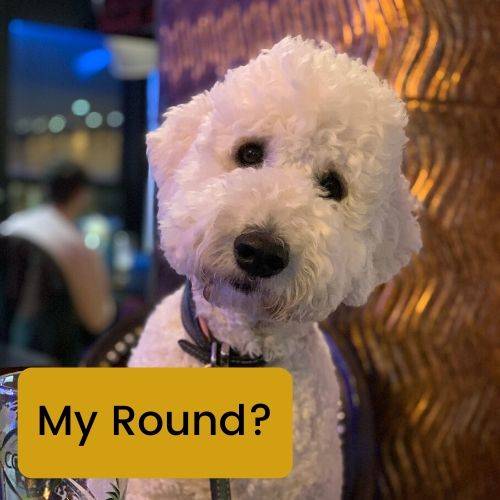 Adorable Labradoodle, Nora loves the pub...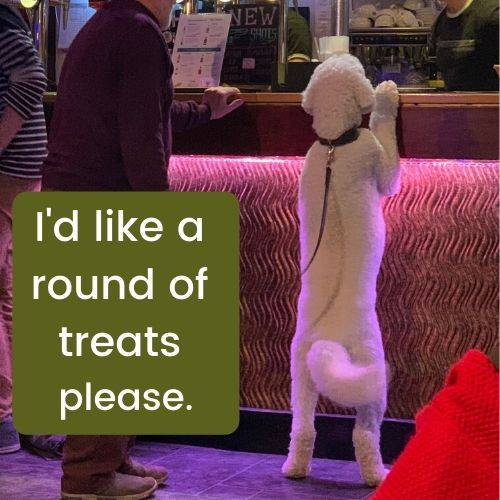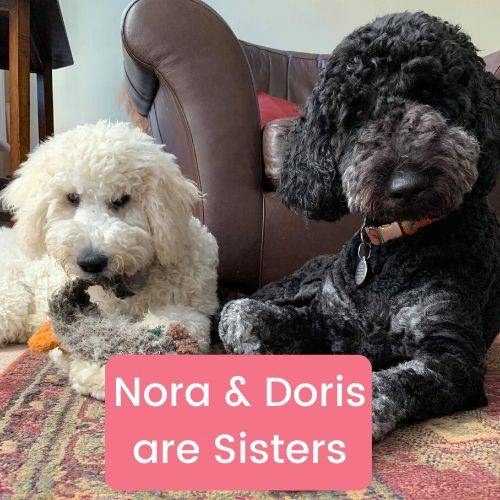 The bars that she knows, when she goes in she will jump up at the bar as if ordering a drink, and they will give her a treat, everyone knows her. The door lady at one of the bars is always cuddling her. She's probably more popular than me or any of my friends!
At home she likes jumping up at the kitchen counter to check for food, or tearing round the house. She also knows the name of her sister Doris who is my friends Scott and Jon's dog, and when I say she is going to see her, she'll sit at the window and wait for her.
She's very clever, sometimes too clever! But she's so gentle and fun.
She sleeps on the bed, and loves a night time snuggle, although she's a bed hogger! The amount of times I wake up and I'm hanging on the edge of the bed, and she's sprawled out on her back, legs in the air. No cares in the world.
In the morning she likes an extended snoozle too. I can get up and make a coffee, shower and get ready, and she'll stay on the bed, and only move when she's ready for her breakfast. In the evening she sometimes takes herself off to bed is she's tired too.
On a recent holiday to France I also discovered that she absolutely loves swimming! She'd never done it before, but she would hop in the pool all by herself, do a few laps and then get out again to chill in the sun!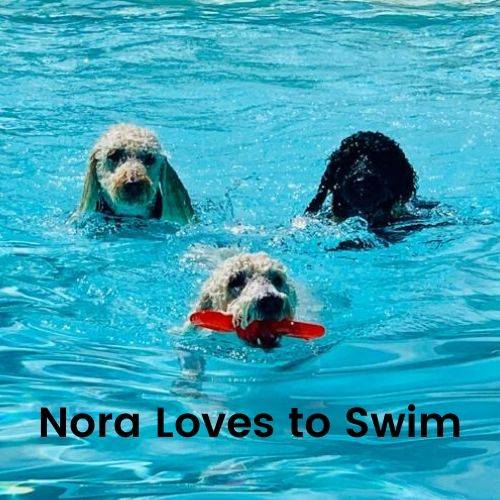 And now Nora is famous, as the face of the new Nora Nose Best cold-pressed dog food range. I think that's really exciting. Nora loves the food, I love the branding and I think it's great. It's a really exciting time.
They have really captured her essence, and the bits that are important to me. They have used her nose too, she has the most perfect little doggy nose!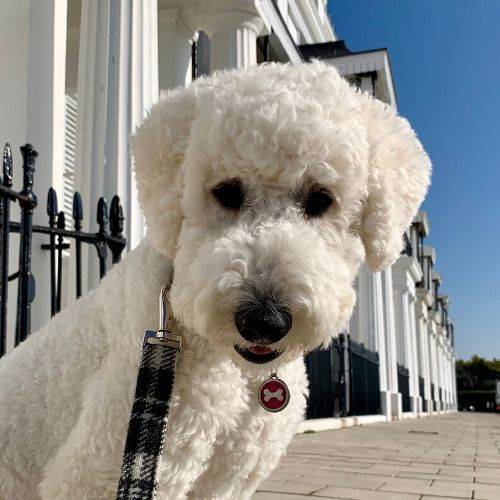 I love Nora, 'My constant companion' - Simon
She's changed my life absolutely for the better, particularly when you look at the last few months with the pandemic lockdown.
Without her it would have been far too easy to just be at home, just working and watching telly. But when you have that extra soul that lives in your house it forces you out the door, even prior to that if it was windy and rainy and you are hungover and don't want to do anything, you have to go out, and it gives you a sense of enrichment.
So thank you Nora for being my constant companion, my little legs, my little monkey, I'm really happy that I can give you the life you have become accustomed to, and long may it continue.
Hopefully our trips to the pub will resume soon and you can be the star of the show all over again!
Love Simon
x