Love Letter | Nina & Binky
Music producer, musician and long-standing creative partner of the late-great DJ and producer Andrew Wetherall, Nina Walsh has always been a true animal lover.
But it took a while to convince Andrew that a dog was a good idea. But then Binky came along, and in this moving tribute, exclusively for Bone Idol, Nina shares her thoughts on loss, creativity and how a good dog can see you through even the most crashing of storms…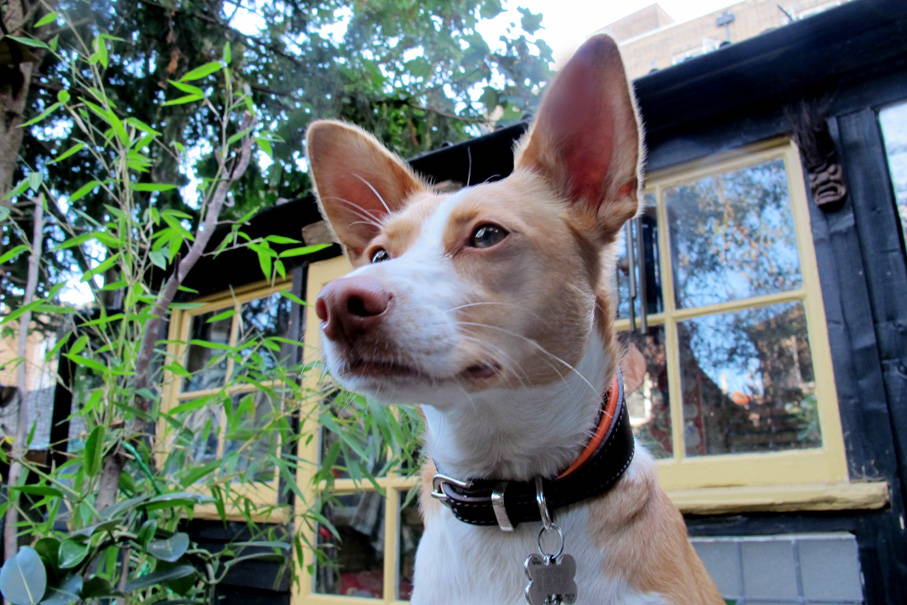 ---
---
My first dog was a basset hound called Blodwyn who was my best buddy growing up. She came into my life at around four years old. Then as a teenager we welcomed Derrick into our lives, an Airedale Terrier. Mum was left with Derrick as my brother and I finished our education and fled the nest.
I missed him dearly but he became mums best buddy and would accompany her to work, patiently waiting in the car for her as she visited her clients.
---
We also had lots or rabbits growing up, so when I moved to London and while my boyfriend at the time was not keen on me getting a dog, we agreed that rabbits were okay. One rabbit soon became two, Freestyle and Tank Girl followed shortly by the addition of two guinea pigs, Sir Winston and Squidget.
Sir Winston and Squidget soon became techno legends when Kris Needs and I recorded their amazing squeaks and featured them on a record by our one record only band The Rabbettes.
We released the record on my label, Sabrettes and donated the profit to a guinea pig hospital. We even got to perform the music live at Andrew Weatherall's club, Sabresonic, to a slightly stunned audience. Four giant rabbits and a writhing carrot brandishing machine guns firing blanks at the audience in time to the music. Can you imagine getting away with that now?!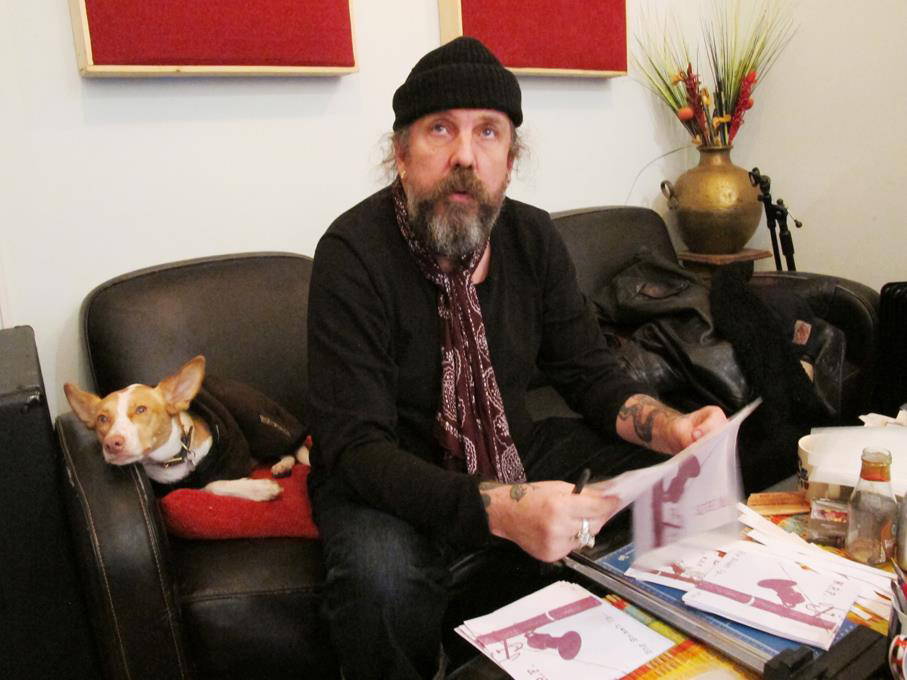 Ten years on and I eventually got myself another dog. Droog the Wheaten Terrier who grew up with the rabbits and utterly adored them. He was a very special boy and I miss him dearly but we had 16 years of love and cuddles together.
When long term creative partner of more than 30 years, Andrew Weatherall and I switched from running record labels (Sabres Of Paradise & Sabrettes) to writing and producing music together under the name Woodleigh Research Facility, Andrew had no choice other than to accept that Droog came as part of the studio.
It was Andrew who wouldn't let me have a dog all those years ago! He learnt to love Droog and would bring him in plates of raw steak everyday for dinner and occasionally Droog would perform on the odd recording.
When Droog gained his wings and entered the invisible at the age of 16 the studio was not the same and my heart was broken. I was convinced I would not be able to love another dog that much again so decided not to try.
That was until a trip to Spain to help my friend Vince with his three Spanish Podenco hounds on the ferry six months later. I met Vince at a Faust gig at Borough Wines in Hastings. He had these three beautiful and unusual dogs with him that almost looked part kangaroo. They were Podenco Andaluz.
We got talking about the history of the breed and the plight of the Podenco in Spain, which is very sad if you look into it and it transpired that Vince was also a musician and used to play drums for the Psychedelic Furs so we had quite a lot in common.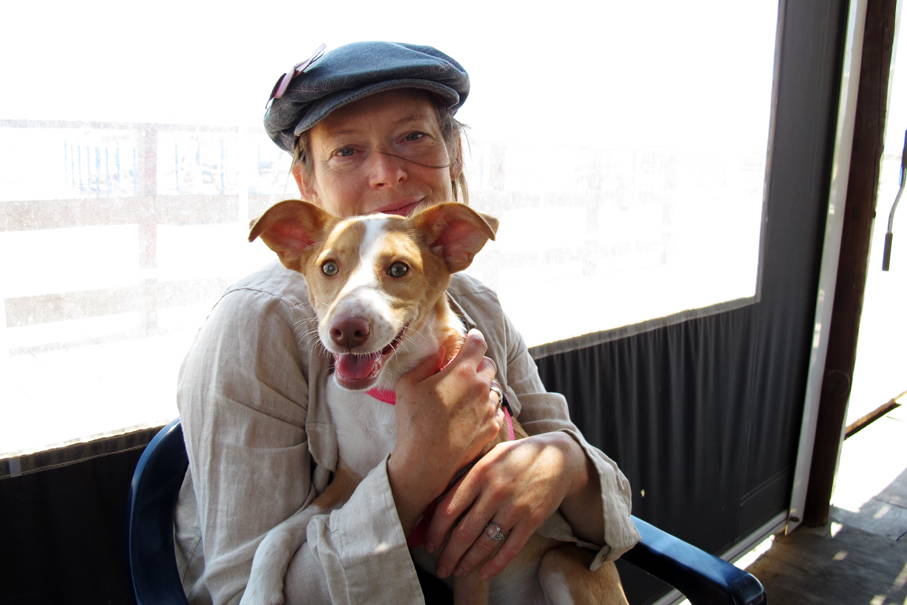 Inevitably we ended up going on an adventure, making music and saving Podencos in Spain. We went with three and came back with five!
Binky was about three months old when I saw her trotting along the streets of being walked by a volunteer dog walker from the shelter that had rescued her from living 'ruff' on the campo.
On her lead were the words 'adopt me', so I did. I saw no other option. She was adorable and alone and we instantly hit it off. I had to fly back to London to perform a Moine Dubh gig, another label that Andrew and I had accidentally started, so paid for her to stay in kennels until I came back to bring her home on the ferry with Vince and the rest of the pack.
We also rescued another Podenco cross from the perera, also known as a kill station. There was room in the van so 'why not?' She was a clumpy little thing and looked a bit like a cow so we called her Daisy and she now has her own 20 acres of land to run free across in Dorset.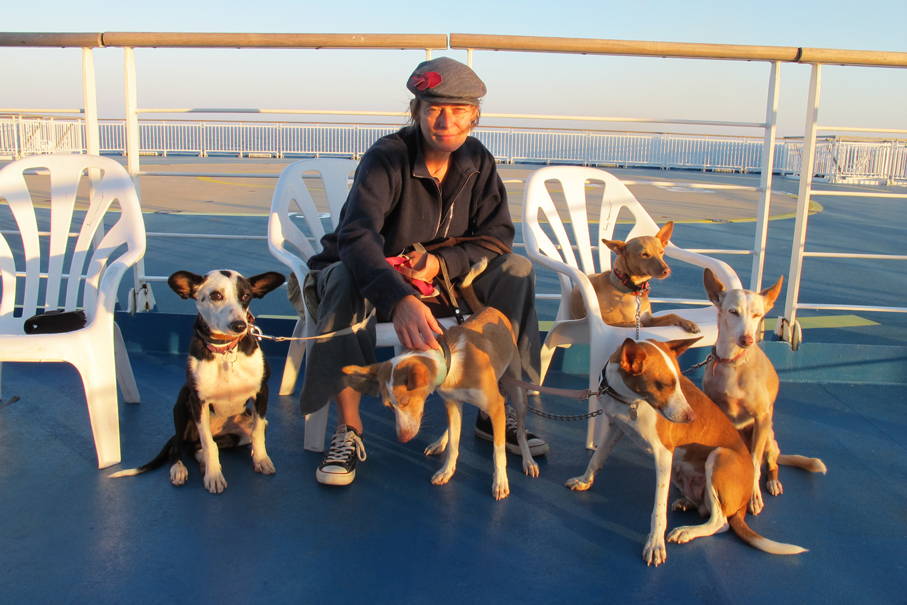 ---
On returning home after a 900K drive across Spain and a 20 hour ferry crossing I rocked up to work at the studio with Binky.  With one eyebrow raised Andrew looked a little unsure as to how an energetic puppy was going to work out at Facility 4 Studio. 
It didn't take long. She won his heart and he won her respect. Energetically insisting on his attention that first afternoon, Andrew ruffled up his hair, preened his beard with a downward stroke then growled like the king of the jungle. From that moment on Andrew was the Lion and Binky always knew it. It was not long until the plates of raw steak were back in the fridge and the studio had resumed business as usual.
This year life took another turn and it was Andrew who gained his wings and entered the invisible.
My partner, my friend, my brother, The Lion. I was broken and still am. 
Thank f*ck for Binky, my angel.
 Love Nina
x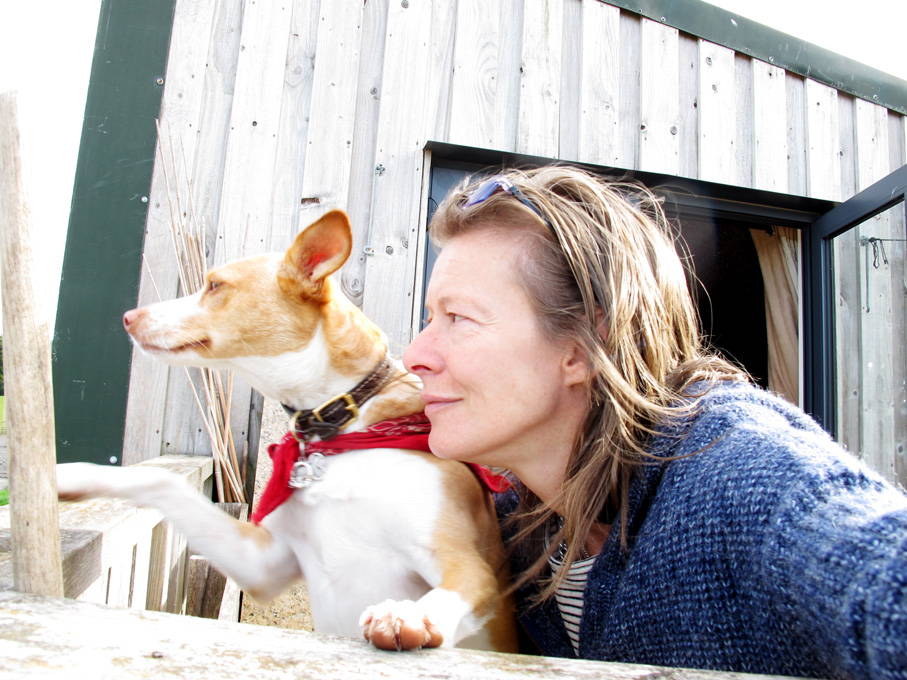 ---
Coming Soon From Nina Walsh
---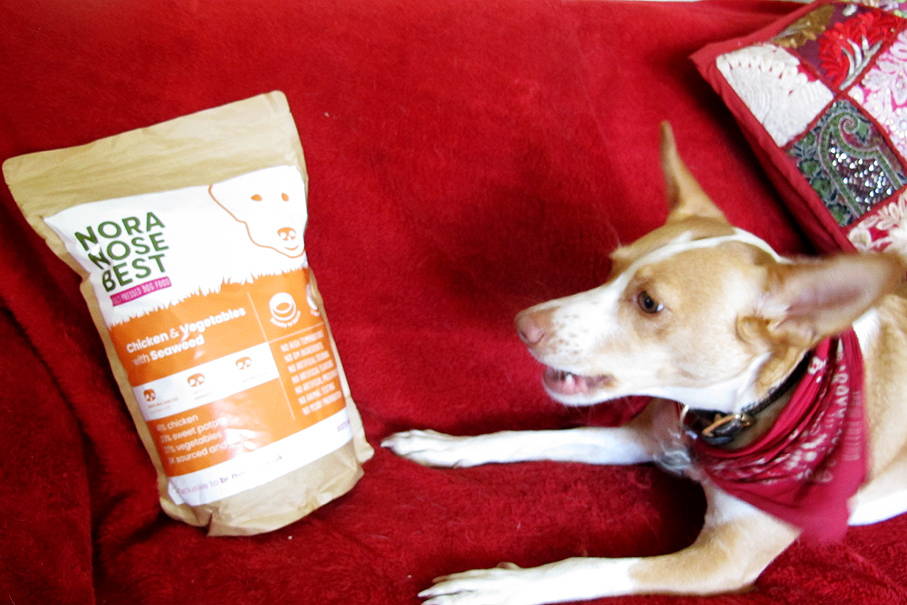 Binky with Nora Nose Best Cold Pressed Dog Food