Love Letter | Lisa & Biscuit
One 'Biscuit' can change your life...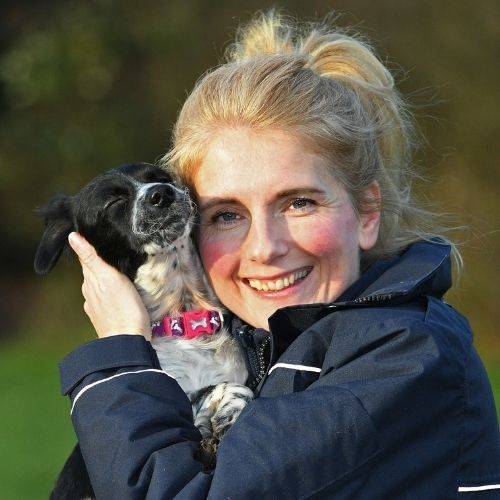 RSPCA Inspector Lisa Lupson loves animals so much that she has dedicated her life to protecting them. But on one such horrifying* rescue, she encountered Biscuit, and her world would change forever.
Here Lisa shares her love letter to Biscuit, exclusively with Bone Idol.
*Please note some images may cause some readers distress.
"Nana taught me to appreciate all wildlife"
I've always loved animals but especially dogs. I developed my love of animals from my Nana Muriel. When I was young my Nana had a white miniature poodle called Candy (as she looked a lot like Candy Floss) and a missing tailed, tortoiseshell cat called Strips. I would often spend my summer holidays at her house playing with them both and my Nana also taught me to appreciate all wildlife too, teaching me about birds and hedgehogs that we would search for in the nearby woods.
I yearned for a dog of my own. I would draw pictures of dogs and stick them to my bedroom wall. Finally at the age of 8 years old my parents succumbed to my yearning and I was given a Jack Russell Terrier which I called Spot. Spot lived to the grand old age of 14 years old and I was heartbroken when she died.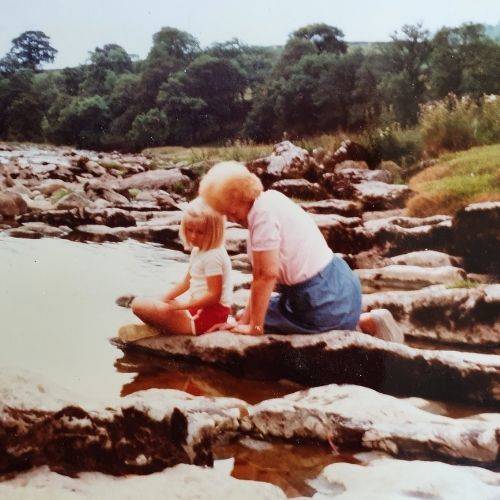 "What would be the dream job?"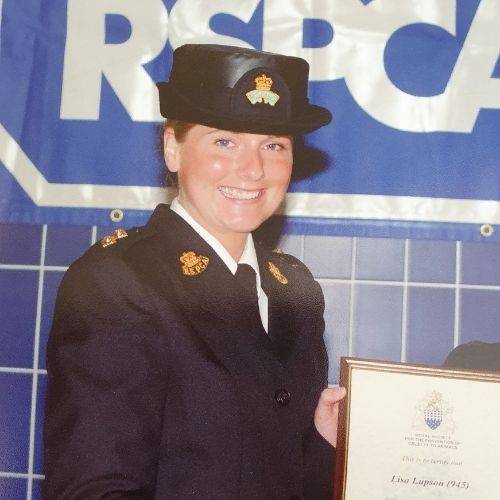 At university I met my now husband Mike. We married in 2004 and in that same month we completed our family unit with a very bouncy black Labrador called Presley (named after the king of rock and roll).
During this time I worked in PR and Marketing and something just wasn't right - I felt no passion for my job and one day I asked myself "what would be the dream job? Of course, it was to work with animals.
I typed animal related jobs into Google and the RSPCA popped up. Luckily for me they were advertising for their next course of Inspectors, so I decided to take the plunge and apply. Never in a million years did I think I would get it - I think they had over a thousand applications for just 26 vacancies. However, it was clearly meant to be and in August 2006 I became RSPCA Inspector Lupson 945. I had never felt so proud!
At this time my Nana was now living in a care home and I would often visit her. I was so excited to tell her that I'd got the position and she was thrilled. A dream job for us both. I would go and visit her and tell her about all the different animals I had rescued.
In 2007 we adopted a rescue dog, a chocolate Labrador called Tilly. Tilly was the most amazing dog and I often referred to her as my shadow. Tilly really helped with Presley's confidence, and they were the best of friends.
Sadly in 2013 Presley passed away and my husband said that after Tilly he really did not want any more dogs as losing them was just too much to bear.
But then came Biscuit…
The job that changed our lives...
My job as an RSPCA Inspector is an emotional rollercoaster. Over my 17 year career I have lost count of the amount of animals I have rescued. Many have stolen my heart and helping them out of horrifying situations and seeing them rehabilitated and living happier healthy lives fills me with so much joy and satisfaction.
On Tuesday 9 October 2018 I was working a late shift when I received a job about an abandoned dog in the middle of a housing estate.
Nothing could have prepared me for what I was going to see. On a pathway between two houses was a small, dilapidated wooden kennel and peering out from inside were a glistening pair of eyes.
I managed to coax out a small, terrified dog - my now Biscuit Bear.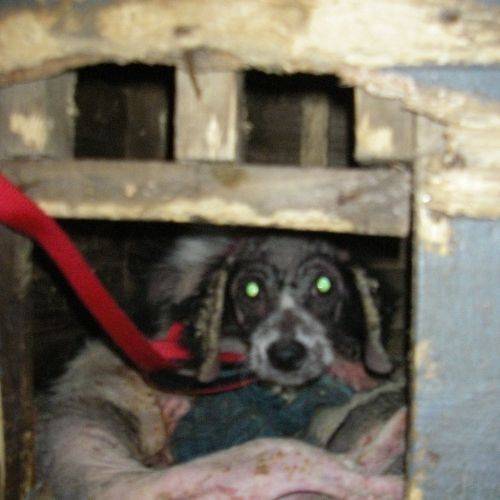 You were so skinny and had no fur and you were utterly petrified. But that was just the start of the horror show as I realised you hadn't been alone in the kennel. You had been with your two sisters who had already died. It was just heart-breaking.
I took you to the hospital for emergency treatment and you were so ill. You were offered a biscuit to eat and somehow you mustered the energy to wag your tail and at that point I just fell in love. Hence why you were called Biscuit as it was clear these made you so happy (and they still do!) You spent three weeks in the hospital, and I came to visit when I could.
I knew you had to come home with us, but I had to convince Mike as he had said 'no more dogs'. There was also Tilly, our cat Poppy and our two children to consider. However, it was a done deal as I knew deep down you were destined to come home with me.
"The journey can be hard, but is always worth it!"
I often wondered how you had survived your ordeal but now you are mine, and I know you inside out, it's obvious. Biscuit you are the most clever, inquisitive, resourceful, feisty, bravest little dog I have ever had the pleasure to meet and I am the luckiest person in the world to be your owner. The trust you now place in me to care for you after your horrendous start in life warms me to my core.  
At the start we both took a lot of time to adjust.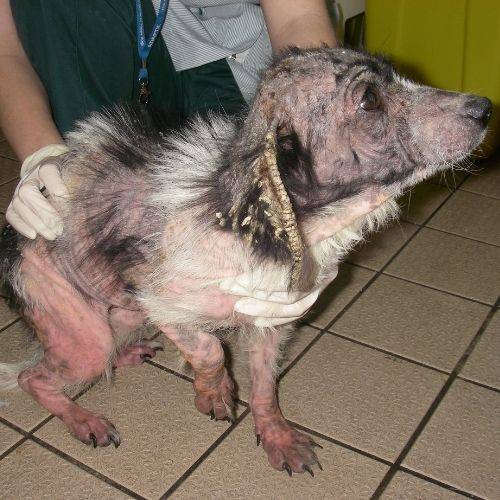 You would cry at night and have me up in the early hours. You would bark at the slightest thing and cower if we tried to stroke your head. You would have toilet accidents in the house and whenever our backs were turned you would be in the dustbin scavenging for food in desperation. You suffer with severe stress anxiety if you are ever left alone and you hate loud noises. You were terrified walking on a lead away from the safety of your home. You would never let me out of your sight (and still don't - another shadow!).
There were many challenges we had to overcome.
In the end we gave in and placed your bed in our room and you slept through the night knowing we were by your side. You took comfort from Tilly who proved to be a great teacher to you on how dogs could be happy if they placed trust in their owners.
With a lot of patience, kindness, love (and biscuits), you learned to trust and now love your walks, playing with other dogs and having many family cuddles.
You are now toilet trained and we found a lockable dustbin! I think you will always suffer with separation anxiety and have triggers that make you nervous but that's understandable given your start in life. Just always know that we will always be by your side.
Sadly for us all, Tilly died a year later in October 2019. We all miss her greatly and we worried about how you would be without her.
At first you would look for her, but I think you knew she was old and accepted quickly that she had gone. I'm so happy you both got that year together - you gave her some fire and energy to keep going and she provided that motherly figure you desperately needed and helped you become the great dog you are today.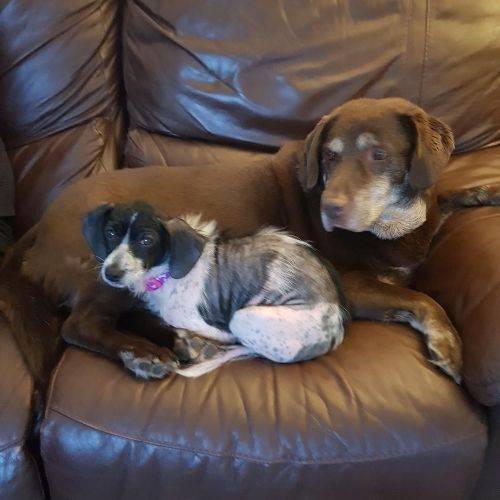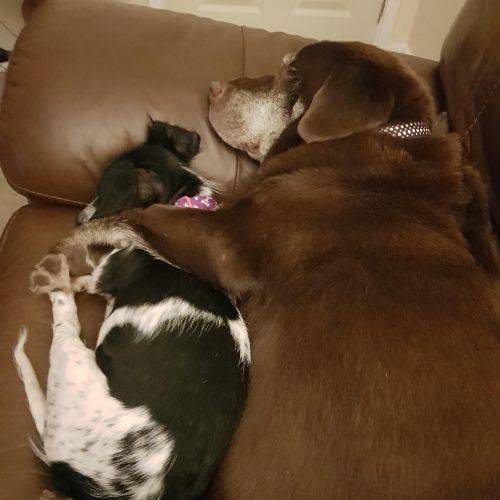 Tilly & Biscuit Being Awesome
Watching you grow in confidence and seeing you flourish has been an amazing and honouring experience. Yes, rescue dogs can be hard work but wow is it rewarding.
Biscuit we love you and all your quirks and we wouldn't be without you. We all have flaws and no-one is perfect, but you are perfect to us and all we hope is that you live a long and happy life.
Much love always,
Lisa, Mike, Thomas and Olivia….and maybe even Poppy the cat.
x