Love Letter | Ashley & Antilly
You may know her as 'Brandy' from Ricky Gervais' After Life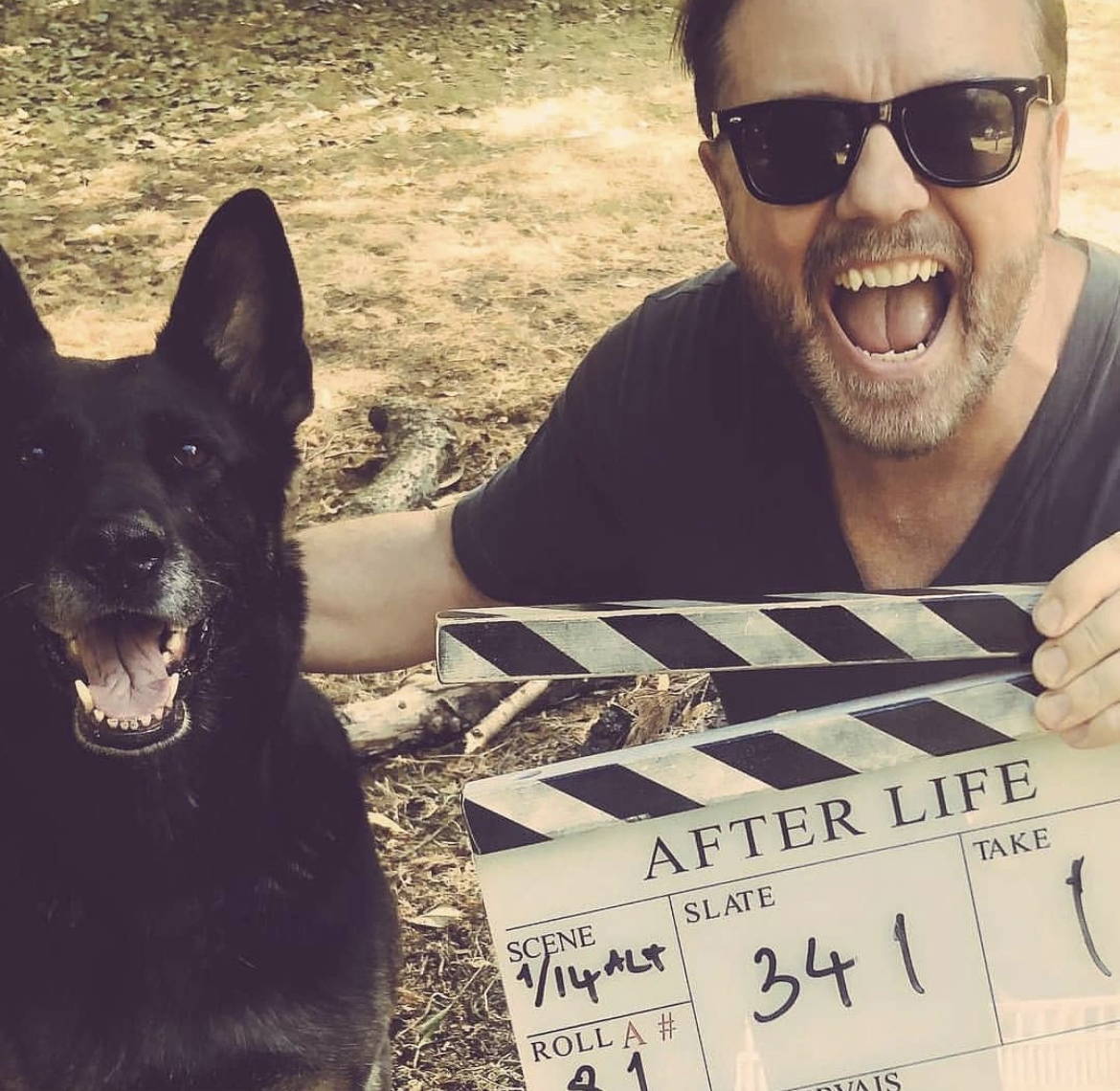 Antilly The Wonder Hound is not your average pet dog. Both her career in film and TV and her daring escapades are well documented.
In an impressive roster of A-List achievements, she has been described as 'the best trained dog I've ever worked with' by George Clooney, and has starred in scenes with Hollywood legends including Michael Fassbender and Ron Pearlman. Idol.
But, it is her role as Brandy in Ricky Gervais' hit series After Life that is currently capturing the nation's hearts, and Antilly takes a leading role in the tear jerking and highly acclaimed Netflix black comedy.
In a Bone Idol exclusive for our Love Letters series, Antilly's owner and trainer Ashley Foster tells the real heart-warming story of his own life with this amazing canine companion....
Growing up there were always dogs...
Growing up in a family that revolved around dogs means my earliest memories are being sat in a whelping box under a heat lamp with new-born German shepherd dogs. Having lived with so many characterful, beautiful and exceptionally well-trained dogs means it can be hard to remember them all, but there will never be a dog that holds more significance to me than Antilly the Wonder Hound.
She is the sweetest friend, a super IGP3 sport dog, prolific film and TV Stunt Dog and star of the most watched British Comedy Netflix Show in the world, After Life.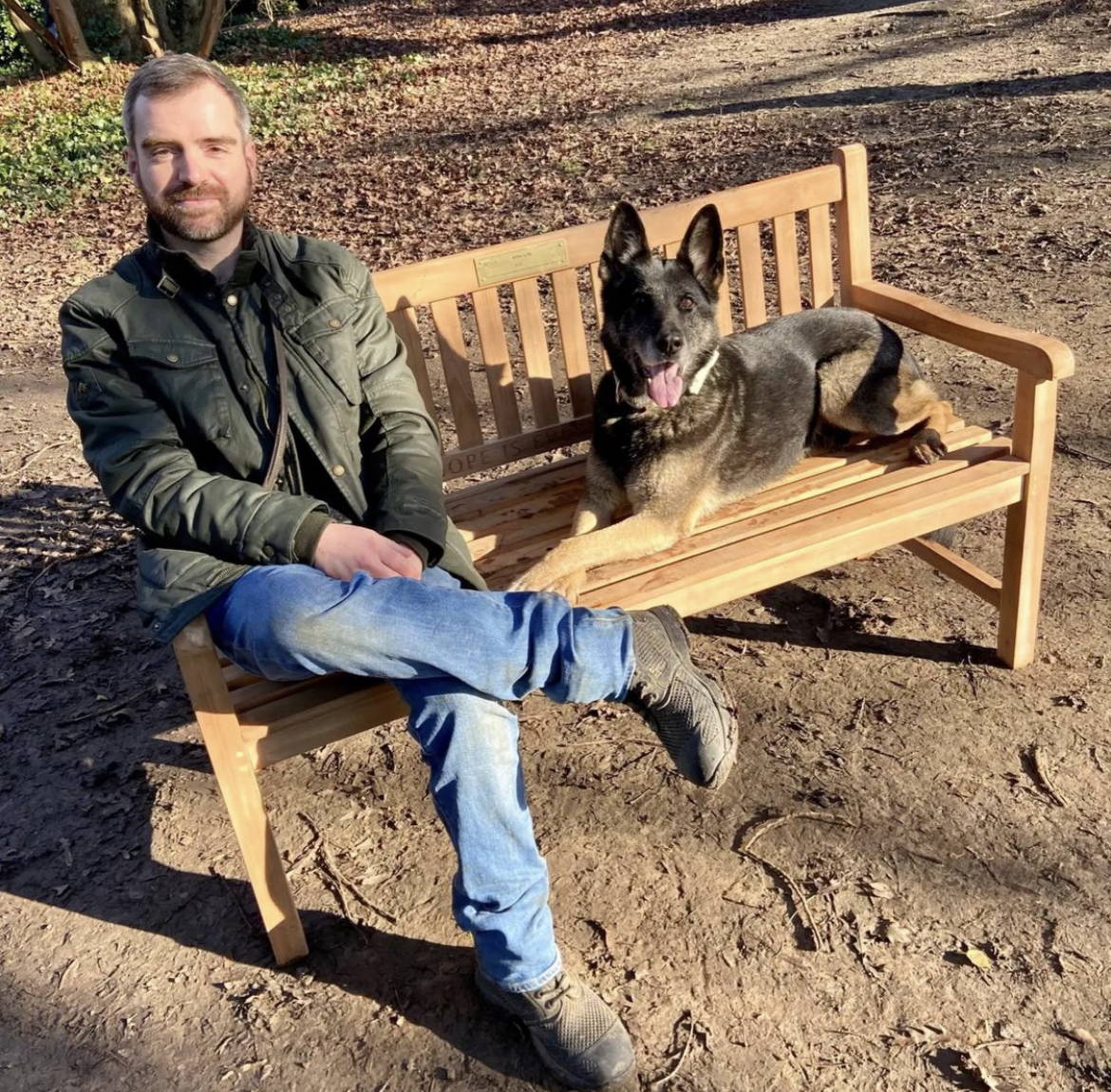 (IPG - previously known as IPO - is a dog sport that tests a dog's tracking, obedience, and protection skills, and evaluates if a dog has the appropriate traits and characteristics of a good working dog. Level three is an advanced level of training.)
Ashley & Antilly as a puppy
At 23 years old I once again found myself sat under a heat lamp in a whelping box with a litter of German shepherds when Anti was born on the 24th of April 2011.
Whilst it was always our main intention to compete in IGP dog sport, Anti is first and foremost a companion pet dog who has lived for the last 10 years in the house with me, my wife - who was scared of German Shepherds before she met Anti, Battersea rescue dog Wylie, apprentice Stunt Dog Penn, Agnes the rescue black cat, various small mammals, snakes and invertebrates.
Batman: The Dark Knight Rises and beyond
I take her with me pretty much everywhere I go; even when working on films abroad where she isn't cast, she will tag along keeping me company in dog friendly hotels.
When Anti was just 10 weeks old when I set foot on a film set for the very first time on Batman: The Dark Knight Rises. I was in costume as one of Bane's henchmen with both of Anti's parents playing attack dogs.
After a few more film jobs and qualifying Anti to IGP3, we landed the job of a lifetime working for Gill Raddings' amazing company, Stunt Dogs and Animals.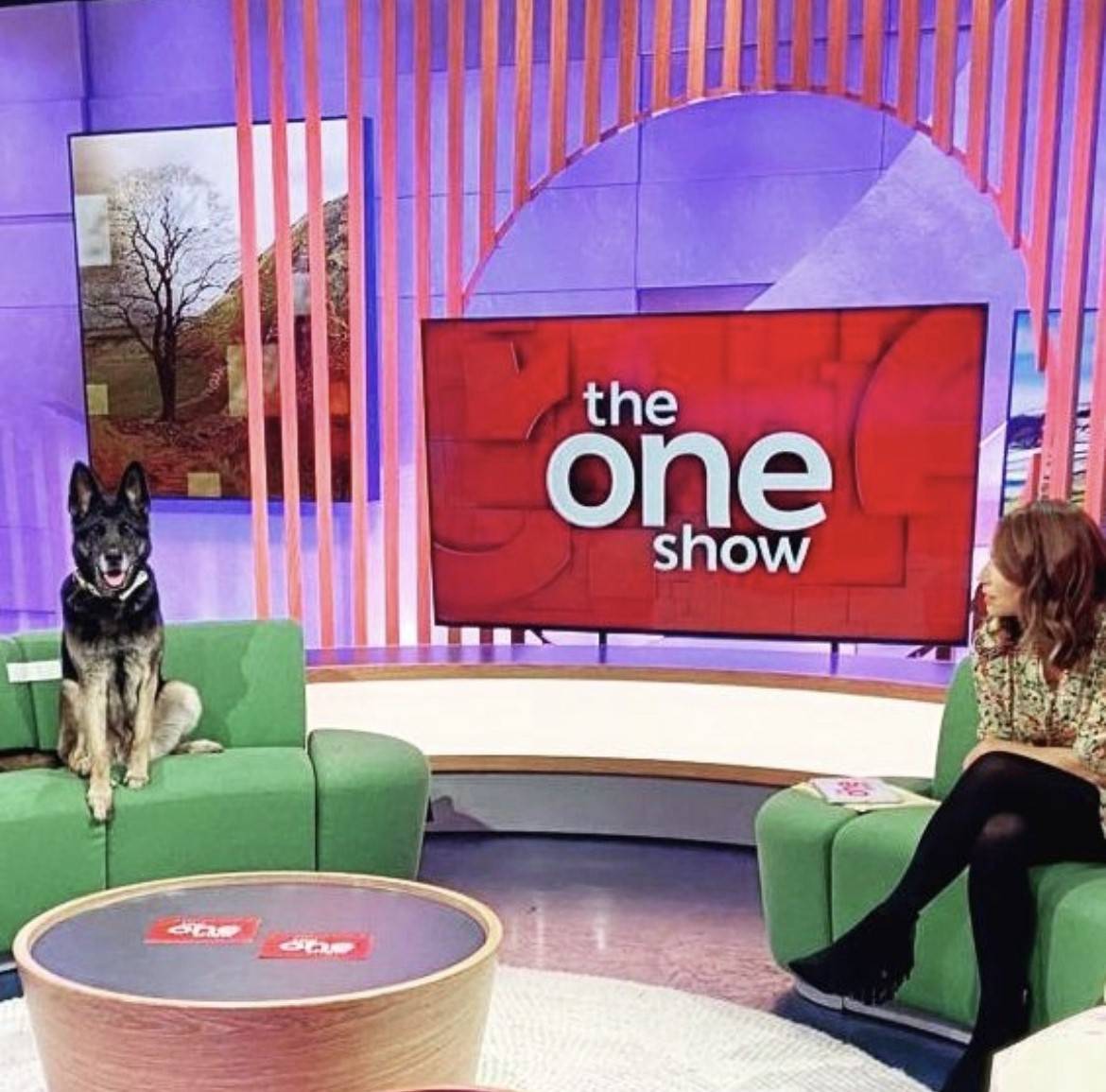 From Midsomer Murders to Midnight Sky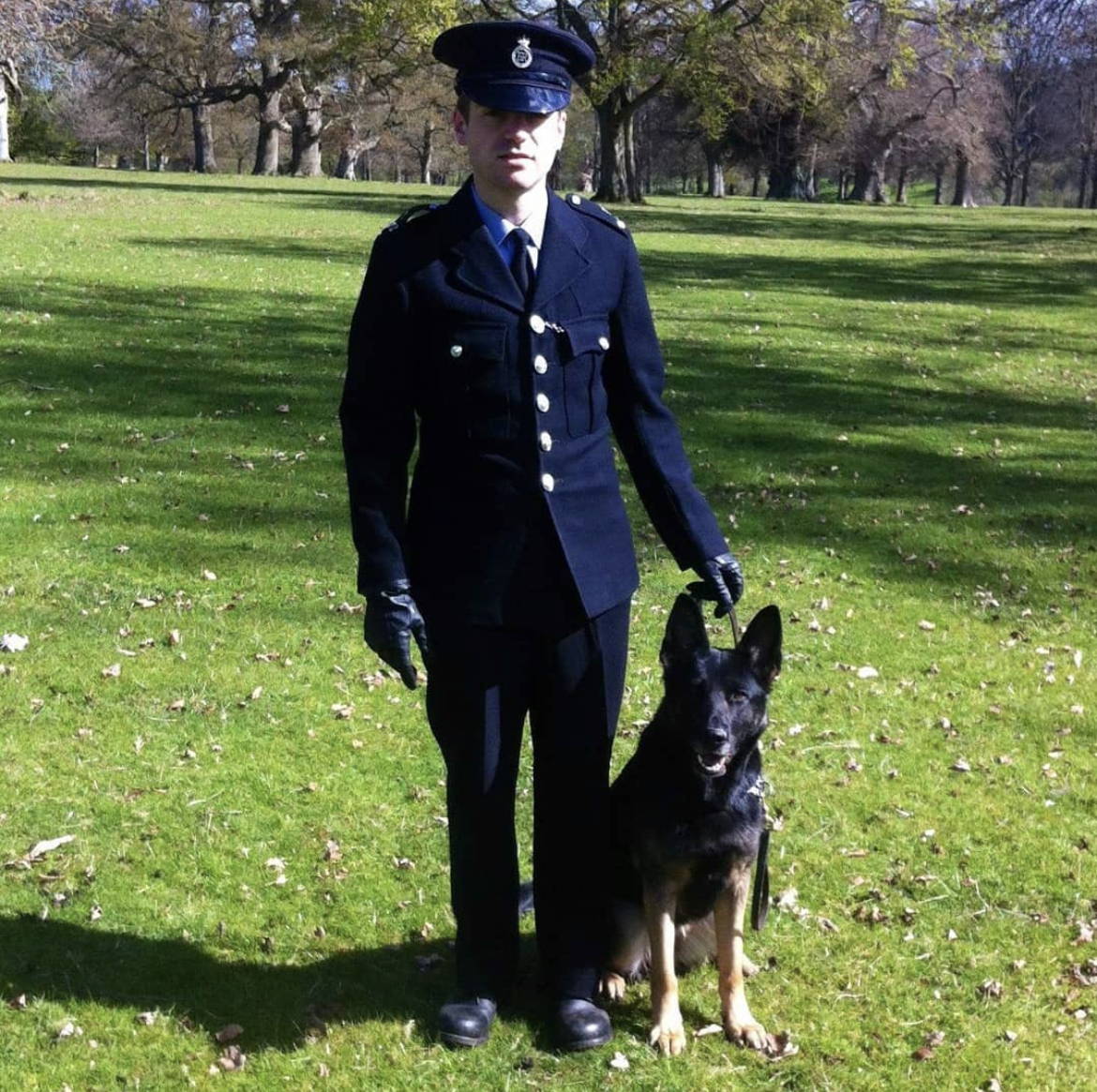 Being a German Shepherd, she is usually typecast as a police, army or yard dog in everything from Midsomer Murders to Edge of Tomorrow. While often, she is cast as a Nazi dog in films like Overlord, Denial and Guernsey Literary and Potato Peel Society.
She has also provided special effects reference movement for Julianne Moore's robot attack dogs "Benny" and "Jet" in Kingsman: The Golden Circle and the wolf stalking George Clooney in Midnight Sky on Netflix.
Doc Martin, the final episode
Out of all her action roles one of the best stunts we've ever performed on camera is in the 7th series of British TV medical comedy drama, Doc Martin.
In the final episode of the season, she performs a spectacular takedown on national treasure and one of the most animal friendly actors to work with in the business, Martin Clunes.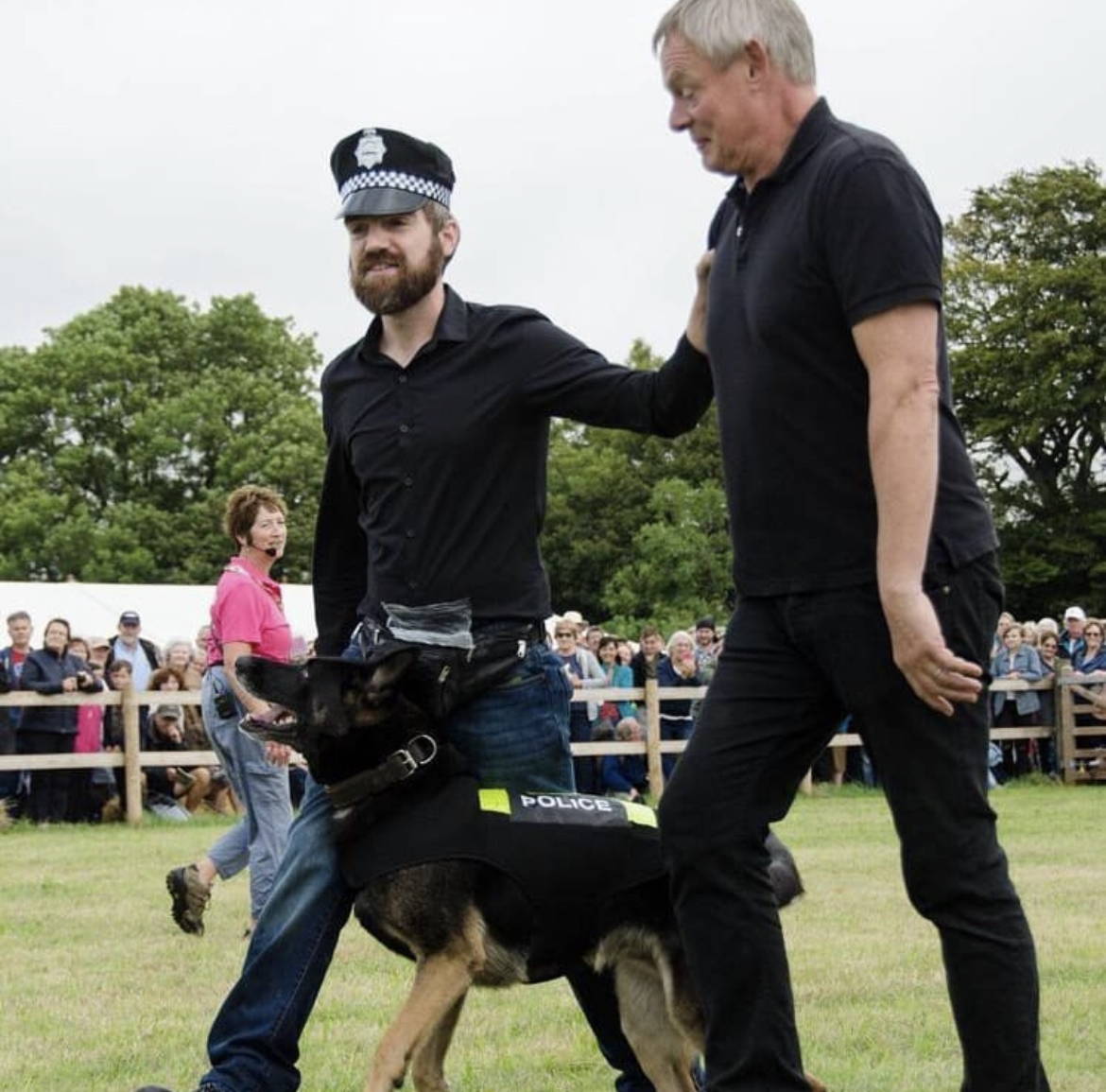 Antilly and Martin Clunes
While it was a stunt double who took the initial running bite across Bodmin Moor, when they are on the ground and closeup it is Martin taking the bite with a concealed sleeve. It looks convincing and vicious on screen, but as soon as the director calls cut and the command to release is given, Martin was able to give her a pat and tell her she's a good girl.
Antilly loves nothing more than doing this kind of stunt and crews are always amazed at how safely we can do it, which is why actors can work closely with her themselves in certain situations rather than using stunt doubles all the time.
After Life with Ricky Gervais
Her most iconic role and the one where most people will recognise her is in the Netflix Comedy Drama, After Life, with Ricky Gervais.
It is one of the few roles in her career where she isn't playing a scary or dangerous dog, instead putting in a truly tear jerking performance as "Brandy", a normal loving pet dog to Ricky Gervais' "Tony" who is struggling with depression after the death of his wife. Brandy often provides relief for Tony in his darkest moments, even saving him from suicide on several occasions.
If you want to see what she's really like in her normal day to day life, After Life captures her personality perfectly.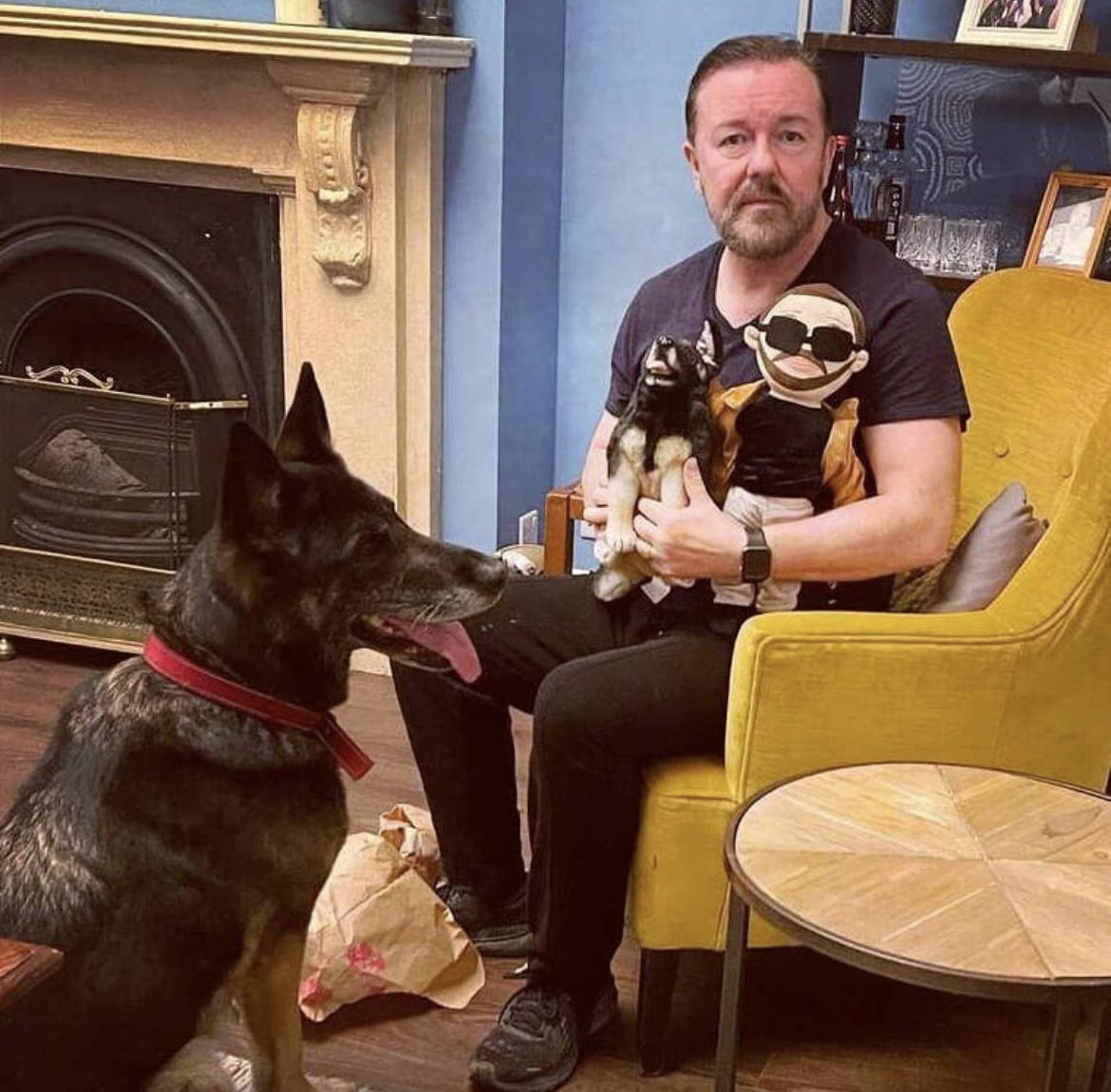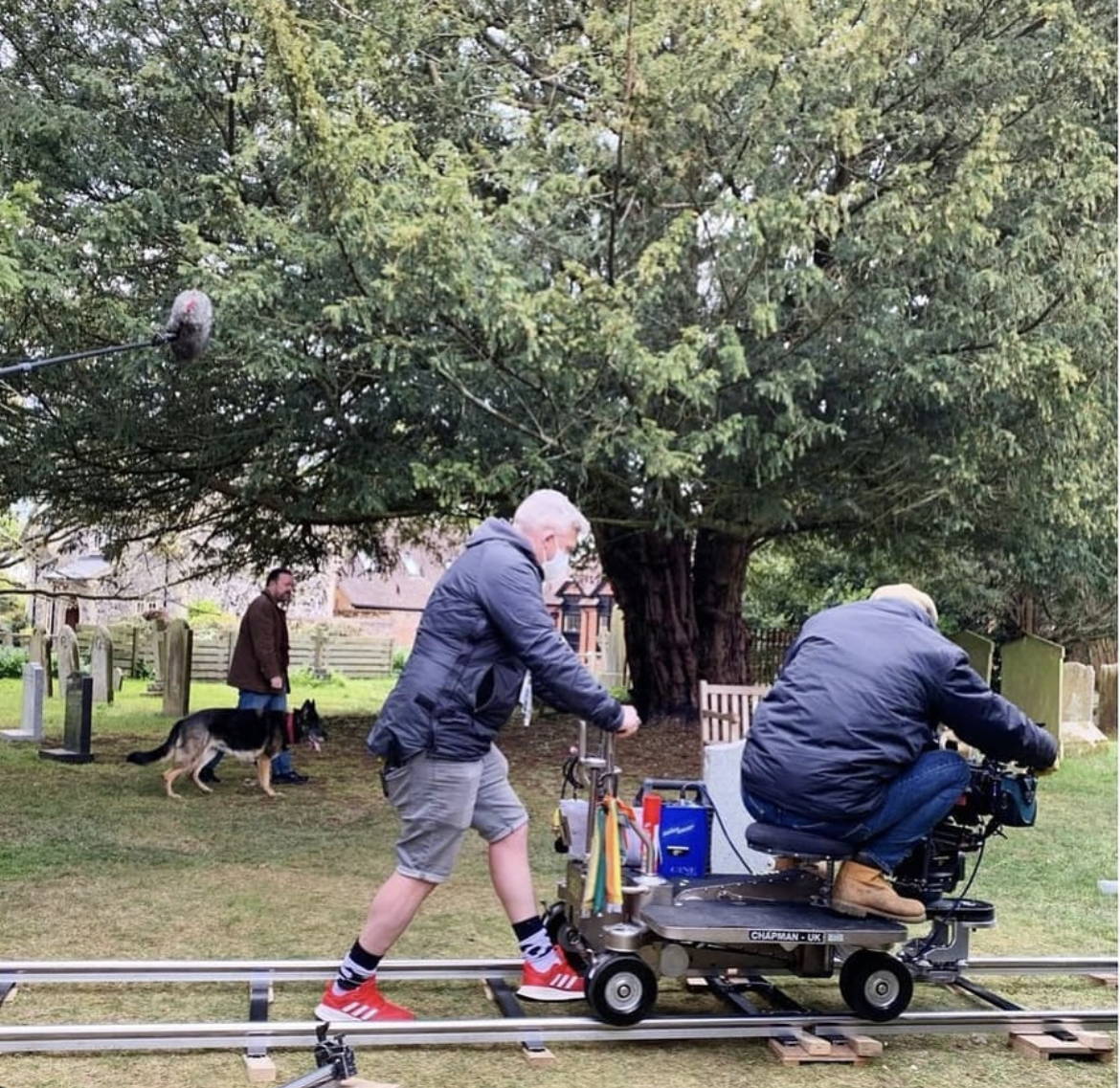 Antilly stars as Brandy the dog on After Life with Ricky Gervais
At 10 years old, Antilly the Wonder Hound is still very healthy and active.
She has recently worked on yet another episode of Midsomer Murders, playing a sniffer dog on a new TV show and a dog food commercial in the next few weeks. Inevitably she will slow down and be put up for fewer more sedentary jobs over the next few years as a new generation is already on its way to take over from her.
When she does eventually retire from filming not much will change apart from maybe spending more time at home on the sofa with the cats.
Love,
Ashley
x