Bone Idol | Guide: How to start a dog grooming business from home
How do you start a dog grooming business?
The Bone Idol team share some thoughts on getting your own dog grooming business started at home and more...
From courses to insurance, qualifcations to pods, we talk about the key factors to consider when thinking about setting up your own dog grroming business from home or a mobile dog grooming business.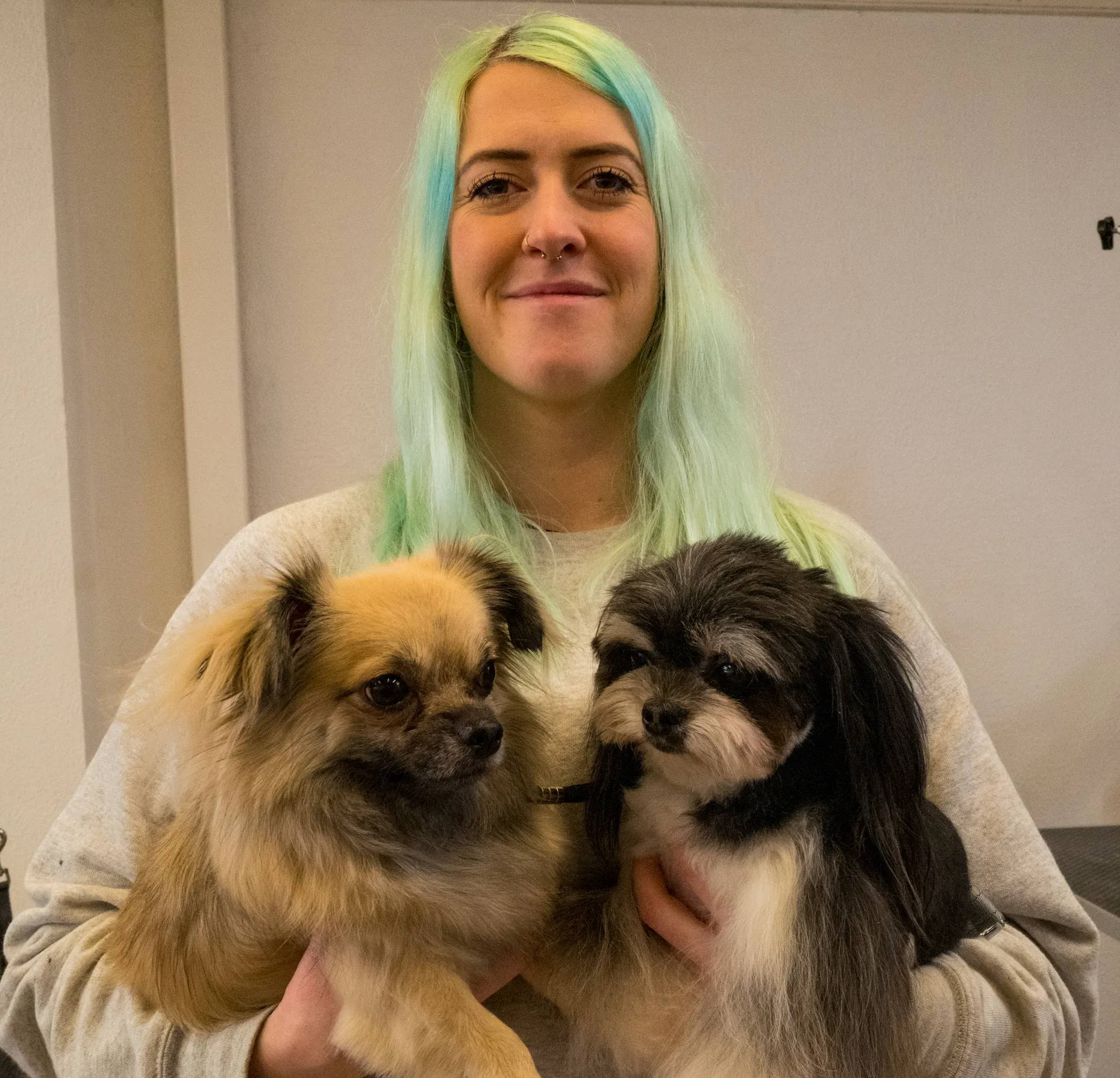 The time has never been better to start a dog grooming business from scratch, and in this guide we will look at what you will need to do to ensure that your business is ethical, sustainable and successful.

There are a number of things to consider before becoming a dog groomer, particularly if you have never groomed a dog before.

At the moment no qualifications are legally required, but in order to have a brand that people can trust, and provide a service that is safe and humane, you really need to get your qualifications.

The tide is turning on this issue both in the UK and internationally, and sites like the Groomers Spotlight highlight qualified groomers providing an excellent service to consumers using a postcode search facility.

And with UK's increasingly savvy dog owners demanding more creative, bespoke grooming, technical and breed standard grooms as well as dog welfare cuts, you'll want to ensure that your business is one to be proud of.

Becoming a dog groomer is a brilliant idea, and offers flexibility and the opportunity to work from yourself independently whether it be at home, in a mobile van or in a salon.

Here's our guide to how to get you started....
Getting started with a new dog grooming business.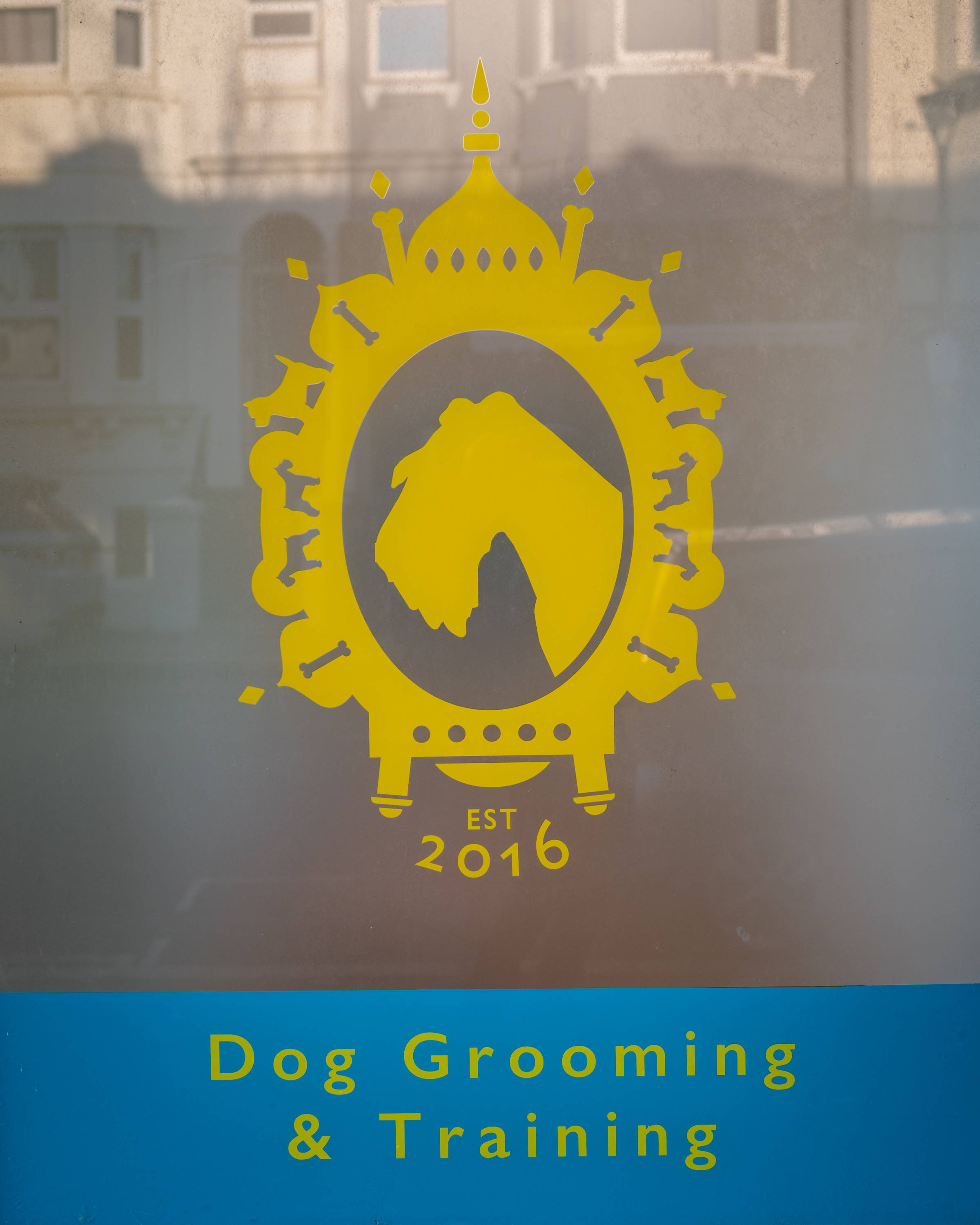 The first step is often the hardest to make. So why not start your journy building a new business from home?
Making time to plan what you would like your business to be like, how much you want to work and what you might need to get started.
To help you we have pulled together some ideas and things to consider when starting your own dog grooming business from home (or mobile in a van).
Let's start at the very begining.
In this guide we aim to give you an idea of how much money you will need to invest in your dog grooming career from scratch or at least where these costs may come from.
Before you even start you need the skills to sell and what better way to get them than with a qualification?
At Bone Idol Academy we offer industry recognised iPET Network training courses. These courses are flexible to suit you and were created by brilliant dog groomers who are passionate about delivering the best knowledge and skills for new dog groomers joining the industry or those without qualifications who already work in the dog grooming world.

Regulated by Ofqual, the courses are the 'gold standard' in dog grooming qualifications, and can be delivered in a way which is comfortable for each individual learner.
Bone Idol Academy offers flexibility on booking your course days to suit your diary, so you're not limited to a set start day and term time.
Start your new venture today!
How much do dog grooming qualifications cost?
If you are looking to start your own business, carrying out high quality dog grooms from a home salon or mobile grooming business, we recommend the iPET Network Level Three Diploma in Dog Grooming and Salon Management.
Even if you plan to work in a salon to get you started an industry leading qualification will set you apart from other applicants and give you the confidence you need to build your dog grooming skills and career.

Not only does this comprehensive course give you the skills you need to become a professional dog groomer, it also gives you the business advice you need to start your own salon operation.

This 30 day course costs £4995 and includes a canine emergency first aid add-on.
But always check, as Bone Idol Academy has some great offers from time to time. To find out if there are any promotions running please email our friendly team for more information enquiries@boneidol.co.uk 
For people who have run their own business before, or worked in the pet industry, they could get into dog grooming by studying for the iPET Network Level Three Certificate in Dog Grooming and Introduction to Styling, which costs £2,995, this is a shorter 15 day course.

Of course we understand that spending lots of money on a course is a daunting prospect, but this is your brand new career, and the safety and satisfaction of your customers. It is an important step to take. We also offer interest-free payment plans to help spread the cost for you!

If you are not yet sure whether dog grooming is the career path of you, why not sign up for one of our one day 'Groom Your Own Dog' experiences, which cost £300, and the Introductory 5-day Award course, which is £1250.
We also offer payment plans when studying with us at the Bone Idol Academy again please contact us to discuss your situation and needs.
Email: enquiries@boneidol.co.uk 
What happens once I am qualified?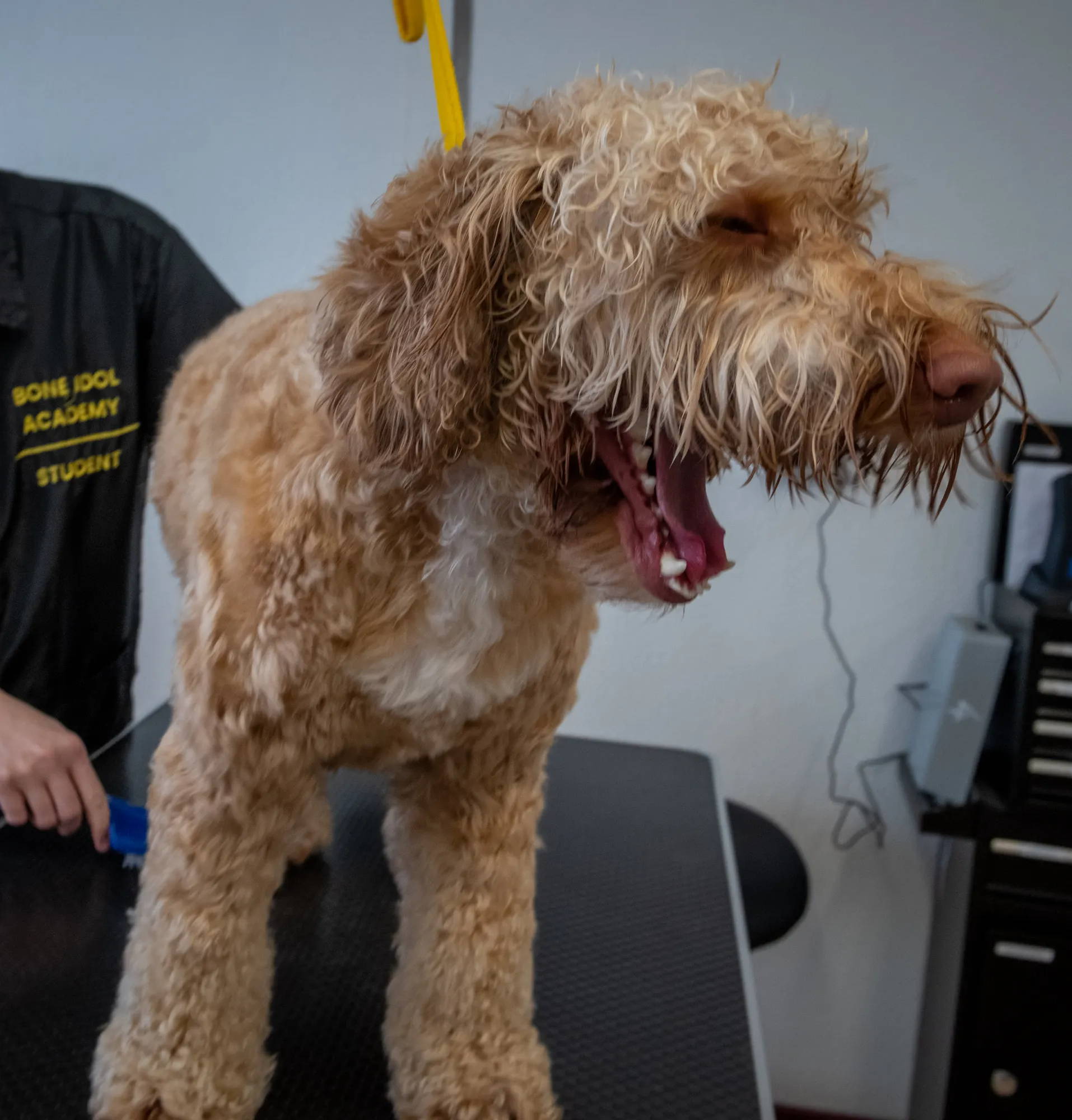 Congratulations! You are a qualified dog groomer, welcome to our wonderful industry which in our book, is the best job in the world.

Fresh graduates may choose to work for a while in an established salon, to further build on their skills, cultivate a specialism and learn from others while increasing hands on experience.

While others choose to go it alone straight away, and many of our Bone Idol Academy graduates now run their own brilliant and successful businesses.

So what should you be considering and deciding before taking on this challenge?


Do I want to be a mobile dog groomer?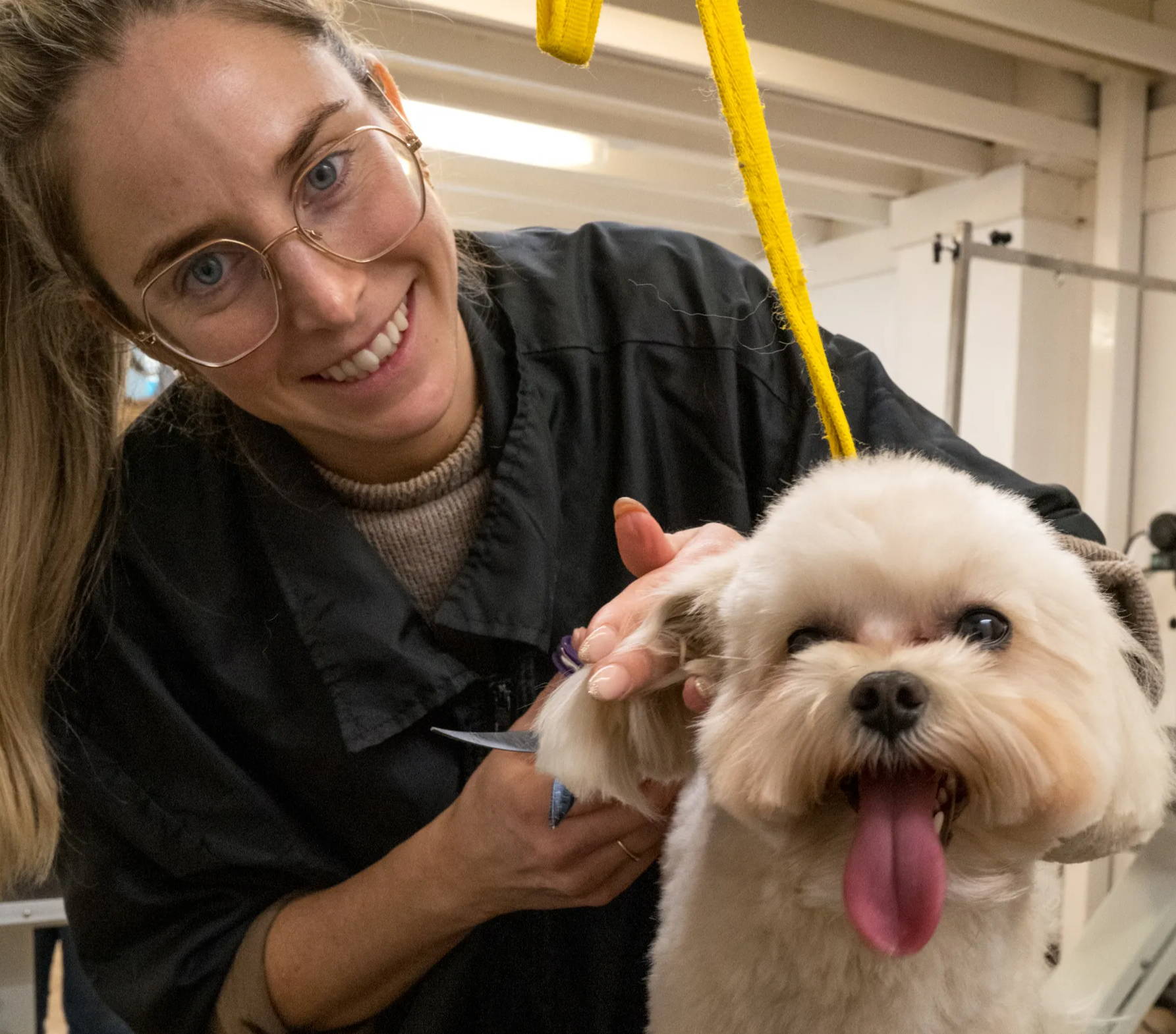 Mobile dog grooming is a great option for people who like to move around their chosen area, and a grooming van is a flexible workspace for many successful groomers.
Obviously you need to be able to drive and park at your customers location.

Important things to consider when deciding whether to go mobile are of course fuel and equipment costs, and the cost of keeping the vehicle well maintained.
Some companies offer franchises for groomers wanting to take the plunge to become mobile dog groomers.

There are a few brand and companies that offer this service a quick google will get you started.
Offers vary buy some will fit out a van that you have purchased with mobile grooming salon equipment at a cost to them of around £8,000 for example. But you will have to provide the van, which must have low mileage and be in good condition to qualify.
Considerations becoming a mobile dog groomer
Some other questions to consider before you plunge into the mobile dog grroming world include:
Where are your customers based?
What do you want your working environment to be like?
How tall are you? What will it be like working in the back of a van?
What are the running costs?
What distance will you cover?
Time between appointments to travel?
Waste handling and energy/water sources.
Starting up your own at home business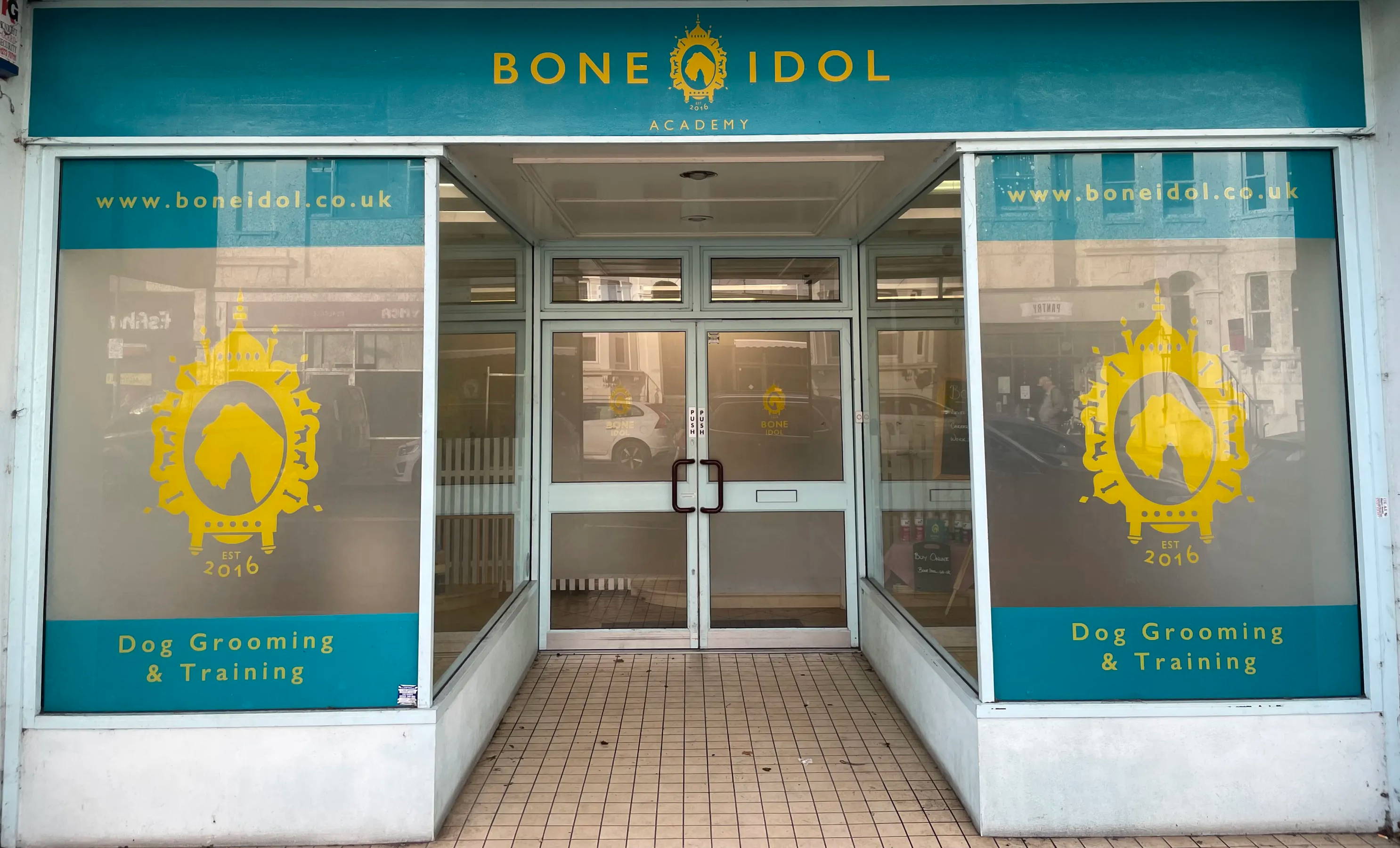 If you have the space, you may want to consider starting your own grooming business at home.
This is a fantastic option for anyone who wants to be flexible, and lives in an area with plenty of customers nearby.

Of course, once your reputation grows, customers will want to travel from far and wide, but at first it is a good idea to consider your location and its accessibility.
Start up costs are a consideration, and these will include increased utility bills. You also need to consider the boring parts of starting up on your own, keeping accounts, and filing your tax return.

Equipment and premises costs vary, but this is going to be a large outgoing early in the life of your business.

Garden grooming pods are a very popular choice as they may not require planning permission (please check with your local council for information on your area) and , as they are purpose built to suit your specifications, will be just how you want your work space and the size that you need.  

The pods are easy to place in a garden or outdoor space and able to be moved with you if you move home.

Smart Pods are on of the most popular options and prices start at £15,500 plus VAT. A big investment in your future. www.smartpod.space
Other options incude utalising a room in your home, a shed or garage with power and plumbing.
When thinking about working from home cosider that customers will be approaching your home and may need to park and have access your dog grooming space.
Working from home is amazing, but will your business impact on anyone else in the home?
If you are renting you may have tenancy restriction on running a business from the property and this should be discussed with your landlord.
Registrations and insurance for dog groomers
As with all businesses it is really important to have insurance, to protect both yourself and your customers.

The insurance packages that that you need to start a dog grooming business are:
What insurance to I need?
Public liability to protect yourself should something go wrong in the salon.

 

Employer liability if you are hiring other people.

 

Contents insurance to protect your business and its equipment.


If you are starting a mobile dog grooming business there is also vehicle insurance and tax to consider, with different rates for business vehicles.

As a qualified dog groomer you will want to register with The Groomers Spotlight. With an aim of promoting and supporting high quality businesses, The Groomers Spotlight is a database of the UK's qualified dog groomers, and customers can access the site to search for their nearest qualified groomer by postcode.

Currently dog grooming businesses do not need to be licenced, but you will need to be aware of your responsibilities with regards to health and safety, The Animal Welfare Act and Control of Substances Hazardous to Health (COSHH).

Training on these elements of legislation are all included in iPET Network training courses offered by Bone Idol Academy.
Bone Idol Blog posts are full of useful information!