Helen Kirby | Pooch Perfect BBC | Bone Idol Academy
Helen Talks About Pooch Perfect, The Dogs, The Judges & Fellow Contestants
2021 Saw The Launch Of Pooch Perfect On The BBC
Auditioning and production during a global pandemic was a challenge, even before filming even started in the summer of 2020. Here Helen Kirby, a founding director and tutor at the Bone Idol Academy, talks about her time on the show, the contestants and the judges.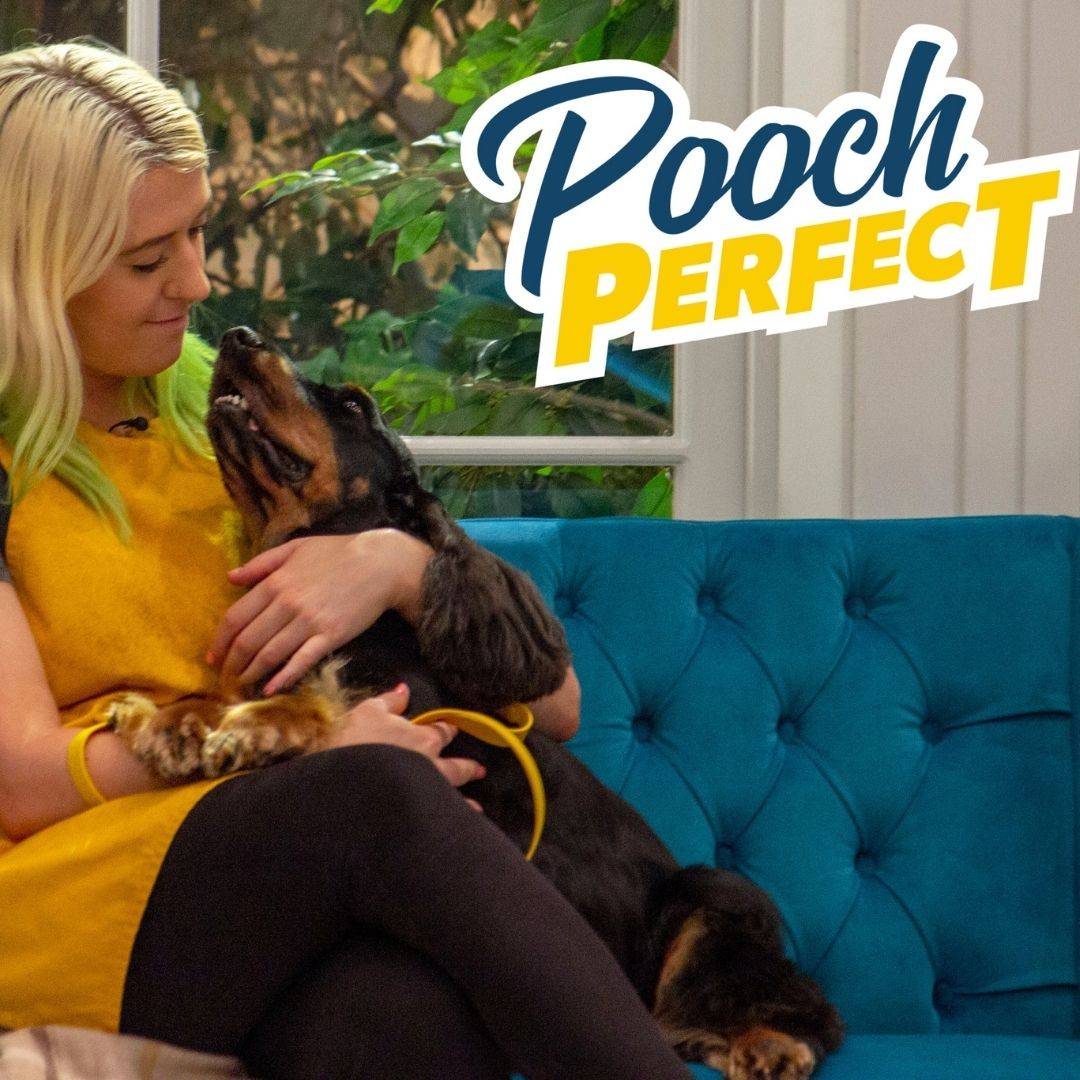 How Pooch Perfect Was Filmed & Ran on BBC 1
The series features 16 of the best professional dog groomers from around the country, who are challenged each week to create incredible transformations of beloved family pets.
There are four groomers in each heat. They compete in two challenges and then two go through to the quarter finals and, sadly, two are eliminated. There are 8 shows in total of this first series and the competition is split into four heats, two quarter finals, one semi-final and the final.
At the end of each quarter final two groomers are eliminated by the judges and two go forward to the semi-final. In the semi-final only one groomer is eliminated by the judges and the remaining three battle it out in the final to win 'THE GOLDEN STANLEY' trophy and be crowned the Nation's Top Dog Groomer.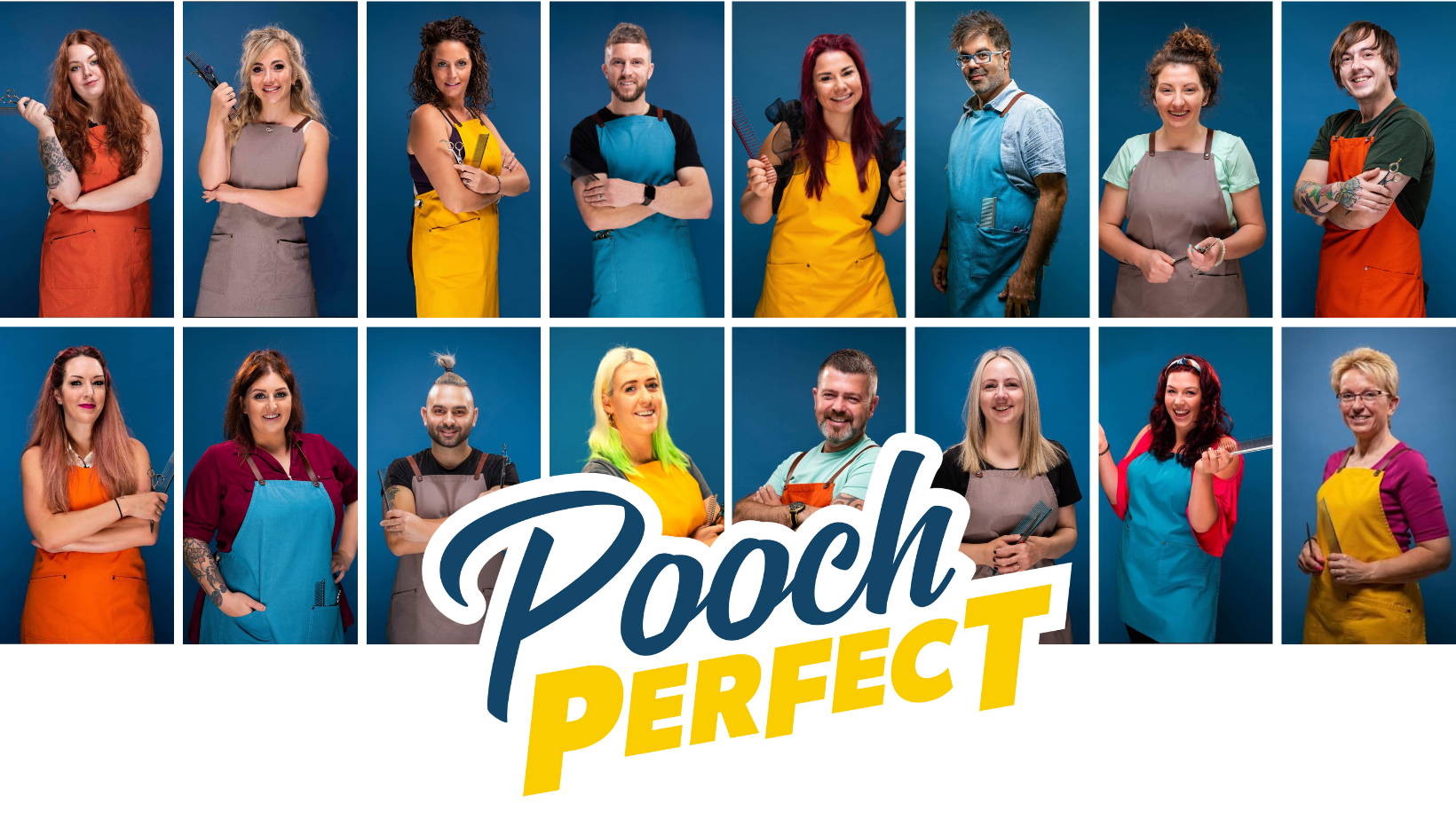 The Pooch Perfect Contestants
Firstly, congratulations Georgia and Vas, who were the two contestants who went though from my heat on episode 3! I'm so happy for you both, you are amazing and talented. I'm so excited to watch your next episode!
To Ellie!!! my leaving pal in episode 3, I think we can all agree you were our rock in this team! Always calming our nerves with your positivity and excitement! You are such a talented groomer and I admire your positive outlook on life, your super special!
As dog groomer is was such a privilege to have been selected as part of this talented line up. I'm so glad to have experienced this with all the contestants. So many laugh and tears! Everyone was so all so kind, fun and talented!
Due to the restrictions in place because of the pandemic and in line with government COVID safe practices our experience was unlike the usual filming process, much being done via video calls and social distancing limiting how much we could meet each other.
However the whole line up of contestants connected via messaging apps and social media and formed an invaluable support network. I can not thank them all enough for the ongoing personal support and celebration of our fantastic industry. What professionalism and passion! We are all so lucky to have formed this group of friends, I know it sounds corny but the shared experience truly brings you all together.
I'm inspired by every single one of the contestants! At no point did I feel I was competing against anyone, it was a real celebration of skills, knowledge, and the love we all share for dogs. I believe this is the future for the dog grooming industry, kind, supportive and compassionate people who always put the dogs first.
I fell so lucky to be part of this team that have given the wider public an opportunity to see first hand what we all do and understand the skills, knowledge and experience that go into making great dog groomers.
I can't wait to watch you all shine over the next few weeks and to see where we all go in the future, And for COVID to be over so we can have a pooch perfect party and actually hug each other. (Yes I'm a hugger and have been deprived over the last year!).
Follow each of the contestants on Instagram for more amazing content and dog grooming skills.
All The Amazing Pooch Perfect Contestants On Instagram
Pooch Perfect, The Team Behind The Cameras
Wow, what an incredible and multi-talented bunch of wonderful people! I was so naïve going into this about how much work and time that goes into a TV show. From auditions, interviews, preproduction, welfare (both animal and human) and planning before anyone even gets near a set.
The production involves an insane amount of work and I just do not know how they had any time to sleep!
We, the contestants, were well and truly looked after from the very first audition to the finished result. But the dogs were and always will be, the real stars of the show. Each dog was treated like royalty from the moment they entered the building to when they were reunited with their owners. The dogs each had their own lovely team of handlers, on screen vet Bolu (Instagram @be.dvm), the behind the scenes vets and animal welfare experts keeping the dogs best interest at heart at all times. Everything revolved around each dogs happiness and safety and I would not have expected anything else from such a lovely warm family show.
I don't have many contacts from all of the amazing 'behind the camera team' to share but I hope this gets back to each and every one of them, so they know how talented, kind and valued they each are.
Big shout out to Mark for making sure we were out of bed, fed watered and well looked after from start to finish! Not everyone is a morning person.
From the contestants, the dogs and the incredible team behind the show! I was blown away by everyone's professionalism, talent and organisation.
Watching TV will never be the same, I had NO IDEA how much goes into making a TV program! It's insane.
Respect.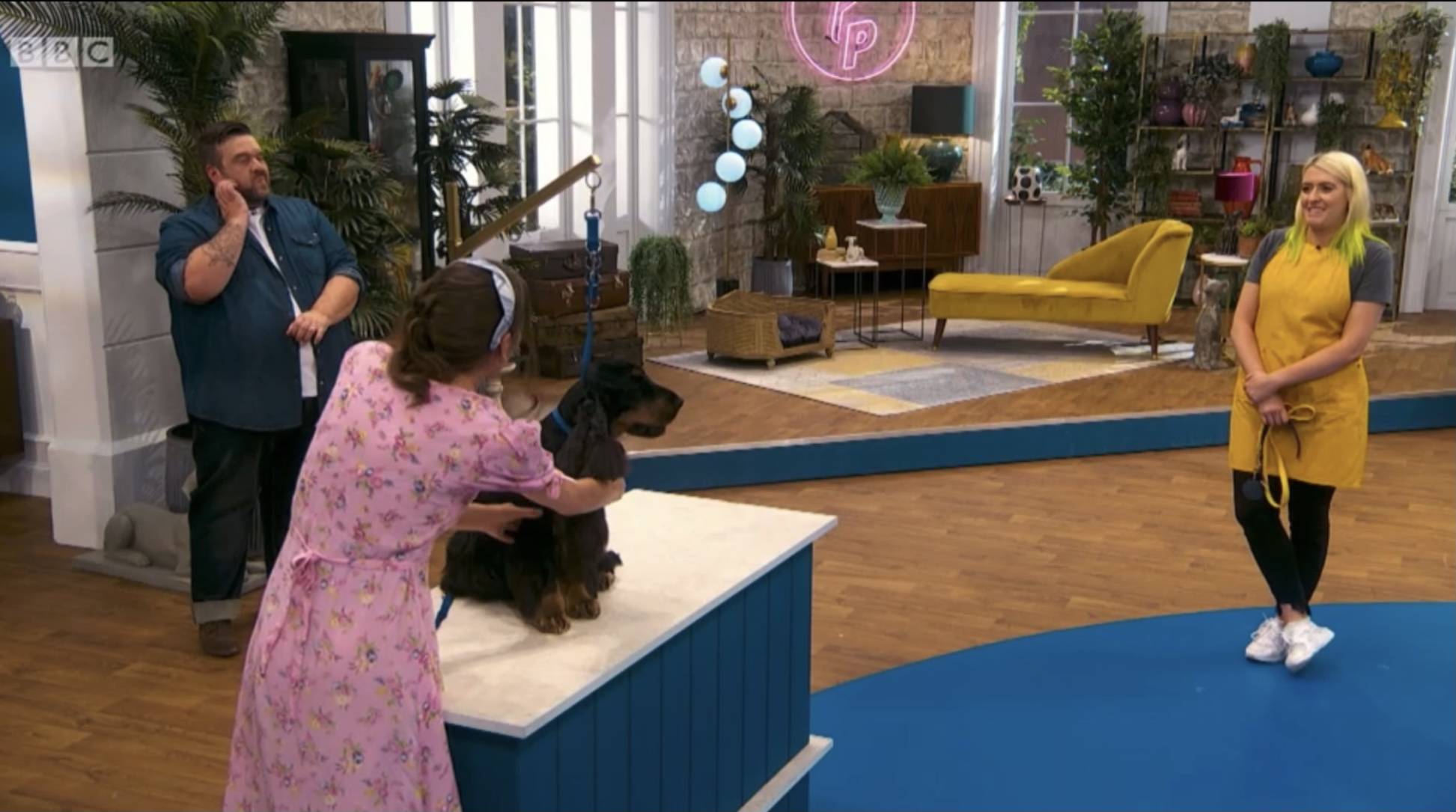 The BBC took on this show following the world premiere of this format with Rebel Wilson on Australian TV, hence the Pooch Perfect / Pitch Perfect pun in the title. Colin Taylor made the transition from judge down under and is joined by Verity Hardcastle on the UK version of this show made by the BBC. Both judges are multi-award winning dog groomers, each with years of dog grooming and competing experience. (Instagram: @colintaylorofficial @verityhardcastle)
Collin & Verity, each gave invaluable feedback and critiques. I have already taken your comments and put it all to practice. You have inspired me with your knowledge of the industry, and I can't wait to further my career and really get into competing more frequently.
You have me hooked now!
As a dog grooming tutor, I know how hard it can be to give feedback to people, but when done with compassion and kindness it really is an opportunity to grow and improve. Here's to celebrating our industry and helping everyone to be the best they can be.
Pooch Perfect Presenter Sheridan Smith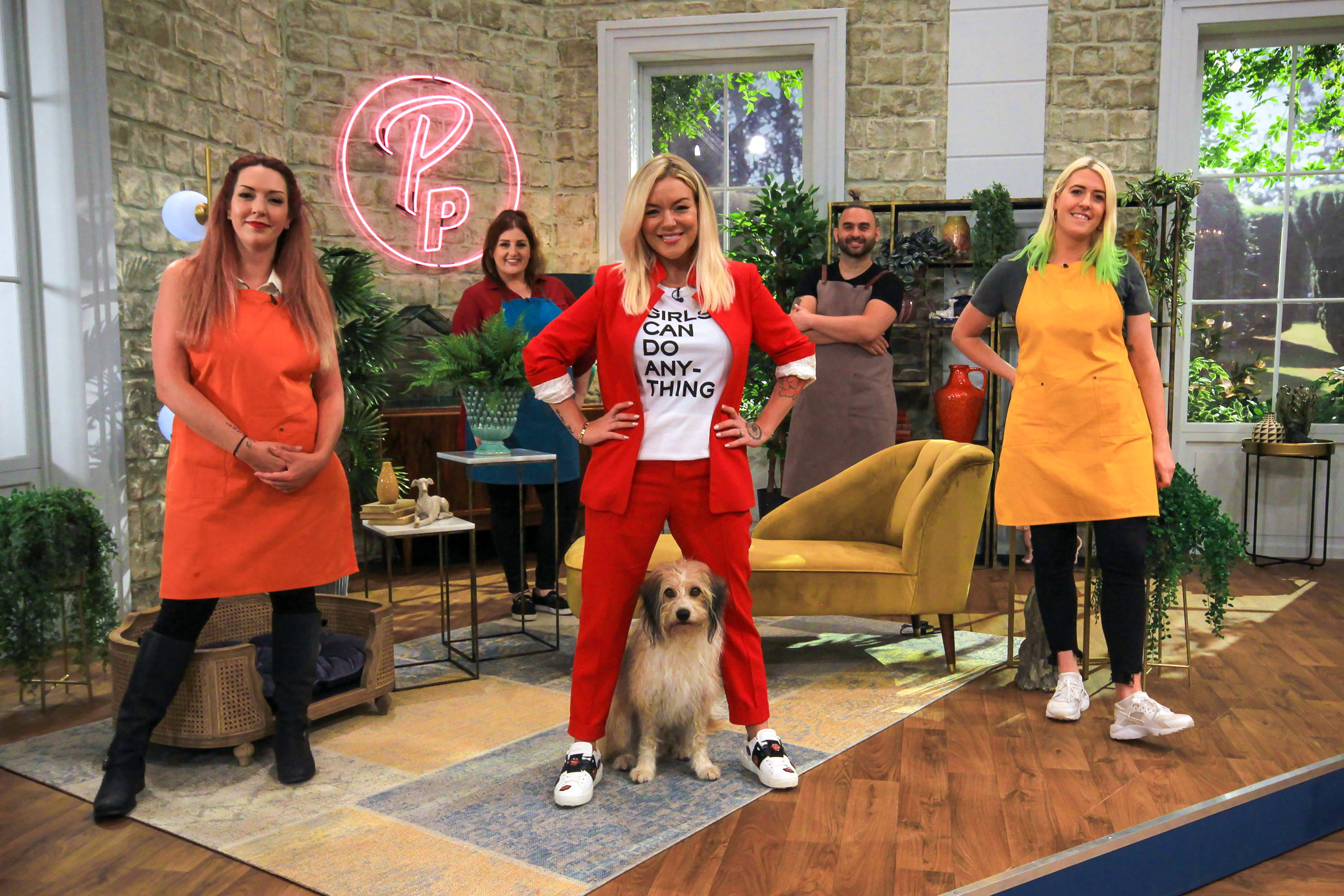 Stepping out on to the set of Pooch Perfect was a very stressful moment! Sheridan's bright and bubbly personality was infectious and helped all to relax…. A little bit.
I can not begin to explain how amazing having her on set was. She is an inspiring new mum with an amazing work ethic. Balancing motherhood and taking on this presenter role in the next step of her career would be hard enough for most but Sheridan also made time outside of filming to talk to us all and meet the dogs. She also has this magical way of making you feel at ease with her down to earth presence.
Hard working, professional, fun and talented role model for mums and women across the UK, Sheridan makes being in front of the cameras look like a total breeze! I can guarantee you that it is not easy!
Thank you, Sheridan
You can follow Sheridan Smith on Instagram @sheridansmithster
Pooch Perfect Teddy The English Cocker Spaniel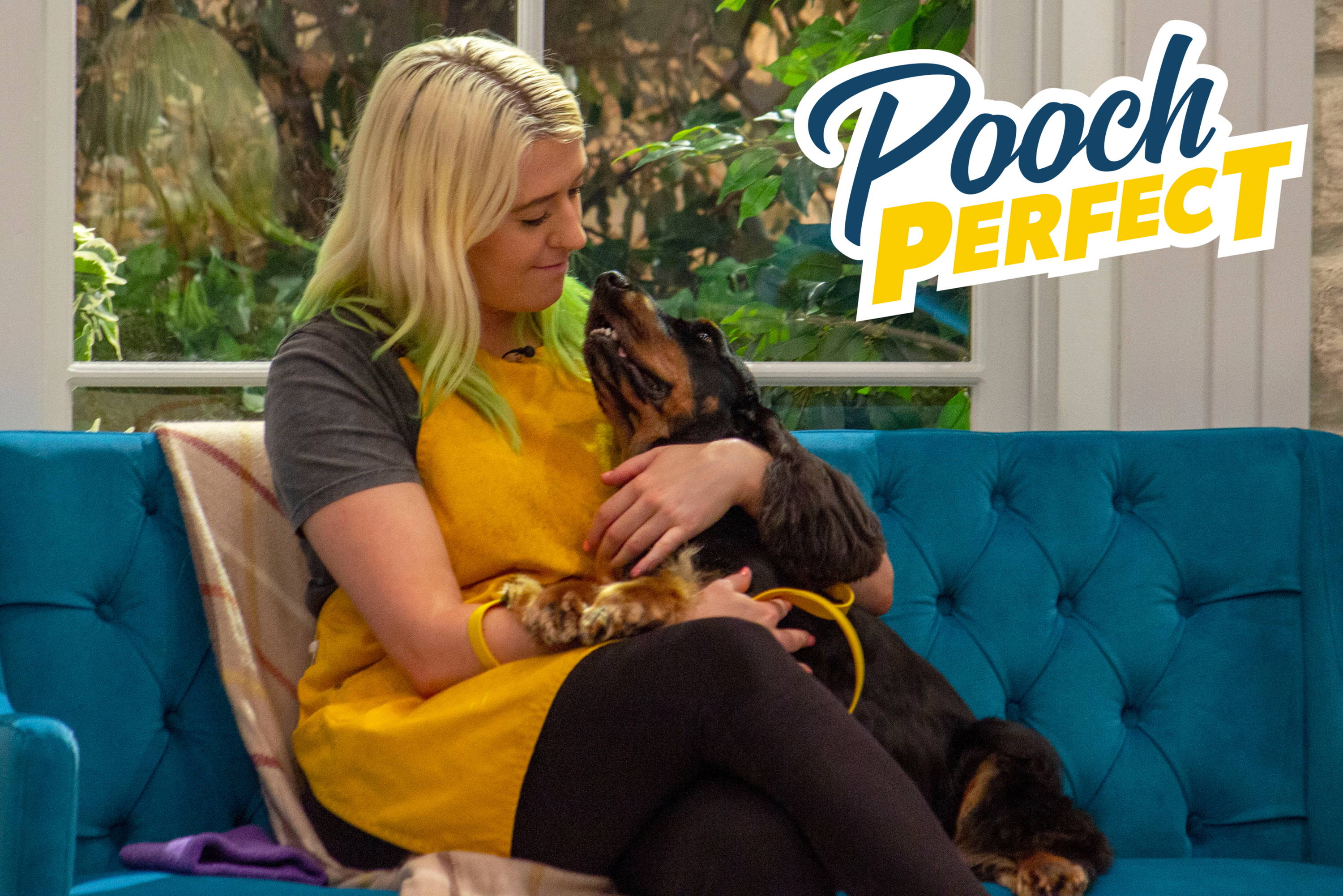 How cute was Teddy!? I feel so privileged to have met and groomed Teddy the beautiful English cocker spaniel while on Pooch Perfect.
He was such a sweet and funny boy! He loved the cameras and the limelight! What a gorgeous and confident dog, a real credit to his lovely owners. Thank you so much @dilly1969 for getting in contact with me this week and for your kind words of support. You are so lucky to have teddy in your family. Thank you for trusting everyone involved with the show and myself to look after him; He was treated like royalty and had a lovely time lapping up all the love and fuss. I was so lucky to have been paired with him!
This particular photo was taken while we were watching the judges do their thing. He didn't care what was going on in the competition, he just wanted to be in my face giving me kisses which I found amusing and he definitely calmed my nerves.
My main focus on the day was that he was happy and had a lovely grooming experience. He really made me smile and reminded me why I love this job so much!
We made a great team and I can't wait to see him again and meet his owner when they next visit Brighton.
Pooch Perfect Ogo And The Magical Topiary Garden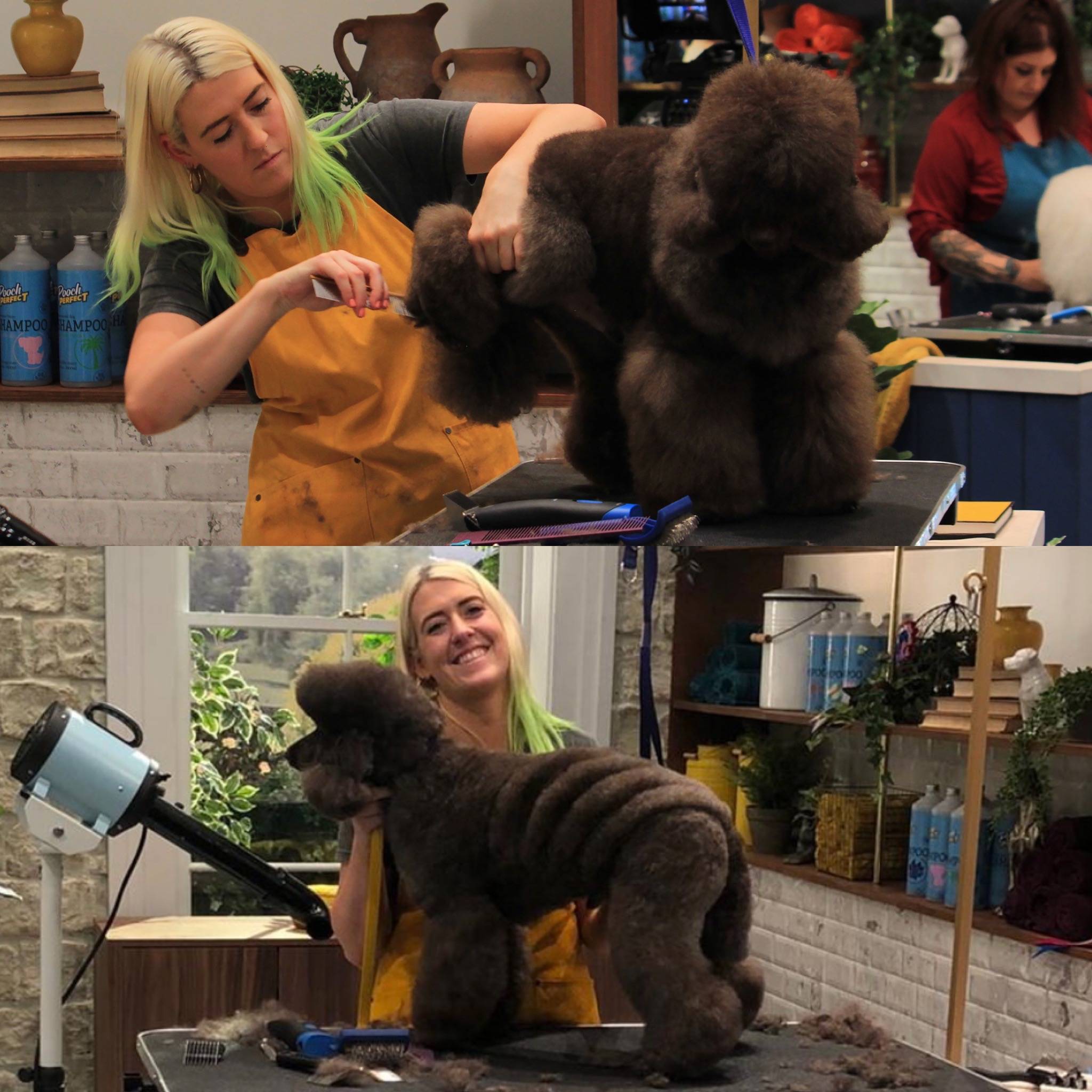 OGO! OMD! (oh my dog) he was such a beautiful and sweet natured dog!
What a difficult and technical challenge! The 'Spiral cut' is a dog groom I had never done on a real dog before.
When this challenge was set, we were each asked to plan a 'spiral cut dog groom' inspired by a 'magical topiary garden', which makes sense of all the flowers and other details in this episode.
I had a lesson on how to do this in Malaysia while studying Asian Fusion styles, but the dog already had the spiral shape, so I was just following the lines and concentrating on the finished result. This technique uses scissoring skills we call 'carving' and is used to make all sorts of shapes with the dog's fur, wings included!
I was seriously thrown in the deep end on this challenge having to cut it in from scratch but I'm so excited that I had the opportunity to do something so different on such a sweet, patient dog.
These custom cuts, creative grooming or bespoke designs are not mainstream and need large amounts of daily care to maintain so its not often you get to do these styles. Just think how often you see a poodle in a traditional style or breed standard groom. I love doing them and they take a lot of patience from both the dog and the groomer. To practice this groom and without many people wanting these more creative styles I bought quite a collection of model dogs and fluffy material to practice all the angles and techniques for this 'carving' style of dog groom.
Ogo is an absolute credit to his owners and they love him so much! Thank you, Sandra for getting in touch with me after the filming and for trusting me with your gorgeous boy.
I'm excited to see him again someday!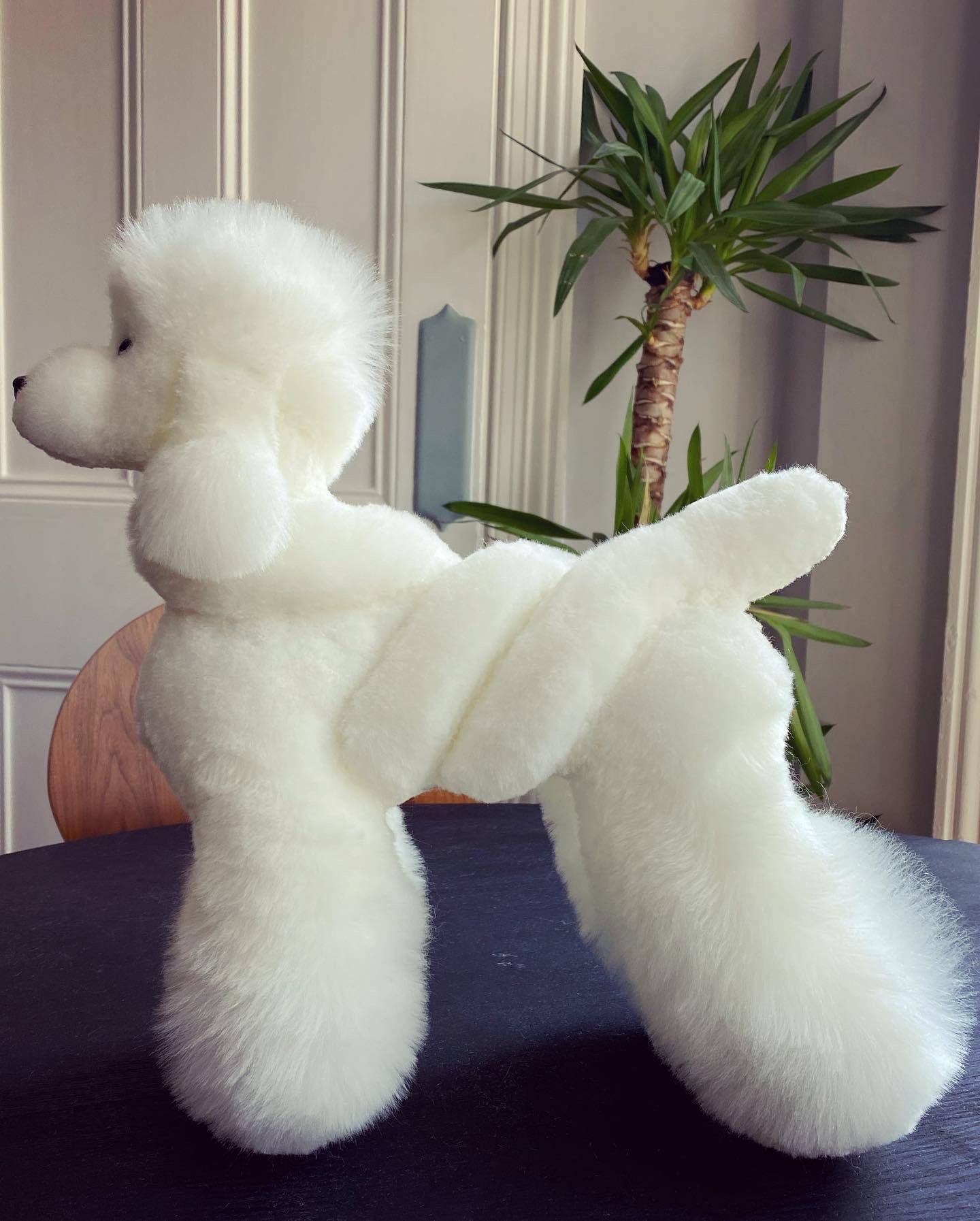 What's Next For Pooch Perfect's Helen Kirby?
Since filming on Pooch Perfect wrapped up last summer I haven't stood still.
2020 was a year of hard work, change and growth for Bone Idol. We had big plans before the pandemic took hold and lockdown restrictions came into place. This meant some reworking of plans on how to proceed but thanks to our amazing team and video calls, lots of video calls, we got there.
Working closely with our course provider, iPet Network, we are able to offer formal, Ofqual regulated qualifications for dog groomers and even a fast track diploma for experienced dog groomers looking to convert their work into a level 3 qualification. iPet Network have created industry leading qualifications created by dog groomers for dog groomers. Their focus of each course is on building practical and functional qualifications to build knowledge, practical skills and best practice in the industry.
During the summer months we worked hard to find the perfect place for the new Bone Idol Academy and create the fantastic facilities available to all students. We opened our doors in September and have welcomed some amazing and talented students.
We are also offering the only UK level 3 qualification in Emergency Canine First Aid. A day course suitable for professionals working with dogs and dog owners.
For more information on the Bone Idol Academy, our qualifications, courses and workshops take a look at our academy web pages.
---