Becoming a Dog Groomer | Helen Kirby | Bone Idol Academy
Helen Kirby Explains How She Became A Dog Groomer
Helen has worked at Bone Idol since 2016. Before becoming a dog groomer Helen worked in various jobs before training to become a dog groomer. Helen is a founding Director of the Bone Idol Academy, Brighton & Hove, East Sussex.
As well as Helen's love of dogs she is also passionate about music, travel snowboarding and horse riding. She lives in Brighton and enjoys having the beach on her doorstep.
Bone Idol is a Brighton dog grooming salon, pet shop, online shopping portal and an industry leading training academy.
Helen believes that any learning environment should always be professional, passionate and kind.
What was your very first job?
I have always had a good work ethic and enjoy working towards something! As a teenager I had a combination of 3 jobs! A paper round, washing hair in a salon and a sales assistant on the shoe collection in a department store. I then went onto work in customer service office in my early 20s providing on the phone support and help.
As a child I had always dreamed of being a vet, but found it hard to focus on anything academic in school and was drawn towards creative and musical subjects.
I went on to study vocals at Brighton Institute of Modern Music even though I still wanted to find work with animals.
I have gained skills from all of my previous jobs, qualifications and experiences that I have applied while developing my career as a dog groomer.
What made you want to become a Dog Groomer?
I didn't feel challenged or interested by office work in general, I was such a day dreamer and just wanted to have a practical job with animals as I feel so happy when I'm around them. I felt so deflated and thought that I had missed my chance to work with animals. It was really a moment in time where I just decided it is never too late to make a change and just went for it.
I feel so lucky to have a job that does not feel like work. I never wake up and dread going to work anymore. I get to hang out with dogs all day and be around people who love dogs! I've never been happier! I'm so excited to be in an industry which is forever evolving and in which I will never stop learning or developing my career!
---
My mum suggested I did the Level 1 dog grooming qualification to see if I liked it. Which obviously I loved!! I then went onto do further qualifications at Level 2 and Level 3 and I still loved learning more about it. Dog grooming is a career where no matter how experienced you are you will never stop learning!
Why consider dog grooming qualifications?
Qualifications are so important and validate your skills. At the end of the day, you are in charge of the dog in your care and you need to know how to handle the dog in the safest and kindest way and give the owner correct advise. No qualifications or training are currently required to currently groom dogs in the UK and personally I hope to see more dog owners and god groomers alike lean to value the value of qualifications in the UK.
While on the job training has been the way for many dog groomers in the UK to get started in the past, we have seen a big shift towards qualifications in the last few years. This is making 'new' groomers more employable and encouraging existing dog groomers to complete dog grooming qualifications to enhance their reputation and formally recognise their skills.
You also learn about the health & safety, best practice, numerous legislations that apply to dog grooming world, how to run a successful business which all help to boost confidence and ability in the real world.
And the best way to build on this is then to learn is from experienced groomers who have invested their life and passion to learning everything about dogs. This is just one of the reasons to work with reputable dog grooming businesses where the dogs come first, and they are keen promote the development of their staff while striving to be a brilliant and successful company.
Recently we have seen an increase in online qualifications being offered in the UK. I would point out that dog grooming is very much a practical skill and requires 'in person' learning. Nothing can replace the hands on practical experience that these courses offer you. While online training can appear more affordable would you want someone to cut your hair if they had leaned hairdressing online?
What is a typical day at work like?
Busy, Busy, Busy, but I love how many dogs I get to see every day. I love taking the time to bond with them and make them feel refreshed and beautiful.
Every day is different in a salon and when you part of a business there is always more to do, from appointment scheduling, training, offering advice and support to the dog's owners and of course all the work that goes into growing a business.
Life is not just about a job, it's offering support, affection, advise and compassion. Daily life is about learning and knowing that what I do is part of a career and not just a job. Dog grooming is a career that can be personally fulfilling and enriching.
I am proud to be be part of industry with animal welfare and kindness at it's core.
What's the best thing about being a dog groomer?
Meeting and bonding with the dogs, making them look and feel fabulous and a bonus of the job is how creative the job can be and how friendly everyone is in this industry. The industry as a whole, is supportive and really open to growth and is always evolving to help make the dogs of this world healthy, happy and fabulous.
Yes it can be hard work and there is more to running a business that just the grooming of dogs. But every day is rewarding and genuinely different from the last.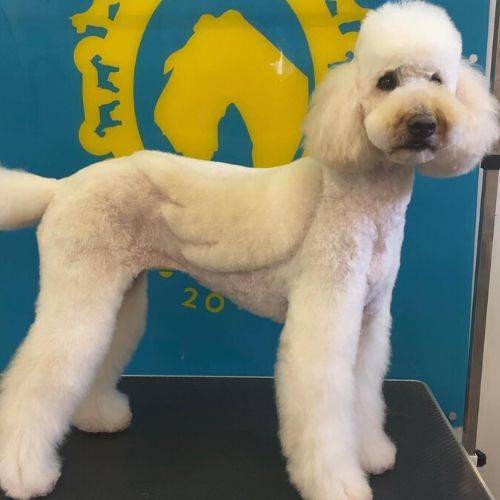 What is the most challenging thing about being a dog groomer?
People are always surprised at how physical the job is. You are on your feet for most of the day and will be holding and lifting dogs. It is an industry that welcomes growth and development so in turn we are all learning all the time.
I love how local dog grooming businesses can pull together to support and help each other. It is something I'm really proud of and many other industries are so focused on being in competition with each other.
Becoming a dog groomer is a career of learning and making time to improve, study and train, this can be hard when working full time but there is real value in constantly improving and honing skills personally, for the clients and their dogs and to the business.
What is the difference between home/mobile dog grooming and working in a salon/parlour?
Following my qualifications, I started out as a home groomer and although it was nice to work in my house. I actually realised I felt lonely and I wasn't improving. I love to be around like minded people and in the centre of the city. You learn so much more by working with a great team of talented people and being friends with other groomers. I would feel very lonely and get bored if I worked on my own from a van or home salon.
I think personal and professional development is much harder when you are working alone and being part of a successful business give you access to training and support.
What advice do you have for people who want to work in dog grooming?
Do it! It is honestly the most rewarding work I've ever done. I can apply my creativity, compassion and customer care my skills to ensure I do a great job with the dogs!
If you are new to dog grooming, try groom your own dog days or start with an entry level qualification (around 5 days long) most training providers will be happy to discuss upgrading the course if you find you love it and want to complete a more comprehensive diploma or 30 day course.
A 30 day level three diploma will teach you all the skill and knowledge you will need to get started as a dog groomer and help your CV stand out from the other applicants. This course also helps you if you are thinking about setting up on your own at home or want to become a mobile dog groomer.
What things do you wish you'd known before starting your career?
I wish I had known about this profession sooner! I feel like I wasted so much time in jobs I didn't enjoy! That said I do get to use everything I have learned from those roles in my job today, so nothing is wasted.
I'm so glad I have gone with the education and qualification route as I feel like it bolstered my knowledge and understating of the industry right from the start.
I will always be glad that I did my research into qualifications and found skills based vocational training, its get me where I am today and I'm proud to now be teaching and sharing the skills and knowledge that has been expertly crated into a syllabus and formal qualifications by the iPet Network. In my opinion they are the best UK dog grooming qualifications and the most comprehensive level three qualification. Bone Idol Academy is an iPet Network training provider.
How have things changed since you first started working as a dog groomer?
The industry is becoming more regulated and pet owners are becoming more aware of animal care businesses being run by people with no background with animals or qualifications and what this might mean for their dog.
This means today's consumer is far more empowered with knowledge and understanding to make choices about what kind of groomer they want to look after their beloved dog.
I also feel that there is more interest recently in styling and people wanting to make their dog's groom more personalised and not being tied by the convention of breed standard cuts. Like teddy bear cuts, sculpting and shaping. In Brighton we are seeing more demand for hand scissoring and bespoke styling.
What's next for Helen and Bone Idol?
I am always looking to further my knowledge and experience, so I plan to continue to compete in more grooming competitions, meet lots of new groomers and work towards the master groomer qualification. I really love to build up my network of contacts in the industry and love to discuss teaching methods, best practice and design.
Opening the Bone Idol Academy as part of the Bone Idol group in 2020 was a real highlight, we offer bespoke training facility that includes a salon style classroom and theory study room. Equipped with the best equipment and tools we really want to be the best for you.
I feel so privileged and excited to pass on my knowledge to other aspiring groomers as a tutor and help shape the future of the dog grooming industry.
By always putting the dog first, keeping professionalism and training at the core of the industry we can only make it better. Every day I strive to be the best me I can be, always kind, creative and supportive.
2021 will see me compete with some of the UK best and most talented dog groomers on the BBC television series Pooch Perfect.
Find Out More About the Bone Idol Academy
Dog Grooming Qualifications, Training and Workshops
At Bone Idol, we pride ourselves on offering unique training designed to suit everybody. Our Academy is based in Brighton & Hove in East Sussex. Bone Idol Academy is a Training Provider Centre in it's own right, overseen by Ofqual. We offer the iPet Network, industry leading, Level 3 Qualifications.