Helen Kirby | Founding Director & Tutor | Bone Idol Academy
Dog groomer and teacher, Helen, has been with Bone Idol since 2016 and now teaches level 3 dog grooming qualifications, courses and workshops to aspiring dog groomers and pet owners at the Bone Idol Academy, Hove.
Helen's attendance at music school initially suggested that she would pursue a musical career, but she decided to leave music as a hobby and pursue 'a sensible career', crediting her mum for inspiring her to follow her dream to pursue a career relating to her love of animals.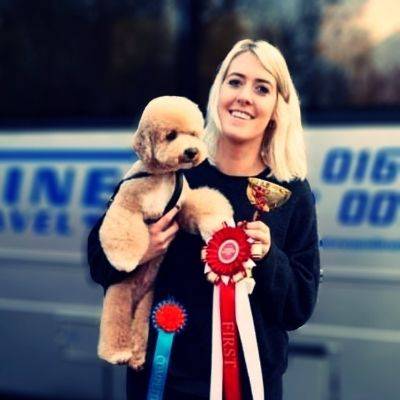 Ambition To Be 'Best In Show'
Helen worked for herself for two years, gaining her first (but not last) dog grooming qualifications in City in Guilds levels 1 and 2 whilst practicing her grooming techniques from home.
Working in Bone Idol's parlour from 2016 has given Helen great exposure to a lot of different breeds as well as being a hugely enlightening experience. Helen describes how she feels extremely lucky to have worked with such a variety of breeds as well as the chance to get hands on experience from some unusual breeds. From Afghan Hounds to Bedlington Terriers, Helen loves all breeds and all coats but she has a particular penchant for wool and drop coats.
"I particularly like to concentrate on the things that are going to make me a better groomer. Being the best I can be and doing challenging grooms is made so much easier because I'm working in my dream job."
Skateboarding enthusiast and passionate horsewoman, Helen lives round the corner to work and describes her ideal commute as 'a skate to work'
Always Finding Opportunities To Learn & Grow
Helen is a self-confessed workaholic and her dedication to her job and her desire to constantly improve and progress is evident. 'I don't relax, ever' says Helen, 'there is always something more I can learn so I'm forever reading articles or books online to further my knowledge'.
Recently Helen went on holiday to Malaysia and while she was there took the opportunity to learn more about Asian Fusion.
"Whenever I go abroad, I always find someone I can learn from in that country so that I can bring additional skills back to the academy. Even though I went to Malaysia as an experienced groomer, the course requirements were very strict and the new skills I learnt as a result have made me a much better groomer."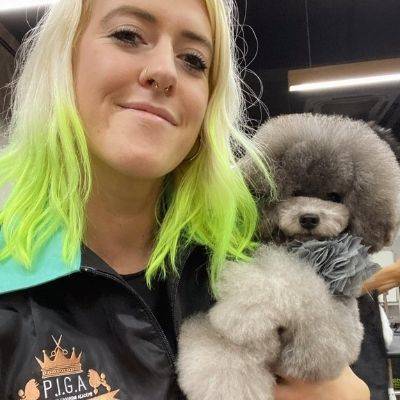 ---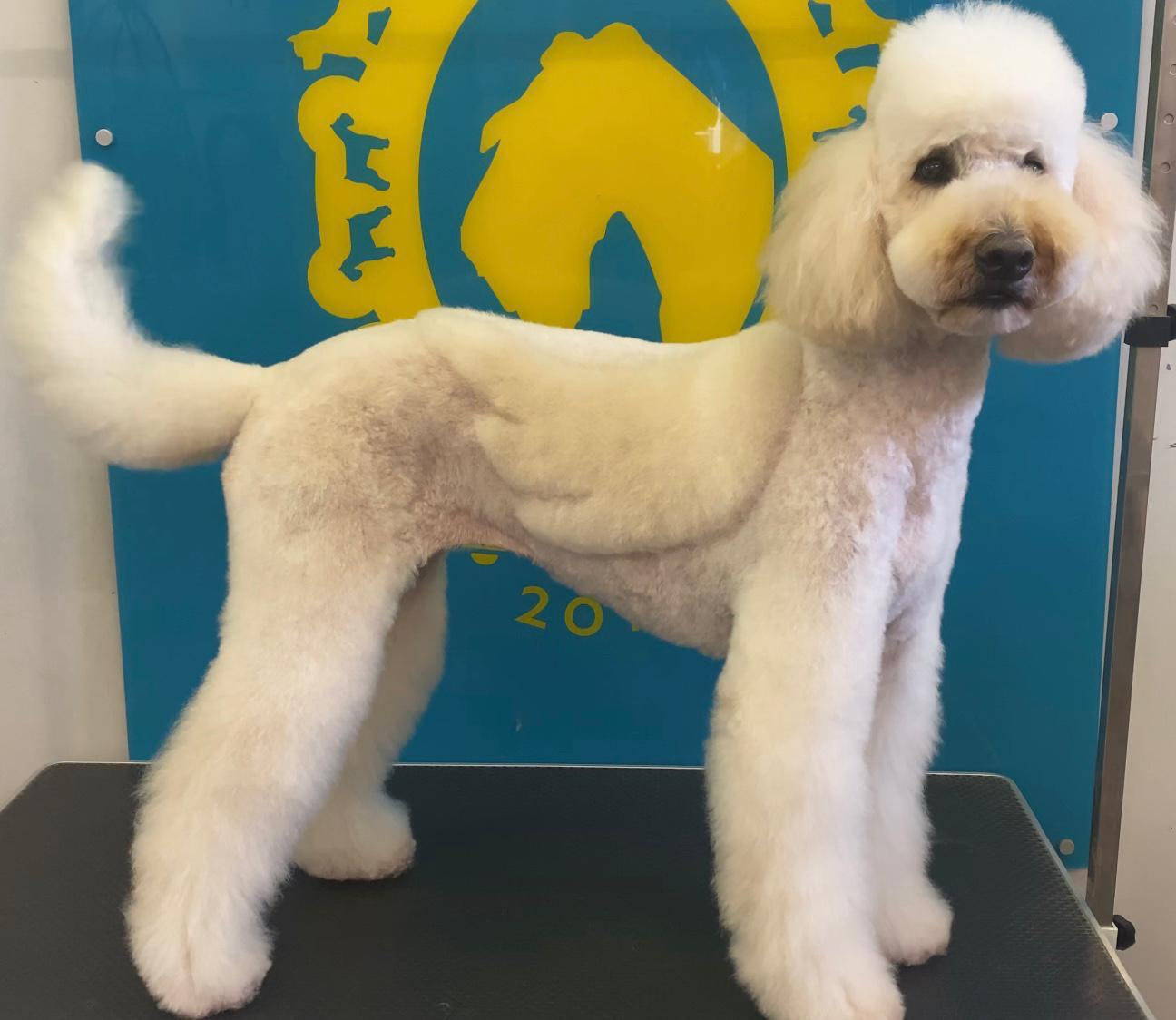 Helen continues to explain how the standard of grooming in Asia is extremely high and that on the course she wasn't permitted to touch a real dog without being able to draw the shape of the dog, and the cut, perfectly on paper first. No wonder Helen's favourite grooming-related word is 'angulation' – using a dog's anatomy and structure to inspire and define the cut you're going to do!
It has also inspired Helen's love of creative dog grooming and custom cuts as displayed by Krystle and her wings! If you have an idea she will be more than happy to discuss how it could be achieved.
Achieving Success With Hard Work
If you wonder what drives Helen's work ethic, it's very simple.
"There are lots of things that I want to do and achieve in my life and I have been brought up to appreciate that if you want something, you have to work hard for it."
Another driver for Helen is that she doesn't like to let people down so she always works hard to ensure this never happens.
Helen believes that goal setting is equally important for success and when asked what goal she has most recently achieved, she sits back and smiles. Another of Helen's dream became reality when she became a first time dog mum to Sebastian, the parti poodle.
Owning a dog will also be great for Helen's career as she explains 'if you don't practice regularly, you get rusty', adding 'Sebastian will probably get a new style every month!'
Helen loves the Bone Idol business and the people she works with in equal measure.
"I love all the ideas that fly around at work, all of which help the business to become more and more innovative and the staff more and more skilled. Working for Bone Idol feels like a dream. I've had a wonderful opportunity to progress here and I never ever thought I would achieve such advancement in my career."
Helen cites her level-headed parents as being a big influence in her life, as well as her wonderful boyfriend, supportive friends and Bone Idol founders, Jon & Scott, who she describes as being practical and compassionate. She adds
"There are many people in the grooming industry that I aspire to be like, people who are top of their game, who are extremely knowledgeable, talented and kind."
Helen's desire to become a Master Groomer will soon be another step closer when she undertakes a Master's in grooming. A lot of the course (a combination of theoretical and breed standard practical work) will have to be completed in her own time, but having her own dog to practice on will really help. As part of her latest qualification, Helen will also be judged in competitions or in other salons.
"I love competing and so undertaking the Master's course will give me a fantastic opportunity to compete more."
Approachable, Kind & Supportive Teaching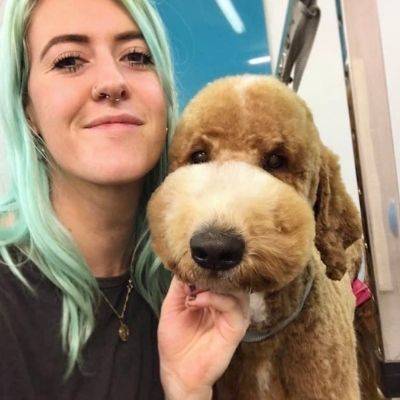 Helen is keen to share her experience and help other develop their skills and experience. It's why the Bone Idol Academy was the perfect next step in her career.
She believes in a kind, friendly, inclusive and positive teaching environment for everyone. and helped forge the supportive teaching environment that our students love. Always happy to help and advise our students, Helens approachability puts event the most shy of students at ease. Helen's natural empathy and kindness shine though.
---
With a sparkling personality to match her trademark brightly-coloured hair, light-hearted Helen jokes that her current turquoise hair is the perfect colour match to the Bone Idol branding - but isn't entirely purposeful!
Helen is blessed with the attributes of being totally responsible while at the same time being a person who laughs a lot. Her greatest gift? 'I rarely have days when I'm not happy'.
Helen's professional advice to any new puppy owner is simple.
"Certain breeds will need grooming every six weeks for the rest of their life so after your pup's first injections, I really recommend getting them used to coming to a reputable grooming parlour."