Groom Your Own Dog | Experience Day | Bone Idol Academy
What to Expect: Bone Idol Groom Your Own Dog Experience day
This amazing experience is a 121 tuition experience day in Hove, East Sussex. We have created this special experience for pet parents and owners wanting to learn to groom their own dog at home.
You will learn the whole process from start to finish. You can bring your dog to us for the day and learn how to create one specific style you like and gain the skills you need to work on your own dog's coat type.
This could save you a lifetime of cost taking your dog to the groomers and give you a rewarding, positive and enjoyable bonding time with your beloved dog.
A fantastic gift idea for any dog parent.
£300 - includes 121 tuition from qualified and experienced Bone Idol dog groomers.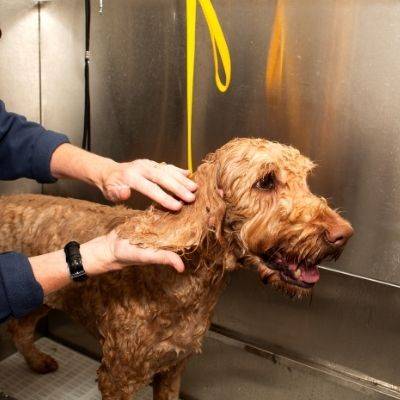 Qualified & Experienced Friendly Tutors:
121 tuition from our amazing and friendly tutors will share our top tips, dog grooming knowledge. They will show you how every step of the dog groom is managed with your furry friend always taking centre stage. Professional, passionate and kind.
What To Expect On A Groom Your Own Dog Day:
When you book, we will ask for the breed of your dog and prepare an information pack about your dog's coat type, the right tools to use and a step by step guide on how to groom your dog. However, you will need to come prepared with a notebook to take notes of any extra tips you learn on the day.
Snapshot Of Your Day:
This full day at the academy will start with a welcome and introduction presentation. The day will include tuition on the grooming process and how to tailor this to you and your dog.
Studying your dog's coat type

Discussing correct tools to use on your dog

Handling techniques

Correct brushing technique

Prepping the coat for bathing.

Bathing

Drying

Styling

Finishing
Finishing Your Day with Bone Idol Academy:
By the end of the day you will have learnt how to groom your dog from start to finish. You may even be inspired to start a new career in dog grooming.

If you wish to continue with your studies and undertake any of the level 3 introductory (5 days), intermediate (16 Days) or the advanced diploma course (31 Days), the cost and time of this day course will be deducted from your chosen course if booked within 6 months.
Email us or use the form at the bottom of this page for more information or to book in a call with our friendly Academy team. enquiries@boneidol.co.uk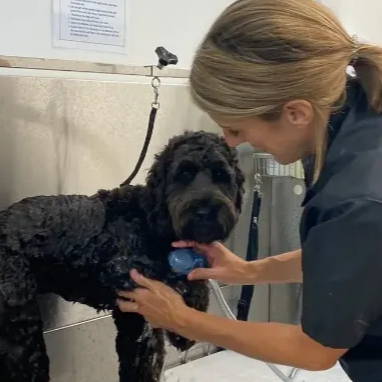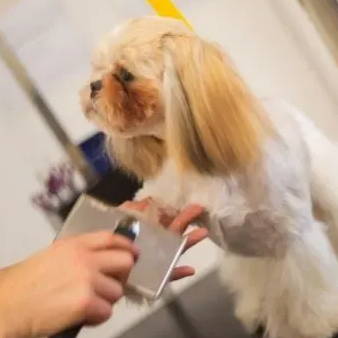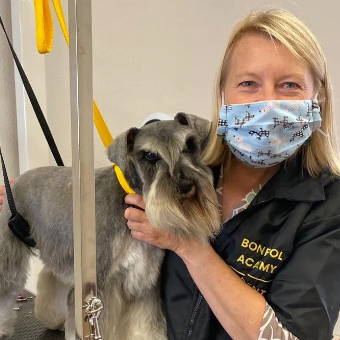 The Groom Your Own Dog Day is offered as an experience day at the Bone Idol Academy in Hove, East Sussex.
To find out the available dates and to book your experience day please contact the Academy team. We run 'Groom Your Own Dog' days throughout the year.
We believe being professional, passionate and kind, so only offer friendly 121 tuition at all times on these special experience days. One student, one dog, one tutor. Due to this outstanding level of attention, places for this wonderful experience are limited.
The Bone Idol Academy is a purpose designed teaching venue with industry leading equipment, tools and tuition.
You can contact our team using the form below, on 01273 070900 or by email enquiries@boneidol.co.uk
---
Booking and Information Enquiries
Thanks!
This field is required
This field is required
This field is required
This field is required
This field is required
Chris & Kizzi - Thank you so much for an absolutely fabulous and amazing day! I so enjoyed every single minute and thank you for being so encouraging. Everyone loves Kizzi's new haircut! I am so pleased she behaved herself.... She is now fast asleep after her busy day.

Once again, thanks so much for a really inspiring day.
Arina, Woolfie & Lolly - Thank you so much for today!!! It was amazing! My husband is amazed at how well Woolfie and Lolly look! I gained so much knowledge in one day, I can't believe it.
Kay & Eddie - Thank you SO much for a brilliant day, Our session with Eddie was great, I learnt so much and would loved to have spent more time with you. Everyone at home thought Ed looked amazing! Thank you very much for all the additional information you sent me today, that's very useful and much appreciated.
Nathalie & Beau - Absolutely loved today thank you so much! You and Paige were so approachable and friendly and really made it enjoyable. Beau was asleep in the car before we had even got to the end of the road. He looks amazing and you really but him at ease. I look forward to getting the photos and shopping list and I am seriously thinking about doing the course! Thanks again.