Meet Doris The Labradoodle - Bespoke Dog Styling
Dogs come in all shapes and sizes, and with this come a huge variety of grooming styles and techniques. We love to work with owners to create amazing and appropriate dog grooms to reflect your dog's personality. We also love to share our knowledge and experience, this entry is all about Doris the Labradoodle and her 'balloon dog' inspired dog groom.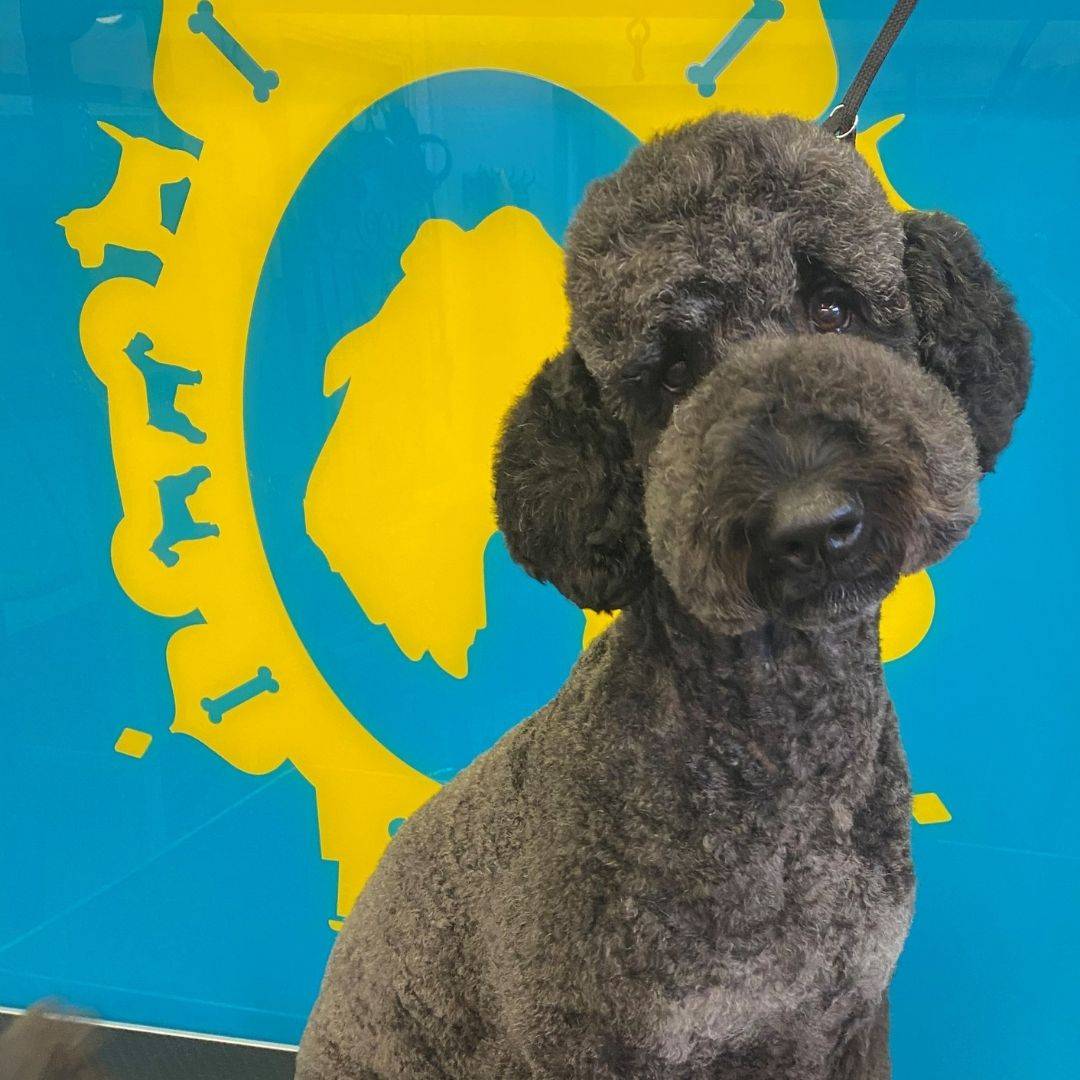 This Bone Idol Dog Grooming Style Diary is written by Ben. Doris is regularly groomed and is a labradoodle. These poodle / Labrador crosses can have a variety of coat types from Labrador to poodle and everything in between. She loves dinner times and being groomed. Doris has had a number of different styles including a spiral cut. She's even been a model for dog grooming competition!
A few years ago, Jon, Doris's owner a fellow director of Bone Idol, and I were chatting about Doris. She was just a puppy and clearly was going to have an amazing coat to groom so I asked, "if you could do any style with Doris' coat what would you do" he replied was instantly. "Wouldn't it be cool to make her look like a balloon dog". After talking for a while, we drew a few sketches and discussed the shapes and how the proportions would work to be flattering. And then we moved on, the idea put to one side while she grew up.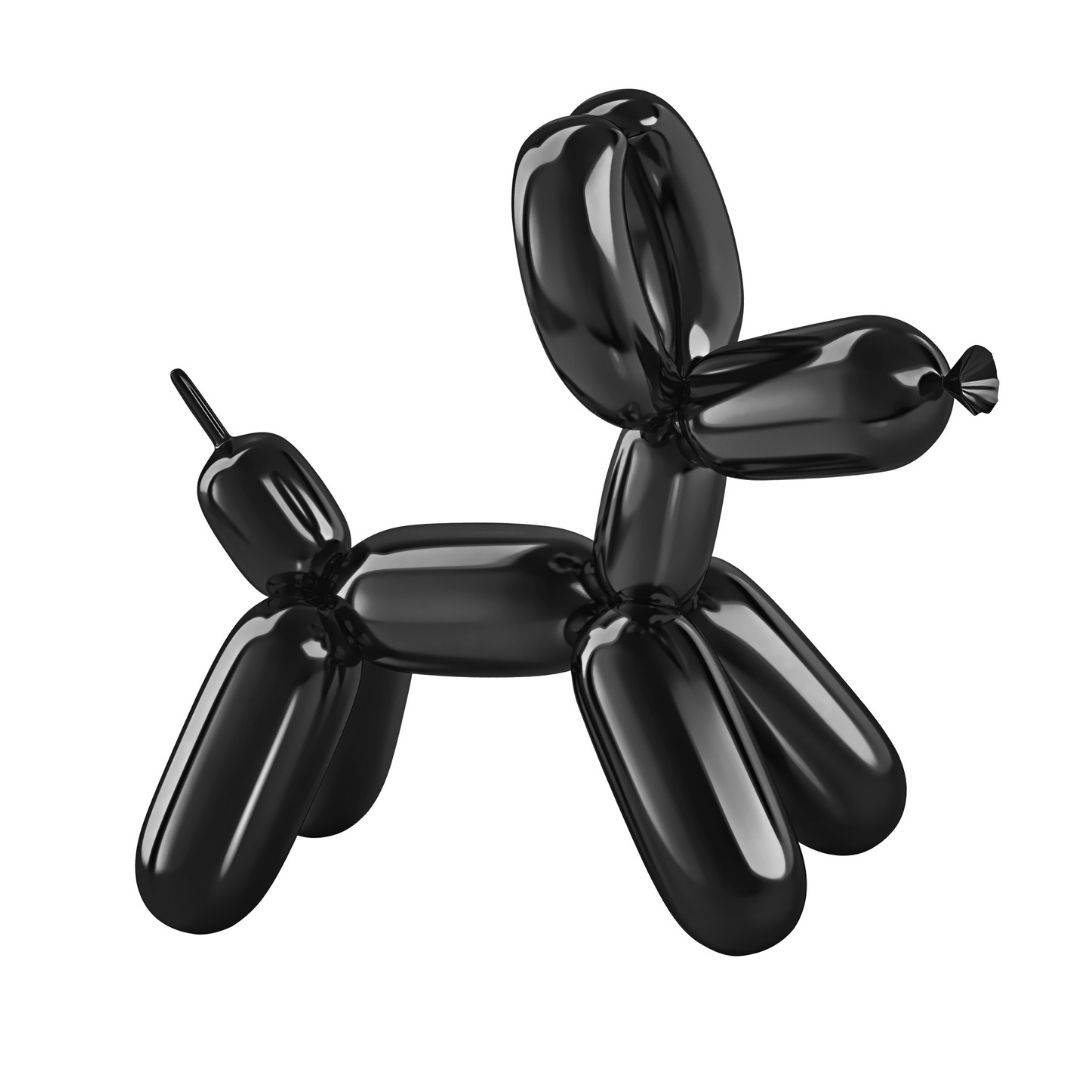 As it does, life happened, and Doris has grown into a lovely adult dog who adores being groomed in the parlour. She was even grown out for three months to be my first ever grooming competition dog. We won 'biggest transformation' going from massive fluff ball to disco diva with pompom disco boots and large round head, she's a star!
During the first lockdown in 2020, it was all new and there was so much to learn and understand on how it might unfold. We worked hard on staff training and doing what we could to provide support to our amazing customers their dogs and out brilliant team.
During the first (and hopefully last) lockdown of 2021, sees us all with more experience on what to expect and how to deal with it. I really wanted to use some of this time to work on some of the creative grooming techniques we do not to get to do every day in the parlour in a COVID secure way.
Feeling inspired, I suddenly remembered the 'Balloon Dog' concept we had discussed for Doris!
To prep Doris for this clip I bathed her in a fantastic dog shampoo range, Hownd. We always use this in the salon it's brilliant is a range of high-quality pet products, free from harsh chemicals, parabens, soap and dyes. What's not to love? I used the "Yup You Stink" conditioning shampoo as this is great to get the coat extra clean and bright which I did twice.
Drying Doris is always a joy she is so good with whole process and particularly enjoys her neck rub, if you hit the right spot you even get a back leg tremble, where so loves it so much. Doris is a joy to groom because she came to the grooming parlour from a very young age to be bathed and brushed so really, it's a spa day for her. A bit like us going for a pamper.
After her bath Doris was 'blasted' dry. While this sounds awful, blasting is actually just using a high velocity hair dryer (blaster) that helps to remove most of the water from the dog's coat. Like an air version of a glass cleaning squeegee.
Then it is on to fluff drying the curly coat, a much more pleasant term. To do this we use a slicker brush and a stand dryer. This is much like an oversized human hair dryer on a stand, aiming the dryer at the area of hair you are fluff drying and then brushing with the slicker to pull the curl straight as it dries. This process is repeated over the whole dog until the coat ends up super fluffy, almost "cloud like".
Once fluff dried, we always double check the whole coat with a comb as any knots get in the way of the grooming and reduce the quality of the finish.
Pop Art Meets Dog Grooming
Before picking up the scissors or clippers I revisited the planned style, this ensures that any amendments can be made to the plan now before the cutting starts. Looking at our planned balloon dog style, I was thinking about circles and curved lines that would flatter Doris' shape. It was clear that I wanted the legs to be rounded at the bottom but tube like as seen on a real balloon dog. To me the balloon dog body looks smooth, so I knew I wanted to take it quite short accentuating Doris' lovely deep chest and high waist or 'tuck up'.
When looking at an actual balloon dog there are clear lines where the sections of balloon join in the twists, I decided not to cut this in using a carving technique as this would change the visual balance of the dog groom. Doris is also a very outdoorsy dog and maintaining this detail would be hard when she is out in all weather, a dog groom should always be appropriate to the lifestyle of the dog. With all this in mind I opted to blend the different lengths with a hand scissor finish.
On Doris's head it was all about circles, a round doughnut or 'bubble' muzzle, an appropriately proportioned 'topknot' or dome, and the ears to be separate from the head, but still round.
I used clippers to take her body down shorter and blended it on the back legs, taking the hair shorter round the bicep muscle and blending the hair to the front of the leg to create the look that it was rounder, on the rest I used scissors to get the desired look. The front legs needed to be tube like with round feet, so I used my curved scissors to make the feet round and then straight scissors to meet my like, so the foot had the desired look.
Shaping And Styling The Head
The head was the most fun as I kept giggling doing it the more round it got. Doris loved to pop her head to one side when you talk to her which is so cute. The shaping on the head was done with a variety of specialist curved scissors, combing the hair up in small sections and cutting it to make round dome on the topknot. To create more definition between the ears and head, I then combed all the hair in top of her head to the side, cutting all the hair hanging over each ear off and then reshaped the topknot to separate her ears. Once I had the topknot looking lovely and round, I moved on back to her ears scissoring round the edge to make them round and balloon like. Finishing the ears I scissored all the ear hair to the 'base line' (the outline shape) to leave enough hair on the ear flap to make her ears look like they were balls on the sides of her head.
Checking these are even is so easy with the lovely Doris, just the mention of the word "food" those ears are up and you get to appraise the full look of your head trim.
Moving on to the muzzle I clipped all the underneath the jaw off with the same clipper length I used on the body to take it short and tidy under the chin. Then again it was all about making that muzzle look round. Combing and using curved scissors and cutting until I was happy with the look.
A quick trim of her tail, short but fan like to keep that balloon dog look we are trying to achieve. Then just a step back and final double check with the comb for any stray or fly-away hairs and she was finished.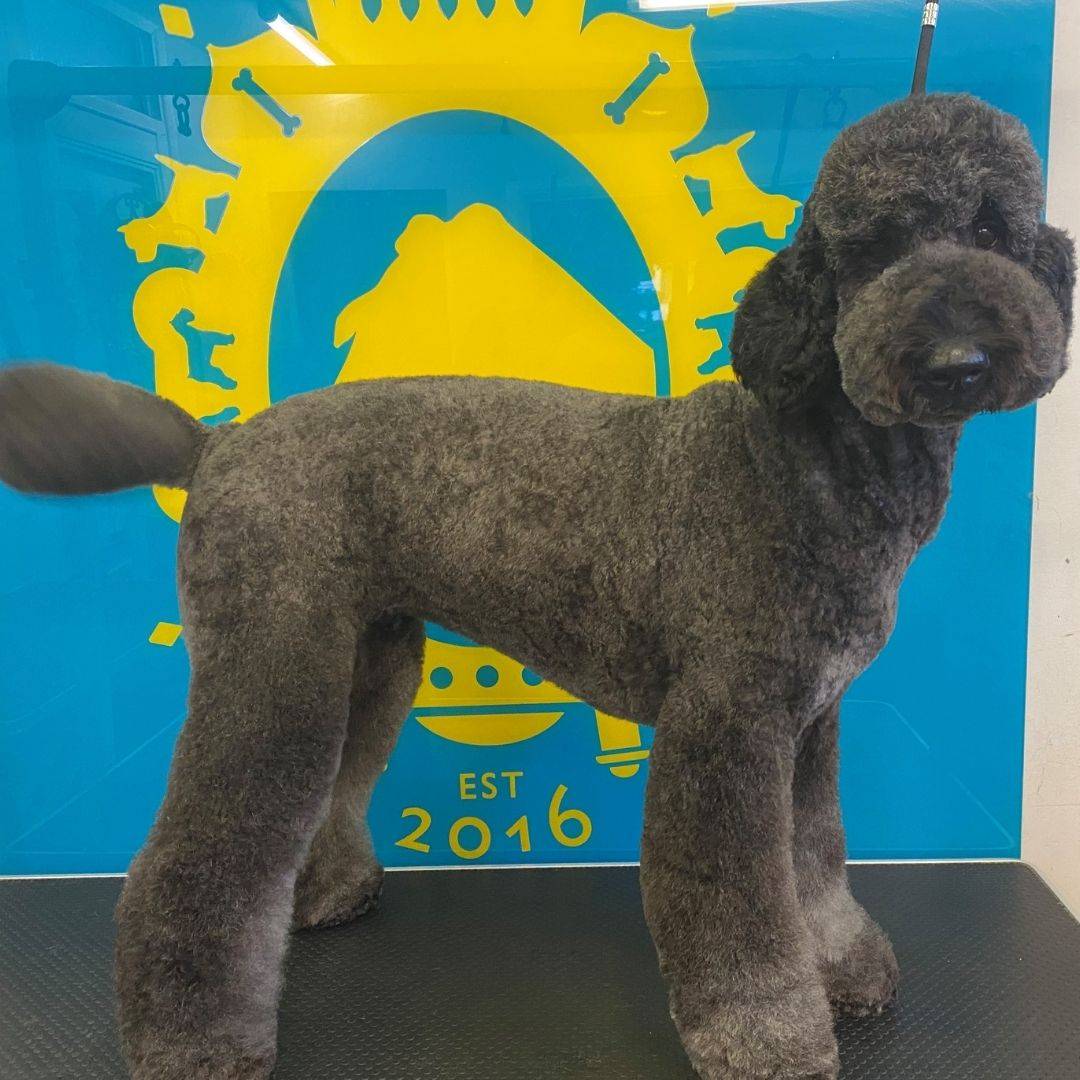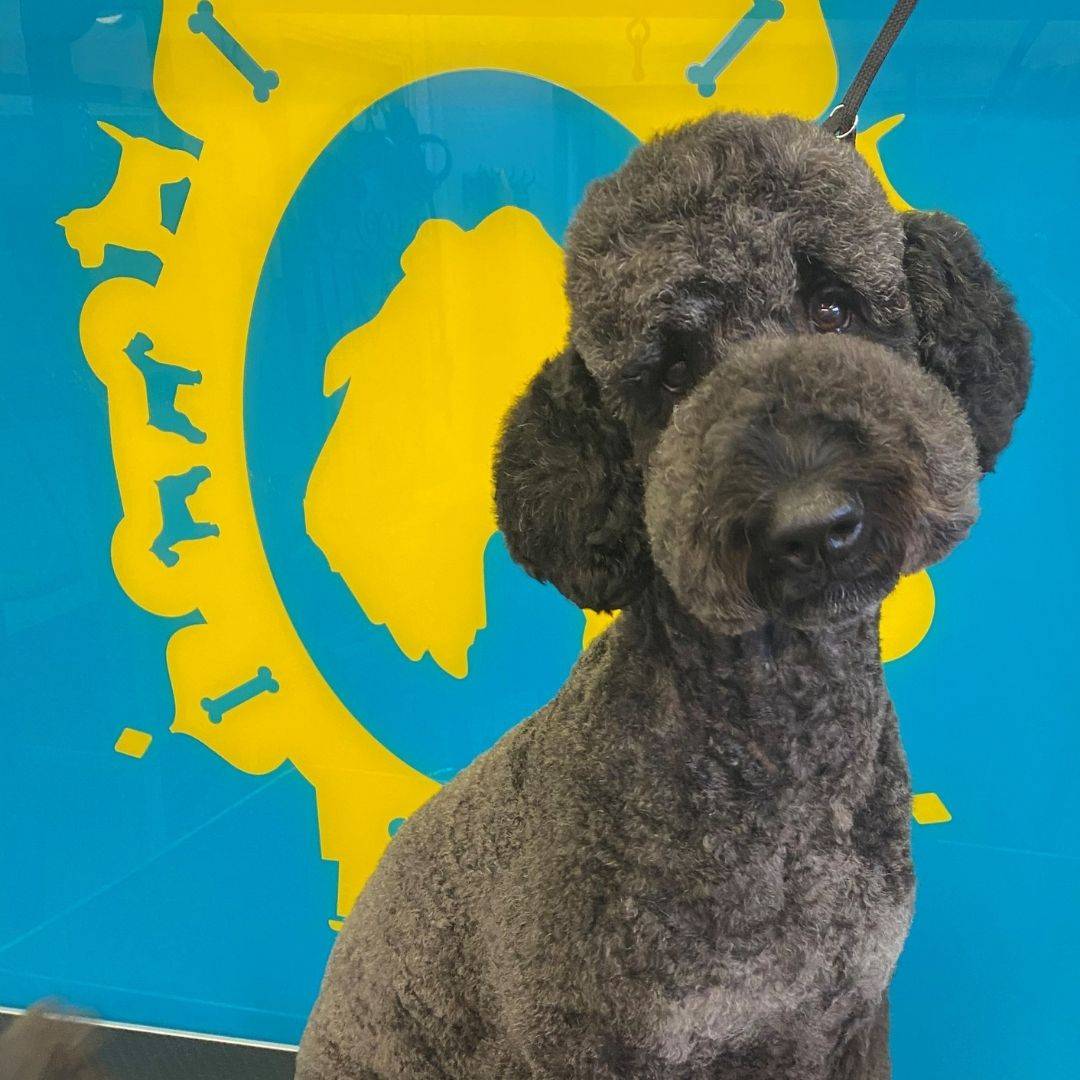 We love being creative so why not contact our Brighton & Hove team to discuss your ideas and let us help make it a reality.