Dog Grooming Qualifications | Everything You Need to Know | Bone Idol Academy
Everything You Need to Know About Dog Grooming Qualifications
Getting to spend all day working with dogs often sounds like a dream , but it's also a fantasy that can easily be brought to life if you know where to begin. By earning the right dog grooming qualifications with the Bone Idol Academy, you'll be readying yourself for every aspect of life in a salon. You'll do this by working with as many dogs as we can send you, and by learning all the ins and outs of what it takes to run a business that can truly be called "Best in Show".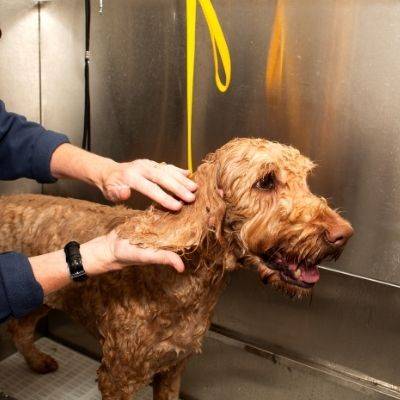 We've prepared a little guide here on everything you'll need to know before you get started on your course, and we're ready and prepared to register you for a class when you've decided on the right one for you. Browse the information we've provided and consider your options before signing up to the Bone Idol Academy today.
Do You Really Need Qualifications to Become a Dog Groomer?
The question posed above is one that has probably gone through your head before when considering a possible career path, and you wouldn't be alone in thinking it. Of course, the more you think about everything a professional dog groomer needs to do while they work, the more it makes sense that you'll need the correct qualifications to be able to do it well.
The best dog groomers and owners alike want nothing more than for any four-legged friend to be happy and completely comfortable while they're being washed and clipped, so if you wish to be the best dog groomer you can possibly be, getting those all-important qualifications is a must. It will also help your customers to build trust in you, knowing that their precious pooch is in safe, experienced hands.
It also never hurts to have your qualifications in such a competitive industry; it proves you truly are good at what you do!
What Can You Do with Dog Grooming Qualifications in the UK?
What you can do with your qualification all depends on the level and type of diploma or certificate you are planning on completing. For instance, the iPET Network Level 3 Diploma in Dog Grooming and Salon Management can support candidates in their current work environment if they are currently working as dog grooming assistants, or even prepare them for full-time employment if they are planning to take up a position, or open their own grooming salon. Meanwhile, the iPET Network Level 3 Award in an Introduction to Dog Grooming is designed to be an introduction into the world of the dog grooming salon, health and safety practices and styling several different breeds.
Finding the right qualification for your skill level, as well as knowing what you intend to do with it, is of paramount importance when choosing a course. If you've been thinking of setting out to earn a qualification in dog grooming in the UK but are unsure of which one you need, take a look at our list of training courses. We are bound to have what you're looking for at the Bone Idol Academy, and you'll be able to select the dog grooming certificate or diploma course which best suits your plans.
How Long Does it Take to Earn Dog Grooming Qualifications?
How long you'll need to set aside for training with us all depends on which of our courses you're planning on taking, and how you are planning on taking it. Our longest and most comprehensive course, the iPET Network Level 3 Diploma in Dog Grooming and Salon Management, takes 30 days to complete if you're looking to complete it in more of a straight run.
However, if you have a bit of a busy schedule and need to fit your training in around work in a grooming salon (meaning you have experience already), then you'll also be eligible for a Fast Track course, which can be completed at your own speed, but must be done within 2 years.
Alternatively, if you're not looking to become a professional dog groomer for commercial purposes and would just like to know how to take care of trimming and tidying up your furry friend at home, then we offer a number of courses and work shops that can see you gain skills and knowledge to help you in a day at the Hove based Academy.
We also offer dog first aid courses for everyone that are also taught in a day.
---
How Much Does Dog Grooming Training Cost?
How much it will cost to earn your qualification in dog grooming? The costs for the diploma or certificate will depend entirely on the course you're planning on taking and how long it is.
Our prices start at £99 for our Canine First Aid qualification, which takes a day to complete. In addition we also offer industry leading qualifactions in professional dog grooming. These are longer couses desiged to give you the skills and experience you need to work in one of the fastest growing professions in the UK.
The iPET Network Level 3 qualifications range from £1,250 for the 5-day introductory session, to £4995 for the comprehensive, full 30-day diploma course including an Emergency Canine First Aid qualification.
We don't expect you to pay the full price for each of these right away, though! At Bone Idol, we are more than prepared to offer financing options for our longer dog grooming courses, so if you'd like to set up a payment plan, please don't hesitate to get in touch. We'll be happy to discuss our payment plans with you.
Gain a Diploma in Dog Grooming with Bone Idol Academy
If you've been thinking of starting a new, exciting career in the UK dog grooming industry, or even if you're already on your journey to becoming a professional dog groomer and you'd like to broaden your skills and knowledge to help you stand out from the crowd, then the Bone Idol Academy has a range of courses just ready and waiting for you.
Spend your session's days in our specially designed, Hove based training academy, undertaking practical training and theory-based work with one of our dedicated, fully qualified tutors. Our goal is to see you succeed at every turn, and each has been chosen to lead our sessions because of their creativity, experience and passion for animals. Under their guidance, you can expect high-quality teaching and individual attention that ensures you progress at a pace which works for you.
Browse through our courses and select the one which is right for you, before registering your interest with us today. We'll be delighted to welcome you into our class, and we'll be just as proud to see you complete it with qualification in hand.
For more information on our qualifications, courses and workshops check out our academy pages of contact the team using the form below.
---
Thanks!
This field is required
This field is required
This field is required
This field is required
This field is required